MLB Trade Rumors: Tigers, Phillies Seek Pitching, Scouts in Philly: Guess Who?
July 16, 2011
Rob Carr/Getty Images
Leading the way in the MLB Trade rumor department is a report from Buster Olney, in which he says the Detroit Tigers are asking around about pitching, while another floating rumor that has the Phillies being pegged as "front runners" for three bullpen pitchers from San Diego.
The Detroit news is fairly new, and according to Olney, the team is NOT looking at the predominant third-tier guys the market has to offer, rather a high-end arm to add to their rotation.
The Tigers were rumored to have interest in Colorado Rockies pitcher Ubaldo Jimenez, but the Rockies have already stated they are not willing to deal him.
Adding another quality arm to the rotation could act as the final catalyst towards total separation from the Cleveland Indians, but whether the Tigers actually land one is yet to be seen.
The Philadelphia Phillies have switched gears from the searching for a quality outfield bat to hunting for a bullpen pitcher, and three pitchers from San Diego are all on the Phillies radar.
Heath Bell, Chad Qualls and Mike Adams are all players the Phillies have expressed interest in, and the rumor now is that the Phillies are the front runners for any one of these players.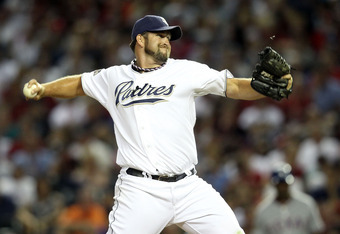 Christian Petersen/Getty Images
The Padres may set the bar steeper than Philly wants for Bell, while potentially making Qualls and Adams more attainable, but if the Phillies can't land Bell, they may switch back to their original pursuit and entertain a look at Padres outfielder Ryan Ludwick.
Getting Bell, though, would allow the Phillies to push Madson back to a setup role, which is where the Phillies would prefer to use him.
CBSSports writer Danny Knobler is reporting that both the Yankees and Red Sox will have scouts at the Philles-Mets game tonight.
It has been widely rumored that the Red Sox could be a strong possible suitor for Carlos Beltran, considering their issues in the outfield, but not the Yankees, which makes their presence a little curious.
Then again, the Yankees could still throw their hat into the mix for Beltran, and they could even be in Philly to take a look at some of the remaining free agents the Mets have to offer—perhaps even Phillies outfielder Raul Ibanez.
For fantasy related information on Heath Bell and other free agents, come read my latest MLB Trade Rumor piece.