British Open 2011 Cut Line: Day 2's 10 Most Memorable Moments
July 15, 2011
Stuart Franklin/Getty Images
The second round of the British Open was filled with surprises.
1. Tom Watson had a hole in one on the sixth using a 4-iron, he said afterward. It was a one hopper, slam dunk. "Wish I could have seen it go in," he said as he walked from the tee to the green. "They're all lucky when they go in. But that's what I was aiming at."
Watson made the cut at even par, unlike some other name players who didn't. Bubba, the "other Watson," will play the weekend, too.
2. Phil Mickelson is in 15th place and was happy with his round. He's almost a contender.
"It was a fun day today. I got fortunate being on the good wave of the tee times, going late-early, and had a chance the front nine to shoot something low," he said after his round. "Shot even par, but was able to make a birdie on the back, shoot 1-under, and it was a good, fun day."
Mickelson said he has developed a lower shot trajectory with the driver and 3-wood.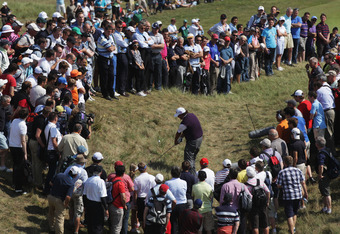 Ross Kinnaird/Getty Images
"I've been working on this very low shot off the tee, very low driver, low 3-wood, and I've been able to control it and get it to roll along the ground easy, and I'm not fighting the wind as much," he added. "When I get a direct cross wind, I get the ball on the ground quicker and I don't have that big miss as much because it's not in the air as long."
He said his improved play to this point was also due to a change in approach to putting. He is working more on feeling the break instead of reading the break. He feels it with his feet.
3. Luke Donald, World's No. 1, will not play the weekend. Neither will Lee Westwood. Padraig Harrington? Gone. As is Graeme McDowell. Ian Poulter now has two extra outfits. Ernie Els, Matt Kuchar, Matteo Manassero and Nick Watney were all sent packing.
"I couldn't really put my finger on anything that was particularly bad today," Graeme McDowell said. "I went out yesterday and I had very little belief in myself. Just a little bit of a confidence issue. Like I say, I'm just can't string four rounds together at the minute, and this week I couldn't even string two together."
4. Rory McIlroy is not leading. He's safely through to the weekend with even par, but he was not lighting up the course. However, he did get ovations at every tee and every green.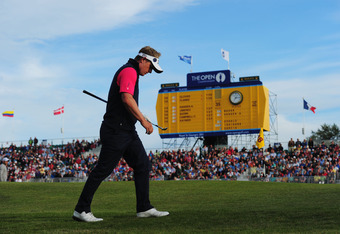 Stuart Franklin/Getty Images
5. The weather was nice. However, that's not expected to last. Apparently, everything but small vehicles will fall from the sky on Saturday.
6. Darren Clarke and Lucas " Caveman" Glover are leading at four under. Both of them have won already this seaso, but do not make the typical lists of players to watch.
"There's an awful long way to go yet, and I believe the forecast for the weekend is very, very poor, which I quite look forward to," Clarke said. "The course is going to play very, very tough. If that's the case, then the tournament is still wide open for an awful lot of players."
He credited his better play to moving back to Northern Ireland, where he can have his children in local schools instead of at boarding school. "It's a lot easier to play better whenever family life and stuff at home much better, much more stable again."
Clarke has been working on his game. "I've been doing a lot of practicing in bad weather because that's usually what we get at Portrush," he added. "That's a little bit harsh. It's not always that bad. But it's certainly been tough conditions practicing, not quite as easy as it was when I was living in London." He hoped the bad weather training would help on the weekend.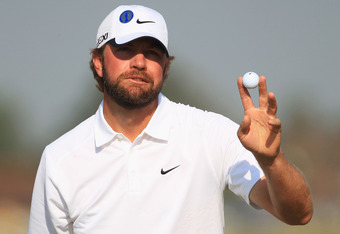 Streeter Lecka/Getty Images
Lucas Glover got funny. "They said nobody has won The Open Championship with a beard since the 1890s. That's what BBC Radio told me," he said after his round.
That's a lot for Glover who outdoes the legendary Gary Cooper as the strong silent type.
7. Davis Love III is in seventh place, seven places ahead of Mickelson, and tied with seven others. Does that mean if he has to be the seventh son of a seventh son to win?
Love is tied with Tom Lehman, Masters champ Charl Schwartzel, Dustin Johnson, Pablo Larrazabal and Anders Hansen.
8. Martin Kaymer is quietly stalking the leaderboard.
"I think the first two rounds, they were fairly good, and I'm happy with that," he said about his play. "But if the weather comes in, if the rain comes in and the wind, then it's a battle. Then you need to fight, and then it becomes very difficult to keep that position. But I'm ready for it. I had a week off last week, so I'm prepared for some mental strength out there."
9. Like the t- shirts say: Old Guys Rule. Thomas Bjorn and Miguel Angel Jimenez are in third place at -3.
"I put my breath on the back of the players, and they're going to feel myself coming from behind," Jimenez warned. "Be careful." He smiles. He puts his cigar in his mouth.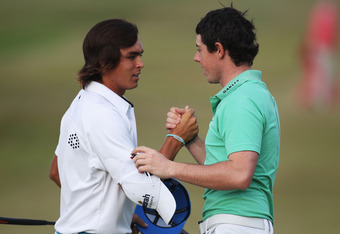 Ross Kinnaird/Getty Images
Jimenez is being compared to the Most Interesting Man in The World commercials. While Jimenez loves his red wine, cigars and fast cars, we do not know if, like the Most Interesting Man in The World, he is the life of parties he has never attended, if sharks have a week dedicated to him, if his personality is so magnetic, he is unable to carry credit cards or if his beard alone has experienced more than a lesser man's entire body, but he does have an unusual warm-up routine that he said is like dancing.
The cigar is "making him warm inside," he added.
Thomas Bjorn is tied with Jimenez at -3.
"I just walked off the golf course with Gary Woodland there on 3-over par and he's still got a chance of winning the championship, " Bjorn said. "Everybody that's there for this weekend can win it, and that's what we're looking ahead to. Unlike often, when you're in contention in a championship where it may be between six, seven, eight of you, now it's between the whole field. You know, you've just got to go out there and knuckle down and see where it gets you to on Sunday afternoon."
10. Amateur Todd Lewis is tied with Phil Mickelson and three others. He had the good fortune to play with the man he is named for, Tom Watson, and got a chance to chat him up as the Brits say.
"We were just talking about previous wins of his and the courses he likes as a links course and coming over here and playing," Lewis explained. "Walking down the fairway with Tom on 7, giving his tips on how he's won and the courses he's enjoyed is definitely the highlight of my career so far."
Lewis has so many messages he had to silence his phone. "I heard my 80 messages last night, and a lot more Facebook apps," he said. "I just turned that on silent and I got to sleep."
Quote of the day Chad Campbell, tied for third at -3: "Yeah. I grew up playing in the wind so much that if you couldn't do that, you wouldn't last too long." Campbell grew up in Texas.
Kathy Bissell is a Featured Columnist Golf Writer for Bleacher Report. Unless otherwise noted, all quotes were obtained first-hand or from official interview materials from the USGA, PGA Tour or PGA of America.