WWE Brewing Thoughts: CM Punk and Your Money in the Bank Favorites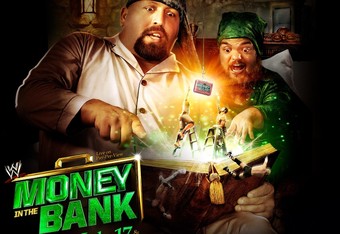 It's time for another edition of Brewing Thoughts, only four days away from one of the most important pay-per-views in recent memory.
Money in the Bank is always a popular event, simply because of the two Money in the Bank ladder matches. But this year, it has plenty of momentum outside of the eponymous double-feature.
In the WWE Universe, CM Punk's final night on the WWE roster is Sunday, in his hometown of Chicago. In the real world, the truth is far less simple.
Will Punk stay, or will he go? And will he take the WWE Championship with him?
It's Now or Never for WWE and CM Punk
Life often imitates art, but the inverse was the case Monday night in the WWE Universe. CM Punk and Vince McMahon met to discuss Punk's contract, but it wasn't in the middle of the ring for all of the WWE Universe to see. It was behind closed doors.
What happened in that Monday afternoon meeting is unknown to all but Punk, McMahon and those closest to the WWE chairman.
Reports across the Internet state McMahon is aware of the momentum the CM Punk storyline has, and that McMahon recognizes the lack of top-tier talent on the WWE roster right now. But was that enough for McMahon to make the offer necessary to get the Second City Savior to re-sign with WWE?
For the first time in years—hell, maybe since the Attitude Era—I was caught up in a WWE promo. And it happened twice in the last three episodes of
Raw
. While I represent the smaller, more critical segment of the WWE Universe, I surely wasn't the only one that came back to WWE just a little more thanks to the microphone work of Phil Brooks.
As was the case with the worked shoot from a couple weeks ago, there was plenty of truth in CM Punk's words this past Monday. And, as usual, the interjection of John Cena was a bucket of cold water on the white-hot iron that is the CM Punk storyline.
But I ask again: Was that enough to make Vince McMahon realize what he has, and what he could potentially lose?
The Punk angle is searing hot. McMahon has to know this. It has piqued the interest of old-school fans, and the new generation of WWE faithful is riveted. Punk turned face, and back to heel, in the same promo. Does McMahon want a guy capable of such a promo competing somewhere else?
Whatever it takes, Vinny Mac must re-sign CM Punk, at least short-term. A short-term deal could lead to a long-term pact. And it is certainly in McMahon's best interest to have CM Punk on the WWE roster for a long, long time.
McMahon has a long history of burying talented wrestlers in lieu of pushing his cookie-cutter prototypes. Guys like The Miz and CM Punk could be carrying the company, but that load has been placed on the shoulders of less capable men like Randy Orton and John Cena.
Can the old dog finally learn a new trick, and really listen to the WWE Universe? We should find out in the next week.
Handicapping Raw's Money in the Bank Ladder Match
Two former MITB winners will battle six men trying to earn their first anytime-anywhere world title contract in Raw's iteration of the Money in the Bank ladder match. Let's take a look at the odds for the battle of over one world-title contract.
Not Gonna Happen—Sorry, Jack Swagger. Don't expect to join CM Punk as the only two-time Money in the Bank winner. Stranger things have happened in WWE, but you'd be better off not holding your breath on this one.

You Never Know ...— Widespread retirement rumors surrounding Rey Mysterio don't bode well for his chances in this year's Money in the Bank match. But Kane won it (and the world title, beating Mysterio himself) at last year's event. You just never know.

Spot Masters—As much as we'd like to believe Evan Bourne and Kofi Kingston have a legitimate shot at pulling down the briefcase, it's much more realistic to expect one, or both, to pull off a ridiculous spot and be taken out of contention toward the end.

Wildcards—It's hard to write off The Miz and R-Truth. The Miz has won it before and could be back in the world title picture by this time next week. But it just seems like The Miz is headed down a different path. R-Truth really doesn't have a place in the world title picture, but it seems like someone in creative really likes him. It's awfully hard to scratch Truth's name off the contender's list, too.

Dark Horse—Watch out for Alex Riley. Like his former mentor, The Miz, Riley could start down his road to the main event picture by grabbing the briefcase Sunday night. Riley is used to carrying the MITB briefcase around. Maybe this time, it will belong to him.

The Favorite—According to Alberto Del Rio, it is his destiny to become world champion. Look for Del Rio to take another step toward fulfilling that destiny Sunday night in Chicago. And if CM Punk does the "unthinkable" and defeats John Cena, don't be surprised if Del Rio fulfills that destiny at Money in the Bank.

Handicapping SmackDown's Money in the Bank Ladder Match
The field for SmackDown's Money in the Bank match seems to be heavily weighted. But Kane was an unexpected winner last year, so you never know what might happen. Let's take a look at the odds as to who will take the briefcase back to Friday nights.
Not Gonna Happen—The mighty have fallen, and last year's winner, Kane, falls to the bottom of the pecking order this time around. Kane's win last year set up a high-profile feud with The Undertaker, but with big brother not around, Kane's chances are slim.

You Never Know...—Something tells me Daniel Bryan doesn't have a place in this match. But few people saw Jack Swagger's WrestleMania XXVI Money in the Bank win coming, and maybe Bryan is following a similar path.

Spot Masters—Now that they've left their second faction, Heath Slater and Justin Gabriel don't have much going for them. Hopefully, they like crashing through ladders, or tables or both. I have a feeling they'll be doing something of that nature come Sunday.

Wildcards—Triple H could actually be called the wild card in SmackDown's MITB match. Former pet project Sheamus and current pet project Sin Cara make you scratch your head and wonder, "Could they pull it off?" With the backing of Vince's "doofus son-in-law," anything is possible for the international stars in Chicago.

Dark Horse—I've seen Cody Rhodes mentioned as the favorite by some. I don't know that he's the favorite, but he's definitely someone to watch. He's made massive strides and could become the Shawn Michaels to Ted DiBiase's Marty Jannetty with a win Sunday.

The Favorite—Wade Barrett was the clear-cut star amongst the Nexus group, as well as during the course of the first season of NXT. Barrett should take a look at The Miz's path to the gold. After dropping the U.S. Title, Miz went on to win Money in the Bank and become WWE Champion. Barrett is rid of the Intercontinental Title and will have a shot at one of the two world championships after grabbing the all-important briefcase Sunday night.

This article is
What is the duplicate article?
Why is this article offensive?
Where is this article plagiarized from?
Why is this article poorly edited?