Joey Chestnut Celebrates Independence Day with Fifth Consecutive Mustard Belt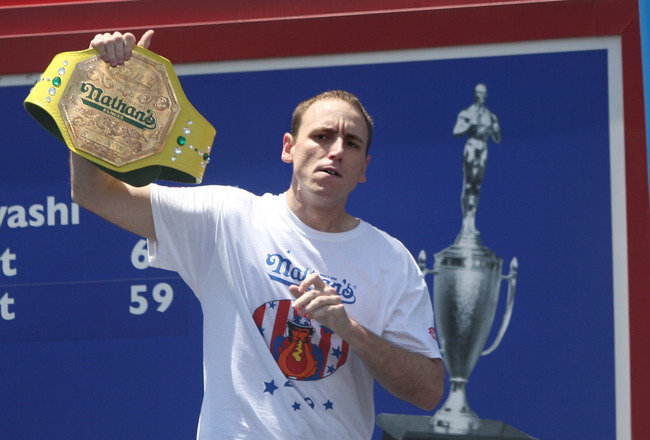 Yana Paskova/Getty Images
On a hot, humid Independence Day on Coney Island, Joey Chestnut's body shook, his throat bulged and sweat dripped down his face. He reached down to the table and then up to his mouth, wolfing down his 62nd hot dog as the whistle blew, capturing his fifth consecutive Nathans Hot Dog Eating Contest title.
Chestnut got off to a record start, consuming 32 hot dogs in the first four minutes. However, second place finisher Pat Bertoletti kept it close. He was just a few hot dogs behind Chestnut at the four minute mark of the 10 minute event. "I didn't start out as fast as I wanted," Chestnut said in a post-contest interview on ESPN. "I had a little trouble with the water."
Halfway through the contest Chestnut began to pull away, going up by five dogs at the five minute mark. Chestnut got in a rhythm and his whole body began working in unison. As the competition drew to a close it became clear that Bertoletti could not keep up with Chestnut, as Bertoletti finished nine back with 53 hot dogs.
"Winning tastes pretty good," said Chestnut, who finished six hot dogs shy of his own world record, 68, which he set in 2009. Although Chestnut denies that the weather affected his performance, it is worth noting that when he set the record in 2009, the temperature was nearly 25 degrees cooler than the brutal 95 degree heat yesterday.
Although Bertoletti held his own this year, Takeru Kobayashi, a six time Nathan's Hot Dog Contest champion who has been Chestnut's toughest competitor in past years, was barred from participation in the contest for the second straight year, due to a contract dispute.
At the 2010 competition, Kobayashi had to be taken away by police after he jumped out of the crowd wearing a "Free Kobi" t-shirt following the event.
In 2011 Kobayashi staged his own July fourth competition, eating 69 hot dogs—one more than Chestnut's record. However, it must be recognized that Kobayashi did not have the pressures of a competitive atmosphere and competed in the comfort of an air conditioned bar.
The Nathan's Hot Dog Eating Contest also added a new component to this year's July 4th competition—a women's hot dog eating contest.
The winner was Sonya Thomas, nicknamed "The Black Widow." Thomas downed 40 hot dogs in 10 minutes, earning her the inaugural pink Pepto Bismol Belt. This finish by Thomas is especially impressive, as it would have placed her fourth had she competed alongside the men.
This article is
What is the duplicate article?
Why is this article offensive?
Where is this article plagiarized from?
Why is this article poorly edited?