UFC 133 Fight Card: Just How Good Is Rory MacDonald?
July 13, 2011
Talent. You know it when you see it.
In Georges St. Pierre, it was his mixture of a smooth and patient offense mixed with incredible take down skills. In Jon Jones, you had a relatively "green" mixed martial artist who, due to his athleticism and creativity, was able to dominate every opponent he's ever faced. 
The key thing you should remember is that these two came from entirely different combative disciplines prior to entering Mixed Martial Arts; and through time, dedication and pure will, they've excelled to the top of the sport. Most UFC champions, both past and present, can generally say the same thing; however, things are gradually shifting. 
Now that the UFC has become what most consider the "major leagues" when it comes to fighting at the upper levels of MMA, a new crop of fighters has begun to emerge; this is a fighter who didn't start out as a collegiate wrestler like Cain Velasquez or in Thai Boxing like Anderson Silva; this is one who's combat base is none other than Mixed Martial Arts itself.
Think about this for a second. A fighter who from a very young age begins honing his skill set in not just one discipline but in all the disciplines needed to be successful in MMA? How would they do against their old school brethren? Well, just ask Rory MacDonald.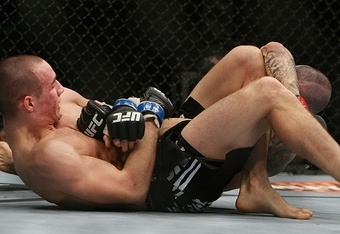 The 21-year-old Canadian has amassed an impressive record of 11 wins and one loss, with two of those wins achieved in the UFC as part of his current four-fight contract, which he signed with the promotion in late 2009.
MacDonald, who turns 22 this month, will be working to give himself a belated birthday present by defeating Mike "Quicksand" Pyle at UFC 133 next month in Philadelphia. What makes MacDonald such a special talent is that he fights like a Mixed Martial Artist 10 years his senior, and his Cage IQ is still expanding.
Starting out wtih Toshido Fighting Arts Academy in his native Kelowna, Rory began his professional career at the tender age of 16 and secured a Rear Naked Choke victory over Terry Thiara. 
As UFC commentators like to point out each time MacDonald enters the cage, while most teenagers were worrying about prom or getting their drivers license, this kid was working out in the gym everyday trying to perfect his all around game. 
The cold hard truth is that as elder statesmen like Randy Couture, Chuck Liddell, and Wanderlei Silva begin to say goodbye to the sport, fighters like Rory MacDonald show us all what we have to look forward to: the next generation and evolution in MMA.