NHL Free Agency 2011: Projecting Rangers' Opening Night Lineup and Line Pairs
July 12, 2011
Mike Stobe/Getty Images
The New York Rangers improved this off-season without a doubt. They have a bona-fide number one center who will both help on the power play and set up Marian Gaborik. Richards alone makes the Rangers a better team.
Ryan Callahan and Brandon Dubinsky will be back whenever Glen the Savior re-signs them. Callahan would have scored 30 goals if he didn't get hurt last season, and Dubinsky had a very good year. Both of these players are heart and soul guys and define the statement "Play like a Ranger", with their hard work and willingness to sacrifice their body.
The Rangers should build upon their young defense, especially with encouraging rookie seasons from Michael Sauer and Ryan McDonaugh. Marc Staal and Dan Girardi proved again that they can stop the opposition's super stars on a nightly basis. I am excited for Tim Erixon, who was acquired from Calgary for almost nothing compared to his worth.
As always, Henrik Lundqvist will be between the pipes. The Rangers MVP for his whole career, the team depends on King Henrik to put up an all-star season for the team to be successful. I expect nothing less from Lundqvist, who has proven year-in and year-out that he is a top 5 goalie in the NHL..
So here is my vision for the Rangers starting line-up on opening night in Stockholm against the Los Angeles Kings.
Wolski-Richards-Gaborik
Callahan-Stepan-Dubinsky
Fedotenko-Boyle-Prust
Rupp-Anisimov-Christenson/Avery/Hagelin/Zuccarello
Staal-Girardi
McDonaugh-Sauer
Erixon-Del Zotto/Veteran free agent
Lundqvist-Biron
So, let's start with breaking down the forwards. The Rangers are missing a quality left winger for the 1st line. Wolski has the most potential on this line, but he has been known throughout his career as a streaky player. Gaborik and Wolski on the same line may not work, but if Wolski decides to play, this could be a quality 1st line. It could also be a disaster if either the trio doesn't click, or Wolski isn't capable of playing with the other two players.
I felt that Vinny Prospal would have been a great LW for the 1st line. He played with Brad Richards in Tampa Bay before both left, and Prospal has experience with Gaborik in New York. The Rangers most likely will not re-sign him which I don't like because of the chemistry he could have on that top line. I also love his energy for the kids in the locker room.
The second line is very exciting. Derek Stepan, coming off of an encouraging rookie campaign, centering a line with two hard working players in Callahan and Dubinsky. This line is very exciting for Rangers fans because of it's skill and youth.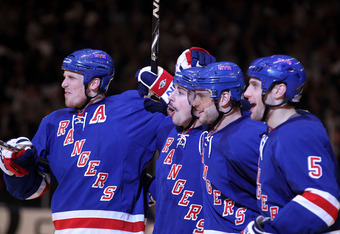 Bruce Bennett/Getty Images
The third line was, at times, the best line for the Rangers last season. Brandon Prust was the team's hardest working player, as shown with his winning the Steven MacDonald Extra Effort Award at the end of the season. Brian Boyle had a break-out season last year with 20 goals. Hopefully this isn't a fluke year for the big man. Ruslan Fedotenko was re-signed this off-season to complete the line. Fedotenko always works hard and, in my opinion, fits in well with this team, especially with his experience in winning two Stanley Cups.
The 4th line has some big boys on it. Mike Rupp was signed to be the tough guy for this team. Anisimov just signed a 2 year contract, and needs to step up as a 24 year old. He has been progressing slowly but needs to have a good year.
The next spot is up for grabs in training camp. I am not a Sean Avery fan. I would have no problem with the Rangers burying him in the minors for the final year of his contract, but will the Rangers be willing to do it? Probably not. Avery doesn't seem to irritate people the same way he used to. His act is getting old I guess. Christensen may be on his way out. He is a streaky player as well and may have his spot taken by a kid.
Hagelin was a 6th round pick of the Rangers who is a gritty player, a perfect fit for this hard working team. Zuccarello is a skillful, small player who seemed to struggle at times last year with the big club. I have no problem with either of these players making the team and I hope one of them make it over Avery and Christensen.
On to the defense, Girardi and Staal are amongst the best young pairings in the game. Girardi is a shot-blocking machine, while Marc Staal is a great young defenseman. There's not much more to say about these two.
Sauer and McDonaugh had a very good rookie season together. These two young defenders hopefully take a step forward this year and not a step backwards. John Tortorella has to be careful not to put too much of a burden on these players and continue to let them develop. I would love to see McDonaugh become more of an offensive threat, using his speed and puck-moving ability without sacrificing his defense. Hopefully that comes about this season.
Lastly, Tim Erixon should make this team out of training camp. He has a lot of potential and I am looking forward to watching him. The last spot is up for grabs between the 21 year old Michael Del Zotto and a veteran. Del Zotto started the 2009-10 season with a bang and became a fan-favorite. However, at the end of that season he started to struggle, and with the Rangers in a playoff race and no one better to replace him, he was thrown to the wolves. Last year he started with the big club, got sent down to the minors, wasn't happy about it, got hurt, and is now healthy.
The Rangers are in the market for a veteran defenseman. Looking at the remaining cheap free agents, names that stick out are Paul Mara (who has previously played on Broadway), Sami Lepisto, or re-signing Steve Eminger. I would personally advocate proposing Luke Schenn an offer sheet (if you are a member of Leaf Nation you just either A) had your heart drop, B)became really mad or C)had your heart speed up. Relax, IT WAS A JOKE).  I thought Steve Eminger did a really solid job last year as a 3rd pair guy, and I would love to have him back. I would still start with Del Zotto and see what happens but that's just me.
Lundqvist, as I said before, is the constant of this team.
Now to the power play, this is how I see it.
Wolski-Stepan-Gaborik-Richards (at the point)-Staal
Callahan-Anisimov-Dubinsky-Girardi-MacDonaugh
Richards is the quarterback, put him at the point and let him handle everything. He can open up the zone with his passing and can set up Gaborik.
The second unit has Anisimov as the center, with his big body providing a screen. Dubinsky and Callahan have the chemistry that can be lethal on the power play.
Lastly, the penalty kill should remain similar to last year.
Callahan-Dubinsky-Staal-Girardi
Boyle-Prust-Sauer-MacDonaugh
Prust was one of the league leaders in short-handed goals and these shot-blocking machines were one of the reasons they had a top 10 PK last season. This should continue to be a strong point of the team next season.
I hope you enjoyed my preview of the Rangers lines. I know you are all eager to comment so feel free to leave one.
Thanks for the read and as always keep the military in your thoughts and prayers.
Let's go Rangers