Boxing: 5 Strong Candidates Who Can Win the Fighter of the Year Award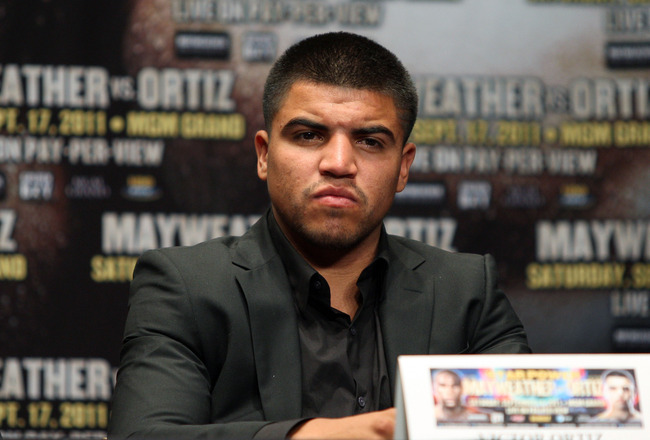 Daniel Barry/Getty Images
It's been a little over half a year and we've already been treated to fantastic performances from some fighters and dreadful performances by others.
Past winners Manny Pacquiao and Sergio Martinez have yet to make their run at the award this year, as Pacquiao's match with Mosley was just dreadful to watch and Martinez has been unable to find any top-tier opponents to get in the ring with him.
While neither of the past winners have turned in a potential winning performance yet, other fighters have stepped up to the plate.
I didn't add the winner of the super six tournament because of the possibility that it might get postponed again due to injury to either fighter. While it is very unlikely that the tournament can get postponed again, I left it out as a possibility. If and when their fight goes through, the winner would be a strong candidate to win.
Here are a look at five boxers who have each had stellar fights this year and have won them for a world title.
Remember, this is only halfway through the year and nothing is set in stone yet.
Saul Alvarez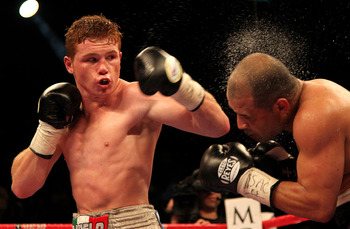 Jed Jacobsohn/Getty Images
He's undefeated in 38 fights (37-0-1 27KO); he's the WBC light middleweight champion of the world. He is ranked fourth in his division, according to the Ring magazine, and did I mention he's only 20 years old?
He's a dark horse and an underdog to win the award this year, on account of the strength of opposition he has faced so far this year.
Despite that though, he has remained active with two fights so far, one more in September and a possible match in December.
He disposed of his last two opponents in a near blowout and had little to no problems doing so.
Alvarez looks to do the same against his next opponent who is yet to be announced in September. The choice of his opponent will either strengthen or weaken his chances.
If he faces fellow undefeated fighter Vanes Martirosyan and wins, he'll be that much closer to winning the award.
Nonito Donaire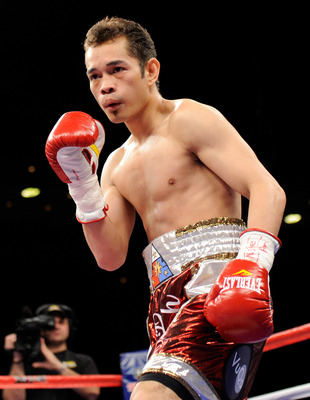 Ethan Miller/Getty Images
Nonito Donaire was on a roll this year, after his second-round knockout of fellow pound-for-pound superstar Fernando Montiel.
He delivered one of the most explosive knockouts of the year and one of the most significant of his career.
Instead of riding this momentum into another huge fight, he was stopped cold in his tracks due to contract issues.
So you may be asking how he could be a possible candidate if he's not even fighting right now.
He's here mainly because his contract issue is near completion, and we could see him again in two months.
When he gets back though, the list of possible opponents available for him will work in his favor.
He was originally supposed to fight Anselmo Moreno for his WBA title. Other opponents include the winner of the Showtime bantamweight tournament. Or he could move up to super bantamweight and take on Jorge Arce or Guillermo Rigondeaux.
If his opponent is either of these men, his chances of winning is only strengthened.
Victor Ortiz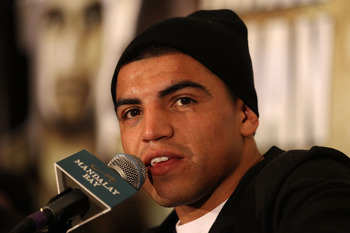 Scott Heavey/Getty Images
Victor Ortiz has looked fantastic, so far this year.
He was able to show that he does indeed have the heart to win in big matches and made a huge splash in the welterweight division by beating out Andre Berto.
In his potential fight of the year against Berto, Ortiz landed double-digit punches in each round and knocked down Berto twice before grinding out a hard-fought decision victory.
Now he's going to face Floyd Mayweather Jr. in not only the biggest fight of his career, but the biggest fight in his life.
Everybody's eyes are on him right now to see if he's capable of winning, or if he'll just be another victim to Floyd's record.
If he's able to beat Mayweather, not only will he be a lock-in for Fighter of the Year, but also Fight of the Year and Upset of the Year.
Brandon Rios
Tom Pennington/Getty Images
Brandon Rios is showing his dominance and proving why he's one of the best in the lightweight division right now.
He went to war against Miguel Acosta, where he rallied from being down in the early rounds to knock out his opponent.
Recently, Rios took on Urbano Antillon and the two had a battle that could very well be the best of the year.
For three rounds, both men were punching each other nonstop and never let up. Both men only knew one direction in this fight, and that was forward.
Rios is shining in one of the most stacked divisions in boxing.
Whoever Rios fights next better be weary, Rios can knock you out. If you hurt him, you better hope to finish him too, because he just comes back harder and faster.
Bernard Hopkins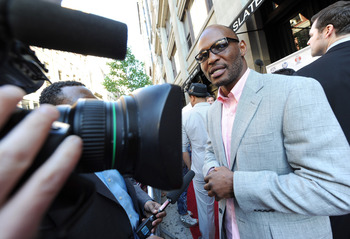 Jason Kempin/Getty Images
Father Time can't touch the Executioner.
Hopkins may have had only one fight this year, but he showed that age is just a number in his fight against an opponent almost 20 years his junior.
In his win, Hopkins was able to become the oldest fighter to ever win a world title at the age of 46, against then WBC champion Jean Pascal.
Hopkins was able to school the young champion, yet again, getting into his head in the process and showing he's not too old to play around. During the fight he'd stick his tongue out at Pascal to provoke him and also do pushups between rounds while Pascal was still sitting.
Next he'll be facing Chad Dawson in a defense of his WBC belt.
If he continues to win against top young contenders, Bernard Hopkins will surely have a shot at winning the Fighter of the Year award.
I know some people might criticize this because they feel that the competition in the heavier weight classes has gotten weaker over time. The fact that Hopkins has been able to do all this at the age of 46, against younger competition, is impressive.
Keep Reading