Brandon Rios vs Urbano Antillon: Live Blog Updates from Home Depot Center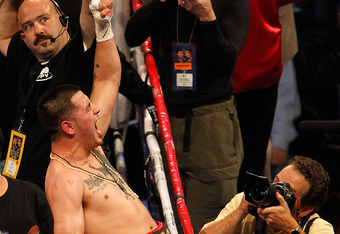 Tom Pennington/Getty Images
Fight fans, I have been saying this ever since this fight has been inked that Brandon Rios vs Urbano Antillon will most likely be the fight of the year in 2011, as I explained further in this previous article.
Both Rios and Antillon have the fighting styles to put on an exciting match up, for they both keep throwing punches and keep coming forward. You add the bad blood that these two have and you have a guaranteed war inside that ring tonight.
Also, tonight is the return of former welterweight champion Kermit Cintron, who last time at the Home Depot Center made his infamous dive outside the ring against Paul Williams.
Cintron is taking on Carlos Molina, a fight in which he should win comfortably should he choose to not go diving again outside of the ring tonight at the Home Depot Center.
At Friday's weigh in Rios the champion weighed in at: 135 lbs.
The challenger Antillon weighed in at: 134.75 lbs.
Cintron weighed in at: 149.25 lbs.
Molina weighed in at: 151.75 lbs.
We will be there ringside tonight at the Home Depot Center in Carson, California, where all the action will take place, providing you great coverage of tonight's fights. So, definitely check back here at the Bleacher Report for all of tonight's coverage of Rios/Antillon.
Also, for real time photos and more casual live updates, follow me on Twitter:
Most of the Maywood local pro Antillon crowd are clearing out and are upset with the outcome.
Many Rios/Oxnard fans are still standing I don't know why? I would be sitting if I was them?
I am off to the post fight conference but first I'll chat it up with the great Al Bernstein a bit.
A fight is breaking out ringside among the crowd which appears to be between Antillon's fans and Rios fans. Good thing I am on the opposite side.
Crowd is now cheering RIOS RIOS RIOS!
On a side note Mike Lee who fought tonight on the undercard is rolling deep with a big team of supporters wearing blue shirts that read MIKE LEE which include several lovely ladies.
I might have to go to more of his fights.
Round 3: Rios knocks Antillon down hard and crowd goes insane. Antillon gets ups and tries to survive while throwing back.Crowd is on fire!
Rios knocks Antillon down again hard.
Antillon gets up and starts hugging for his survival. Referee breaks it up. Rios attacks and Antillon runs away with his back turned which signifies I give up referee save me please.
Referee acknowledges this and stops the fight and every single person in the Home Depot Center is on their feet in amazement.
Brutal beat down by Brandon Rios. If you doubted him before there's not much to doubt anymore!
Round 2: I'd give this to Urbano again appearing to landing more but again very close round both trading bombs non stop.
Round 1: Very even both trading bombs. It seemed Antillon landed more over all throwing George Foreman like hayemakers side to side but RIos landed the cleaner shot straight up the middle with combos and upper cuts.
I'd give it to Rios based on the cleaner shots landed but again Antillon seemed to land more.
Antillon enters first to traditional Mexican music crowd cheers.
Rios enters to a more elaborate entrance with lasers of different colors first of the Mexican flag then purple????
Margarito and Fernando Vargas are in the ring to support Rios. All Garcia's fighters.
Crowd boos Rios a bit. So it appears a more Antillon crowd?
The DJ's playing mad Michael Jackson smash ups all night. Is it like MJ's bday this weekend or something?
Jose Roman undefeated lightweight who is 10-0 8K0's who fought tonight just came up to me and gave me props on my throwback Jordan jersey. He said Chicago Bulls that's whats sup.
UD for Molina all 3 judges 98-92.
Crowd approves with clapping and cheers.
10th and Final Round: Cintron desperately holding on to survive. All Molina.
If Molina loses this fight biggest robbery of 2011!
Crowd cheers and again its a Pro Molina crowd or perhaps an anti- Cintron crowd.
Round 9: Another one sided round for Molina. If you questioned Cintron's heart then there is no more question. He's just here to earn a paycheck i seems?
Round 8: Big round for Molina he almost TKO'd Cintron against the ropes. Crowd goes wild.
Round 7:
Mr. Capone E walks down the steps and everyone turns around and security has to escort him down.
A bit closer round. Molina seemed to slow down a bit but Cintron did not open up.
Round 6: CIntron finally opened up a bit more this round he landed a few but Molina far more aggressive.
Many fans here are still taunting Cintron's questionable heart.
Round 5: Molina lands another big right and it seems Cintron has no answer for it?
Cintron fires back and land a right of his own.
Molina flurries with 2 upper cuts and Cintron just gets hit and pressed against the ropes and the crowd just woke up.
Cintron nose is red and is bleeding.
Big round for Molina.
Round 4: Molina lands 2 clean body shots that Cintron just absorbs. Cintron is opening up a bit more this round but still far less active than Molina. Molina backs Cintron into a corner and crowd cheers.
Cintron ties Molina up it seems trying to tired him down.
Molina's round.
Round 3: Molina lands a big right clean on Cintron's face and makes him turn away momentarily. First big shot of the fight.
Molina's round. A few Cintron supporters yell out Boriqua for his part Puerto Rican heritage.
Round 2: Molina still more active and throwing more Cintron looking to counter. Molina lands a few during a quick exchange and the crowd cheers loud.
Molina's round.
Round 1: Molina more aggressive. Cintron waiting to counter. Cintron slips and his glove touches the canvas the crowd cheers.
They are definitely favoring Molina here tonight.
Close round but Molina more active.
Cintron walks into the ring to some classic Michael Jackson They Don't Really Care About Us.
Crowd is booing Cintron hard here tonight.
Crowd taunting him saying: "DON"T JUMP OUT THE RING THIS TIME!"
The Classy Jimmy Lennon Jr. stirs up the crowd before Cintron comes out saying we have a battle between Maywood vs Oxnard and the massive Mexican-American crowd goes wild.
Abner Mares taking pics with fans.
Marco Antonio Barrera getting mobbed with even more fans.
Margarito just walked down the steps and the crowd goes insane with mixture of cheers and boos. Margarito is rolling deep with about 30 heads.
Alright fight fans good and bad news which one you want first? I'll give you the bad news they screwed me and put me in an unsexy media seat with no laptop plugin outlets. So my lap top has about 25% battery life right now.
The good news is a lot of Meixcan champions are in the house tonight. Go follow me on my Twitter. The legendary Julio Cesar Chavez SENIOR is rocking a tuxedo. I just took a picture with him and posted it on my Twitter.
DJ is stalling right now spinning old school house music(definitely catering to the large Mexican crowd in house tonight, as we are waiting for the next fight.
So far confirmed for tonight's attendance we have the star of Showtime's Bantamweight Tournament, undefeated rising star Abner Mares who has notified me that he will see me tonight at Home Depot Center and then go with me to Red Lobster after the fight.
Mares is fighting IBF bantamweight champion Joseph Agbeko next month August 13th at the Hard Rock Casino in Las Vegas in what should be a great fight that will tell us who is the winner of the Showtime Bantamweight Tournament and probably the next Showtime boxing poster boy.
Today in Carson, California where tonight's fight venue, Home Depot Center, is located it is a beautiful sunny day with a temperature of 78 degrees.
The Home Depot Center is an out door venue so the weather may have an impact on tonight's fights of course.
Luckily currently there is a 0% chance of rain and with winds of only 8mph.
So this weather should not give the fighters tonight many problems such as falling out of the ring and landing on us sitting ringside.
This article is
What is the duplicate article?
Why is this article offensive?
Where is this article plagiarized from?
Why is this article poorly edited?