Sarah Burke: An Interview with the ESPY Nominee for Best Female Action Athlete
July 9, 2011
Doug Pensinger/Getty Images
Sarah Burke is nominated for the "Best Action Sport Female Athlete" award at the ESPYs next week.
At 28 years old, Burke has won multiple gold medals at the X-Games. This year she earned the gold in Women's Halfpipe at the Winter X Games in Aspen, Colorado, and at the Euro X Games in Tignes, France.
She'll be representing Canada in the 2014 Winter Olympics, as halfpipe skiing has finally been installed in the Games.
When she's not on the slopes, she's enjoying her time as a newlywed, getting settled in her home in Whistler, Canada, and looking for a puppy. Even with all her success, she's stayed grounded. She's currently back at the place where she learned her craft and she coaches to help get more girls out on the mountain.
I got the chance to speak with Burke about her nomination, sport and life this past year. She was one of the nicest people I've had the chance to speak to, and you can read on for the full interview.
To vote for Burke, go to espn.go.com/espys. With all her accomplishments this year, it's easy to say that she deserves the recognition of this year's "Best Action Sport Female Athlete" award.
You've got until tonight at 11:59 p.m. ET, so make sure to cast your vote for all your favorite athletes! You can catch the ESPYs Wed., July 13 at 9 p.m. ET on ESPN.
Full Interview Transcription:
Ally: This is Ally Williams with Bleacher Report, and I am talking to Sarah Burke, who is nominated for an ESPY. She's up for the Best Female Action Sport Athlete and you can vote for her by going to espn.go.com/espys. So Sarah, how does it feel to be nominated for the best female action sport athlete?
Sarah: Oh, it's awesome! I'm so excited and for sure honored. I had a really good year coming off a really bad year, so to get nominated is kind of the icing on the cake.
A: And this isn't the first time you've been nominated. You won the award back in 2007. How is it different going into the awards this time with a little bit more experience?
S: *laughs* well first off, then I was really just blown away that I was even considered, so I didn't even really know what to think. And when I got there it was just incredible, just all the celebrities that were there, the athletes, like everyone you watch on TV, you know? So it's just cool, and it's been, you know, I guess I know a little bit more what to expect, and I'm so excited because of that.
A: Seth Myers is hosting, Justin Timberlake is handing out the Capital One Cup Trophy…What celebrities are you looking forward to see the most this time?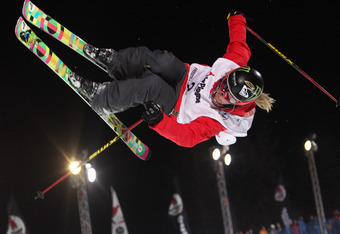 Christophe Pallot/Agence Zoom/Getty Images
S: Of course all the athletes…It's pretty cool to see everyone as a whole, whether you know them or not. Just seeing what they've done in there sport is really inspiring. But yeah, Justin Timberlake; I'm excited to see Brooklyn Decker, actually!
A: And same with athletes, are you looking forward to seeing anyone in particular? And what's your favorite thing about the ESPYs?
S: Athletes, I think I'm just excited to see everybody…Just going down the list and seeing who's going to be there, and all the athletes that are nominated for all the different categories, it's a little overwhelming. It's hard to pick just a few, so I'm excited to see everybody. As for the best part, jeez—I the show is just exciting! Like it's just a lot of fun to be part of it, to get dressed up and walk the red carpet, to have someone do your makeup and hair and figure out what you're going to wear, it's just not something that's not—me as a skier—is not at all accustomed to, so it's nice to be able to do something nice like that. 
A: Have you figured out what you're wearing?
S: Not yet! We're doing a piece with ESPN so they're going to figure it out on Tuesday for me! So it should be exciting!
A: Alright, so you won the gold medal in the Winter X Games in Colorado, and the Euro X Games in France. You're the world's first female competitive freestyle skier. What do you enjoy the most about skiing?
S: Everything! Just being out in the mountains. It's fun, it's where I feel at home and comfortable and it's what kind of makes me happy. I love everything from just shredding around with some headphones to riding the park lap after lap with my best friends to snowmobiling and hearing the silence of the back country. It's hard to say what's my favorite. I love it all. *laughs*
A: Also, congratulations on representing Canada at the 2014 Olympics!
S: Oh my gosh, thank you, we're so excited. It's been something we've been working for a long time and try to push to make happen. We heard in April that we're going through and we'll have a Canadian team formed, so, yeah, it's incredible. I'm really excited to get to be a part of it.
A: Well definitely, congratulations on that. So you're back in Whistler right now?
S: Yep! I'm in Whistler, and I'm standing on a jump on the breaker watching kids fly over my head!
A: And you're a coach right now, right? Can you talk a little about that?
S: Yes! I'm at Momentum Ski Camps, where I started as a little girl, well, when I was 14. I started coming here as a camper, then graduated to a coach a few years later and have been coming back ever since. We've been doing a girls session for two years now, and try to make it more special to get some ladies coming out for some private shoots when the mountain's closed. It's a lot of fun; it's cool to see how they all practice together, and it's just a lot of fun.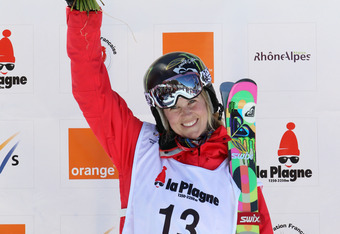 Christophe Pallot/Agence Zoom/Getty Images
A: And these girls are all ages, like beginners [and] up?
S: Yeah, yeah, we've got beginners to girls who are doing flips. We've got girls ages 11 to—I don't know, maybe 28 this session! We've got a little bit of everything going on so it's really cool. Everyone's so supportive of each other; it's a fun atmosphere.
A: And what else are you up to? You're a newlywed, just married—congratulations on that as well!
S: Yeah, I just got married to Rory Bushfield, who's another skier, and he does more big mountain stuff so we're always on different schedules. He's coaching up here at camp so it's great! We actually get to spend time together! So I'll be up here for another week, and hopefully I'll get some training time to myself. We've got a nice 22-foot pipe with an airbag. I'm looking forward to getting some riding time in!
A: I also wanted to talk about the triathlon you participated in. Your team came in first place. I mean, it's been a good year for you!
S: *laughs* It's been a great, great year. That was a really fun part of it for sure. It's an event I've been participating in for three years because of St. Jude's Children's Hospital. It's for a really great cause and we had a really good relay team this year, which included Geoff Stults and DeAngelo Williams. We just went for it! Had a good time, ended up winning first! And looking forward to next year. I think we're planning on training for it a little more though.
A: Seems like first place is becoming quite the place for you!
S: Yeah! I like it, looking forward to hopefully keeping it going!
A: And once again, if you want to vote for Sarah you can go to espn.go.com/espys and she is up for the Best Female Action Athlete. Voting ends on Saturday, July 9 [today]. So, what's next for you, Sarah? You're coaching, you've won all these awards. What's next?
S: It's been a really busy summer so far so I'm kind of looking forward to getting a little bit of down time, and a little time to ski by myself. I took May, June off to let the body heal up and recover. I'm excited to get some good days to get some training here in Whistler, and hopefully in New Zealand. And to get some down time at home! Finishing my house—we've been renovating it forever. And we're getting a puppy—you know, the usual stuff! As for the long-term future, it's keep having fun out there on the hill and an eye on the prize for the Olympics, and training hard for that!
A: Well, thank you so much for speaking with me today, and is there anything you'd like to say to your fans? I mean, people who will vote for you, cheer you on on the side. I'm sure those kind of things pump you up when you're on the slopes.
S: Oh it's amazing! It's what I thrive off of during the X Games. It's great, just the people, the energy that everyone has when they come out to watch. The high fives they give you when you're coming through the finish to the cheering at the top. They're just—that's what makes me happy! So yeah, big thanks to them and get out there and vote! Need all the help I can get!
A: Well yeah, thank you for speaking with me, and have a great time at the ESPYs! Figure out what dress you're wearing and all that stuff. But congratulations on your nomination and all your success this year, and I'm sure we'll be seeing plenty more in the future. 
S: I hope so! Thank you!