20 Bizarre Sports Moments of the 2000s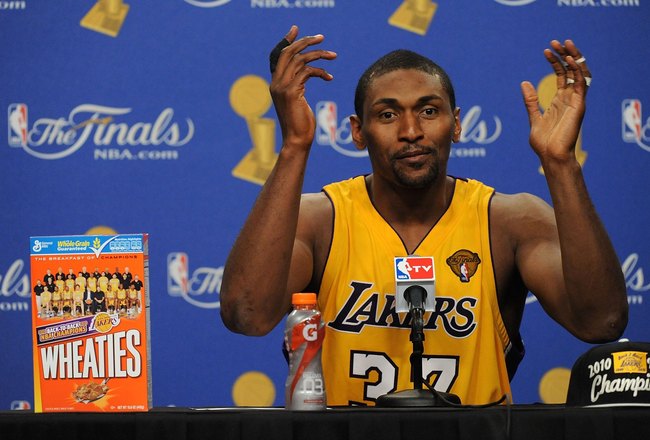 Lisa Blumenfeld/Getty Images
There is a certain predictability to sports. Even when there are exciting moments such as diving catches, full-court shots or walk-off home runs, there is a degree of normalcy to even the biggest events.
Then there are the "What is going on, what am I even watching?" moments. These are the times when the room goes silent, like an ex-girlfriend just walked in the room.
There are sports, and then there is the bizarro world that sports transforms into when you least expect it.
These are the moments that make us remember that sports are not scripted (despite my greatest conspiracy theories that they are). Here are the top 20 most bizarre moments over the last decade or so.
Enjoy.
20. J.T. Snow Saves the Bat Boy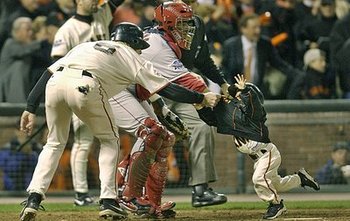 When: October 24, 2002
Where: Pacific Bell Park, San Francisco, California
During the 2002 World Series, after a Kenny Lofton triple, J.T. Snow rounded the bases and scored. With David Bell barreling in behind him, three-year-old bat boy Darren Baker, son of then-manager Dusty Baker, went to go receive Lofton's bat.
In one fell swoop, Snow grabbed Baker by the jacket and pulled him aside before the play at the plate could occur. It was a very odd moment to take place on the biggest stage during a key play.
19. SEC Tournament Delayed by Storm
When: March 15, 2008
Where: Georgia Dome
This gave a whole new definition to March Madness. During the SEC tournament in Georgia, a tornado ripped a hole in the roof with 2:11 remaining in overtime.
Fans had to be evacuated as the top of the dome began to shake and sway, raising huge safety concerns.
This was no full-on collapse like you will see later in the countdown, but it was extraordinary.
18. Dustin Johnson Loses Shot at PGA Title for Grounding His Club
When: August 15, 2010
Where: Whistling Straits
Apparently, grounding your club in a bunker is a two-stroke penalty. I didn't know that, but I am also not supposed to (I usually leave that stuff to the professionals).
Unfortunately, Dustin Johnson didn't know this either. This tends to be a problem for pros playing in majors with the lead.
He was disqualified from the playoff without even knowing he had done anything wrong. It was controversial, to say the least, but also embarrassing and very bizarre.
17. Marion Rolland Falls Five Seconds into Race
When: February 18, 2010
Where: Vancouver, Canada
Olympians are supposed to be the best athletes in the world, right? French skier Marion Rolland is definitely going to make us think that over.
She trained for years for that one moment, and a few seconds into the race, she fell, tumbled off to the side and ended her Olympic dream.
This confirms that hard work and waking up at 5 a.m. every day does not pay off.
16. Manny Catching the Ball and High-Fiving a Fan
When: May 14, 2008
Where: Camden Yards
"Manny being Manny" is one of the dumbest excuses for an athlete's stupidity I have heard.
By condoning his actions, you are enabling him to do more bad than good and telling young people it is OK to act like a jerk, as long as you can drive in runs.
In this particular instance, he actually made a nice defensive play that, of course, turned into a sideshow.
Sure, giving the Red Sox fan a high five is fun and harmless, but it was the epitome of his tenure in Boston—childish and overall baffling.
15. Don Zimmer vs. Pedro Martinez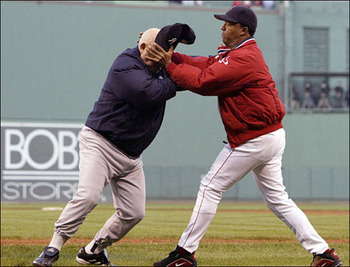 When: October 11, 2003
Where: Fenway Park
In one corner, we have the 32-year-old Boston Red Sox ace, Pedro Martinez. In the other, the happy-go-lucky, 72-year-old bench coach for the New York Yankees, Dom Zimmer.
What started out as a brawl between the players soon spilled into the bullpen, and apparently to old men as well. Pedro says that Zimmer was going to potentially cause him harm, but that is hard to believe.
Throwing an old man down by the head was one of the oddest sights that anyone has seen at a ballpark.
14. Referee Tackles Player During LSU vs. South Carolina Game
When: October 19, 2008
Where: University of South Carolina
There is referee interference, and then there is whatever you want to call this insanely blatant tackle by an official.
It is easy to say that he had money on the game or something to that effect, but there is actually no answer and no explanation given as to why he laid out South Carolina quarterback Stephen Garcia.
This has to go down as the worst decision ever made by a referee.
13. Manu Ginobili Hits a Bat
When: November 1, 2009
Where: AT&T Center, San Antonio
When a bat got loose in the AT&T Center, the Spurs arena, the game was stopped and people were wondering how they were going to catch the sneaky critter. Animal control? A huge net?
Manu Ginobili had other plans: How about just swatting at it and knocking it out of the air? It was one of those moments that you were shocked to see happen but also very impressed with.
I don't think PETA will be knocking on his door any time soon, asking him to be a card-carrying member.
12. T.O. Cries at Press Conference
When: January 13, 2008
Where: Dallas, Texas
We know, we know; he is your quarterback. But you are also the worst teammate in NFL history. Something doesn't match up here.
Everyone was getting on Tony Romo's case, and rightfully so, for not coming through during the big games. That doesn't mean you should cry about it.
Nobody could understand why Terrell Owens was crying, but we just let it become one of our favorite sound clips and moved on.
11. Texas Coach Goes for Live Ball
When: December 27, 2007
Where: Pacific Life Holiday Bowl, San Diego, California
During the 2007 Holiday Bowl between Texas and Arizona State, Texas coach Chris Jessie touched a live ball on the sideline, resulting in an unsportsmanlike foul and the embarrassment of the young assistant.
I do not know what compelled him to do such a thing, but it was very random and will not soon be forgotten.
10. Randy Johnson Goes Hunting
When: March 24, 2001
Where: Spring training
Johnson is an intimidating figure who will never back down from anyone. His devastating slider destroys hitters' confidence, their bats—and birds?
Not only did he hit a bird, but he also made it explode. The speed and accuracy it takes to hit that bird is beyond my high school mathematics education.
All I know is that it is one of the coolest images in sports history and also very strange.
9. Ron Artest Game 7 Press Conference
When: June 17, 2010
Where: Los Angeles, California
Seeing Ron Artest in action is believing, because his antics are beyond ridiculous. I understand the jubilation of winning the NBA title and the celebration that comes with it. But bringing your entire posse with you to the press conference is a little much.
Even if we were to excuse the 75 people standing next to him when he was talking with the press, his responses to the questions are priceless, and his excitement rivals that of an eight-year-old.
I suppose it is just Ron being Ron.
8. 2010 NBA Free Agent "Summit"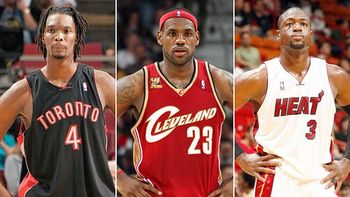 When: June 30, 2010
Where: Miami, Florida
How dumb were we that we couldn't figure out LeBron James, Chris Bosh and Dwyane Wade's secret meeting in Miami on June 30 was them drawing their blueprint?
They wouldn't allow Amar'e Stoudemire or Carlos Boozer to join their club, yet we still all had conspiracy theories as to where they were all going.
I can imagine the talk went something like this.
LeBron: Come to Cleveland. Come on guys.
Wade: Miami is the best place to play; we all have to come here.
Bosh: Toronto is kinda cool.
LeBron and Wade: Shut up, Chris!
7. Roger Clemens Throws Bat at Piazza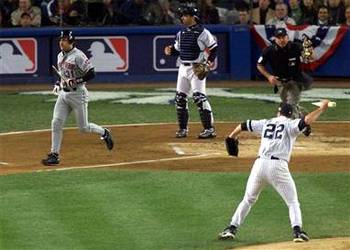 When: October 22, 2000
Where: Yankee Stadium
The moment was surreal. The way the bat shattered and the perfect trajectory it took to Roger Clemens' lap looked like a scene from a movie. What occurred afterward was something that could not have been made up even if you tried.
Clemens' throw of the bat in Mike Piazza's direction took such a perfect tumble that it was as if Clemens was trying to send him a message.
You would never think that it was intentional, but Piazza looked just as confused as he did angry.
6. Tom Gamboa Attacked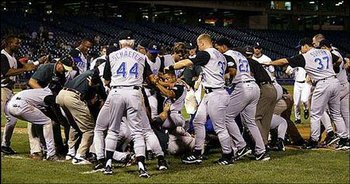 When: September 19, 2002
Where: Comiskey Park (back when it was still called that)
Gamboa was simply doing his job. As the Royals first-base coach, he was going about his business when out of nowhere he was mauled by a father-son combo in an attack that could not have been more unwarranted.
"I have never at any time ever verbally or physically acknowledged the people in the stands and I encourage players to just tune them out," said Gamboa in an interview with Sporting News Radio.
He was lucky that the Royals came to his aid quickly and subdued the men.
5. Metrodome Collapses
When: December 12, 2010
Where: Minneapolis, Minnesota
All I could think about while watching this video was how lucky the team was that there was nobody in the Metrodome when it happened.
How can a stadium that holds thousands of people for sporting events be so fragile? Why was there nobody with the common sense to say that they should go knock the snow off the roof when it accumulated?
My mom always tells me to do that—why doesn't a professional sports team use its head?
4. Phillip Wellman Ejected with Flair
When: June 1, 2007
Where: BellSouth Park, Tennessee
There are manager blowups, and then there is Phillip Wellman. The minor league manager went out to defend his pitcher, who was ejected, when he himself was tossed. Then the wheels came off.
Wellman lost his cool in ways that I have never seen a human being, let alone a manager, act. Sure, his antics were funny and very entertaining, but was this all spontaneous? Did he think to crawl and throw the rosin bag like a grenade before he ever came out?
This was very bizarre activity from a grown man who was one of the faces of a baseball team.
3. Brazilian Vanderlei de Lima Attacked at Olympics
When: August 29, 2004
Where: Athens, Greece
To win a marathon, you need to have incredible stamina, endurance and the ability to fight all types of elements. Never would you think of having to fend off an Irish protester named Cornelius Horan.
De Lima lost 15 to 20 seconds off his lead at the time and was eventually passed and finished third. He took his bronze medal with pride and knows that he probably would have won with all else being equal.
What is weird is that he and this protester had no past and there was no particular message Horan was trying to convey.
2. Malice at the Palace
When: November 19, 2004
Where: The Palace of Auburn Hills
Hard fouls happen; they are part of the game. Technical fouls are also part of the game; they happen too.
Ron Artest should have never been lying down on the table to begin with; this we know. But for a fan to throw beer down onto the court and for Artest to snap in the way that he did was one of the most incredible displays of anger by any athlete ever.
The incident went from bad to worse when Stephen Jackson joined Artest in the crowd, fighting off the fans. It was appalling to watch, seeing that I did not think it was possible for an incident like this to happen.
It was a dark day for the NBA and one of sports' most intense moments.
1. The Decision
When: July 8, 2010
Where: Greenwich, Connecticut
LeBron James was arguably the biggest free agent ever to hit the open market, and for good reason. The speculation leading up to where he was going hit new levels of insanity when ESPN decided to make a special called The Decision.
Everything about the evening was weird. Why was Jim Gray the man to do the interview? Why did LeBron look like he was denouncing his American citizenship?
The whole night was awkward, uncomfortable and made LeBron look very, very bad.
Overall, a very bizarre experience.
Keep Reading