Colorado Avalanche: Are They Legit Playoff Contenders After Free Agent Signings?
July 8, 2011
Doug Pensinger/Getty Images
With a finish of second-to-last in the entire NHL, there really isn't anywhere for the Avalanche to go but up in the coming season.
Something I have read over and over again by people commenting on all things Avalanche since free agency began is that everybody seems to be writing the Avalanche off before the season even begins.
People assume the Avalanche will once again be basement dwellers and they have wasted their inevitable lottery pick by trading it away to Washington.
Well, let's slow down for a second here. If you will remember, something very similar happened to the Avalanche a couple of years ago when they drafted a kid named Matt Duchene with the third overall draft pick.
People sang the same song, saying the Avalanche would once again be in the basement of the NHL. To their surprise, the Avalanche came out and earned a playoff spot.
Can that same lightning strike twice?
The Avalanche were very busy on day one of free agency. They signed Jan Hejda to a four-year contract, acquired and then signed Semyon Varlamov from the Washington Capitals, signed Jean-Sebastien Giguere to mentor Varlamov and added Chuck Kobasew as well.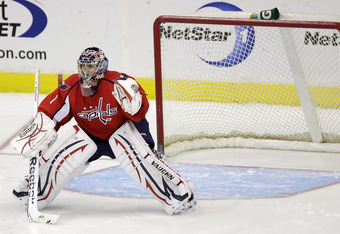 Rob Carr/Getty Images
These signings in and of themselves might make one think, "Well, they're bound to be better than they were, but playoff contenders?" If that was all that was happening, I would agree.
The thing most people overlook before damning the Colorado Avalanche to another season of irrelevance is they were absolutely and completely decimated by injuries last season.
The Avalanche will be coming back a healthy club that will ideally stay that way. Players like Kyle Quincey and Peter Mueller will be back in the line-up.
Duchene won't have to spin a giant wheel every day to figure out who his linemates are going to be.
Some defensive pairings may actually even be allowed to develop some form of chemistry. None of that was able to happen for the Avalanche after December because everybody kept getting injured and the line-up card became a giant game of musical chairs.
The other thing people forget is before the Avalanche were totally taken apart by injuries, they were going back and forth with the Vancouver Canucks for the lead of the Northwest Division. Not only were they easily in contention to win the division a mere month before the All-Star break, for a great portion of the first three months of the regular season, the Avalanche led the entire NHL in goals scored.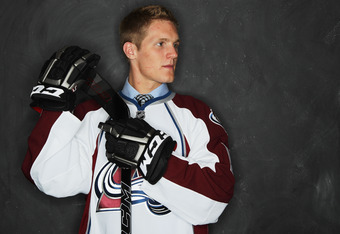 Nick Laham/Getty Images
The Avalanche might not have a ton of household names on their roster, but they are still very capable of producing and have a great amount of young talent coming into their ranks.
Which brings up the addition of Gabriel Landeskog from draft day. It seems like it is almost a forgone conclusion that Landeskog is going to be in the Avalanche line-up opening night. The Kitchener Rangers certainly think so, as they waived him from their roster almost the moment he was drafted.
Landeskog will round out the top six for the Avalanche quite nicely, most likely on the wing of Duchene.
So really, the Avalanche aren't in that bad of shape, as long as they are able to stay healthy.
They have a very talented core group of young players that are going to be that much better, they are getting back much-needed help from players that were injured last season, they've made very solid acquisitions through free agency and they still have a ton of money they can spend.
Add all of these things together and the Avalanche should certainly be competitive next year—possibly even push for a playoff spot.
Am I going to go out right now and predict that the Avalanche will make the playoffs? No, I'm not going to do that.
Another thing that I am certainly not going to do, especially since no teams have played a single game yet in the 2011-2012 season, is write them off because of what happened last season.
Kevin Goff is a Colorado Avalanche Featured Columnist for Bleacher Report, and is an official member of Bleacher Report's 2011 NHL Draft team.  For more NHL news and updates: