Stanford Football: The 6 Best Defenders for the 2011 Cardinal
Streeter Lecka/Getty Images
The Stanford Cardinal had a very under rated defense last year. They allowed the tenth least points per game last year at only 17.4.
Six of those defenders are back and ready to prove that their 12-1 record last year wasn't only Andrew Luck and the mastermind himself, Jim Harbaugh.
The weak part of the defense is their defensive line and if the other two levels of defense prove what they are capable of, the Cardinal have a very good shot at being REALLY REALLY good.
6. Johnson Bademosi, Cornerback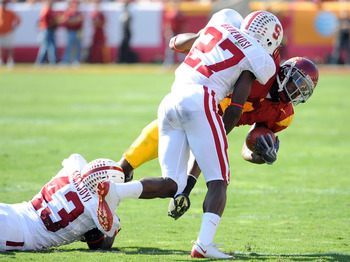 Harry How/Getty Images
Starting as the second best corner on the team, Johnson Bademosi should be able to cover the weaker of each team's receiver and coming off of a good 2010 season, he should have improved in some important areas.
If he improves his speed and can play at his 6'1 inch frame, he will be a very good corner.
90 percent of his tackles last year were solo meaning that he is very good out on an island and can be trusted to wrap up most ball carriers.
5. James Vaughters, Linebacker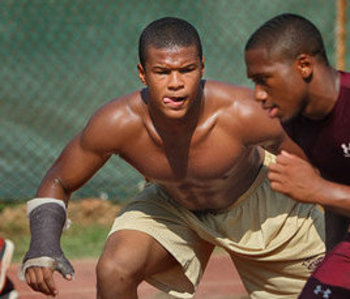 Athleticism, size, and strength. James Vaughters is a one man wrecking crew at the middle linebacker position.
At 6'3'' 230 pounds, he can chase down swings out of the backfield and drop into a zone coverage for the slot receiver.
With Shayne Skov at outside linebacker, Stanford's line backing core will be very strong. He is also very smart and at Stanford, he has the perfect chance to excel as a freshman in the 2011 season.
4. Michael Thomas, Cornerback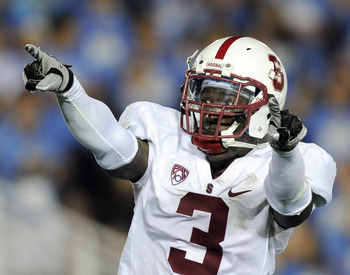 Harry How/Getty Images
He should have a very good season next year. As a starter last year, he had 61 tackles, forced three fumbles and had one interception.
Michael Thomas is a hard hitting corner, making it hard for teams like Oregon to run to the outside. He is not a big corner at 5'10 inches tall, but he makes up for it in toughness and tenacity.
The PAC-12 has the best quarterbacks in the nation which will prove whether Michael Thomas will be able to compete at the next level.
3. Chase Thomas, Linebacker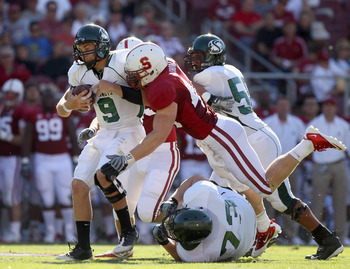 Ezra Shaw/Getty Images
Stanford might have the best linebacker group in the PAC-12. Everyone looks to Shayne Skov, but Chase Thomas is just as good.
He had 70 tackles and 7.5 sacks last season and is coming back in very good shape for the 2011 season. He is 6'4 inches tall and 239 pounds.
That is a huge linebacker and as an inside linebacker, he can stop the run extremely well. If the defensive line can get off the ball quickly, the linebackers should be able to take care of any running backs that make their way through the offensive line.
2. Delano Howell, Safety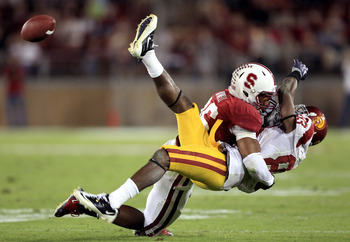 Ezra Shaw/Getty Images
Coming off a second team all PAC-10 selection, Delano Howell is going to be one of the best defensive backs in the PAC12.
He recorded 60 tackles, five interceptions and one sack. In 2009, he had 77 tackles and two interceptions.
Delano Howell is very smart and can read the quarterback better than most players at his position. He is great at protecting the skinny post and the tight end streak.
He plays taller than his height at 5'11 inches, and should be a second to third round selection in 2012's NFL Draft.
1. Shayne Skov, Linebacker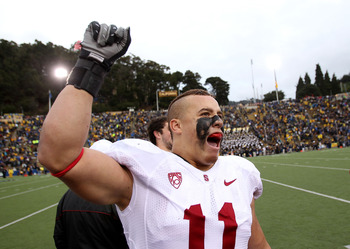 Ezra Shaw/Getty Images
As a true freshman Shayne Skov recorded 62 tackles. As a sophomore, he played in only 11 games and recorded 84 tackles and 7.5 sacks.
This upcoming year, Skov will finally get the recognition he deserves. He was the rock that held the defense together last year, helping the Cardinal win 11 games.
He is a 6'3'', 237-pound linebacker who has incredible lateral quickness as well as power to hit hard. Watch out for Skov to really impress some NFL scouts in this upcoming year.
Keep Reading

Stanford Football: Like this team?