WWE: Hornswoggle or Zack Ryder, Who Will Have the Better Career?
July 6, 2011
Smaller Superstars have a tough go of it in the WWE. There are fewer opportunities for title belts and more opportunities to get the pink slip. But this doesn't mean that the little man can't get ahead in the WWE. Just look at Rey Mysterio.
Hornswoggle and Zack Ryder are two of the most beloved Superstars in the WWE today. Hornswoggle's main groupies are children under the age of 10 who go wild every time the little fella hits the ring. Ryder appeals to the Internet fanbase with his Internet TV show. In fact the Internet is just about Ryder's only forum to show off his skills ever since Superstars left WGN America.
But who will have the better career?
Let's look at their title history. Both have just one title reign. Hornswoggle was the final Cruiserweight Champion before the belt was retired. Ryder's one reign comes from the less prestigious WWE Tag Team Championship, which he won with former partner Curt Hawkins. 
The advantage here goes to Swoggle. A singles championship is far more prestigious than a tag belt, especially in WWE. Neither one had a particularly noteworthy title reign so Hornswoggle wins by a smidgen.
Let's look at time spent in the main event. Both have had time in the main event. Ryder was a part of Edge's stable La Familia on SmackDown, which dominated the Blue Brand for over a year. This alone should give the Long Island Iced Z the advantage over Hornswoggle right?
Wrong.
Hornswoggle's time in the main event has been far more impressive. Hornswoggle first entered the main event back in 2007 as the illegitimate son of Vince McMahon. After months of tough love, his true father Finlay was revealed and the two were featured in a WrestleMania program with JBL.
But that's not the end of Swoggle's main event career. After a few years on ECW, Hornswoggle and Finlay were separated and Horny returned to the red brand. It was there that he really showed his main event dominance.
Hornswoggle's alliance with Degeneration-X is far more impressive than anything Ryder has ever come up with. DX is one of the most beloved stables of all time. Hornswoggle may not have been part of it's prime, but he was a part nonetheless. Plus Shawn Michaels AND Triple H are greater than Edge.
The advantage here belongs to Hornswoggle. While Ryder could not sustain success without his La Familia "family". Hornswoggle flourished after parting ways with Finlay. Main event status with the Boss himself and a WWE Hall of Famer is far more impressive. Hornswoggle's main event pushes also come from Raw, the flagship show of WWE. Impressive? I think so.
Let's look at their singles careers. Neither one boasts a singles career that will be the main portion of the highlight reel at their future WWE Hall of Fame induction ceremony but they both have had decent careers nonetheless.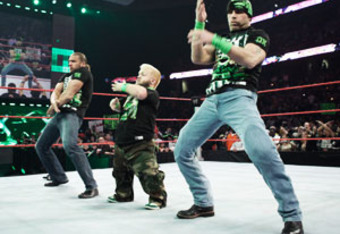 Ryder's best days as a singles competitor come from ECW. Ryder's time on ECW included a world title shot again Christian for the ECW Championship and retiring the aging Tommy Dreamer.
But it was here that Ryder's luck ran out. His next world title shot lasted a mere 11 seconds against Sheamus. Ryder proved that he could not survive on the A show and has been relegated to the cast of WWE Superstars. Even there, he only wins about half his matches.
Hornswoggle has never been a consistent wrestler, but his track record indicates that he should. His winning streak against Chavo Guerrero, a former world champion, was incredibly impressive. Hornswoggle's dangerous Tadpole Splash has shown that if he was consistent, he could be a World Champion.
Hornswoggle has also had a far more impressive Royal Rumble career than Ryder, lasting nearly ten minutes in the 2011 Rumble compared to Ryder's 43 seconds. There's no question here. Hornswoggle has shown that he can make it on the A show. Ryder isn't even that good on the worst show…
The two superstars are only a year apart, making them the perfect two to compare careers. Hornswoggle has had an incredibly impressive early career. Ryder's leaves much to be desired. If Long Island Iced Z wants to catch up to Hornswoggle, he better make some waves. Because Hornswoggle has already made plenty of "splashes" in the WWE. Ryder will need much more than an Internet show to catch up to Hornswoggle.