The 30 Craziest Athlete Outbursts of All Time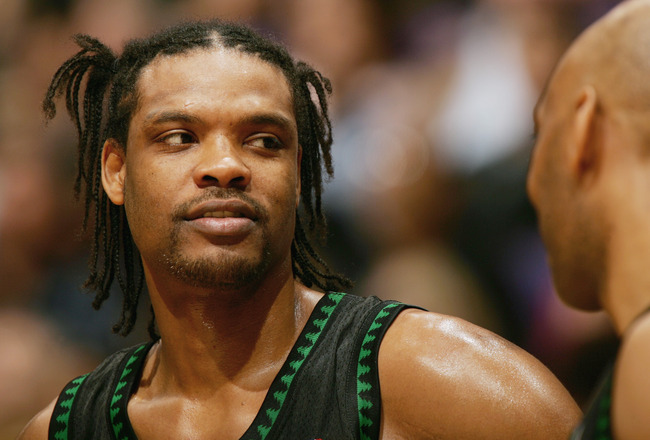 Lisa Blumenfeld/Getty Images
We all know about coaches behaving badly.
Dennis Green, Jim Mora, Lou Piniella—crazy moments from the man at the helm happen all the time.
That's not what this list is about.
This list is a tribute to 30 athletes who completely lost their cool and contributed to 30 of the craziest moments in the history of sports.
I won't babble on. Here's the list.
30. Kobe Bryant Curses Out Referee
We all know the story by now. Earlier this year, Kobe Bryant was charged with a technical foul by referee Bennie Adams.
After receiving the foul, a visibly frustrated Bryant went to the bench, where he would be caught on camera just seconds later shouting a gay slur at Adams.
Nice work, Kobe.
29. Serena Williams Goes Crazy on Line Judge
It can't be easy to be a line judge.
No matter what you do, you're always upsetting somebody.
Just make sure it's not Serena Williams.
28. Todd Bertuzzi Sucker Punches Steve Moore
On Feb. 15, 2004, league-leading scorer Markus Näslund (a member of the Vancouver Canucks) was injured by Colorado Avalanche center Steve Moore.
Many of Näslund's teammates thought it was a cheap shot and were very upset about it, especially Todd Bertuzzi, who called Moore "a piece of sh*t."
Less than a month later, the two teams played again without incident. However, five days later, when they played once more, Vancouver was a lot more physical.
There were four fights in the first period alone.
By the time the third period began, the Avalanche had already run away with the game, and the Canucks clearly weren't happy.
Midway through the third period, Bertuzzi began stalking Moore around the ice attempting to provoke him into a fight, but Moore refused.
Bertuzzi proceeded to sucker punch him. Moore then fell to the ice, where several other players fell on top of him.
Moore was carried off on a stretcher and sent to the hospital, where he was treated for three fractured vertebrae in his neck, a grade three concussion, vertebral ligament damage, stretching of the brachial plexus nerves and facial lacerations. He was also suffering from amnesia.
He never played another game in the NHL.
27. Albert Haynesworth Gives Andre Gurode 30 Stitches
Defensive tackle Albert Haynesworth will never be mistaken for a gentle giant, but that's because he isn't.
The guy is a monster.
Great player, huge douche.
His worst offense came back in a 2006 game when his Titans played the Cowboys.
After running back Julius Jones plowed his way through for a five-yard touchdown, Haynesworth ripped off the helmet of Cowboys center Andre Gurode and stomped on his face, opening up a previous wound and just narrowly missing his eye.
Gurode received 30 stitches—Haynesworth received a $100 million-plus contract.
Where's the justice?
26. Frank Francisco Plays Musical Chairs
On Sept. 13, 2004, Rangers relief pitcher Frank Francisco was being taunted by a rowdy and likely intoxicated fan about his stillborn child.
So he did what he felt he had to—he launched a chair into the crowd WWE style.
It's a shame he hit the wrong person.
25. John McEnroe Cannot Be Serious
Known just as much for his short fuse as his tennis excellence, John McEnroe was no stranger to yelling at line judges.
But it wasn't until the 1981 Wimbledon championships that he would shout the four words that would forever revolutionize the way we criticized line judges: "You cannot be serious."
Few sayings are more synonymous with an athlete.
24. Shaq Curses on Live TV
Few people in the history of sports loved to hear themselves talk more than Shaquille O'Neal.
Usually when his mouth ran it was all in good fun.
Unfortunately, that wasn't the case on Feb. 1, 2004, when he had some choice words for the officiating in a live post-game interview.
He was suspended one game without pay, so I'd say it was worth it.
23. Derek Anderson Doesn't Want to Be Embarrassed on Monday Night Football
During a Week 12 Monday Night Football game between the Arizona Cardinals and San Francisco 49ers, the lowly Cardinals were getting slaughtered by the 49ers.
However, Cardinals quarterback Derek Anderson was shown smiling and laughing on the bench, leading us to the assumption that he wasn't too upset about being embarrassed.
But we all know what happens when we assume...
22. Zinedine Zidane Uses His Head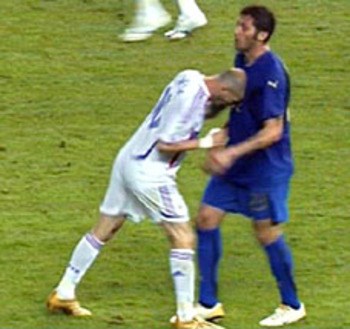 During the 2006 FIFA World Cup, legendary footballer Zinedine Zidane was willingly taking his last bow.
It's a shame how he went out though.
During extra time, Zidane was ejected for head-butting Italian no-name soccer player Marco Materazzi.
It was later revealed that Materazzi was mocking Zidane's family.
Still, Zidane should know better, because he not only cost himself his reputation but probably cost his team the match as well.
21. Izzy Alcantara Goes Crazy
Izzy Alcantara may have never made it to Major League Baseball, but this video got major league fame.
That's worth something, right?
20. Kellen Winslow Jr. Is a Soldier
Don't blame Winslow for this outburst. As a soldier, he does have the right to get angry.
19. John Rocker Ends His Career in 200 Words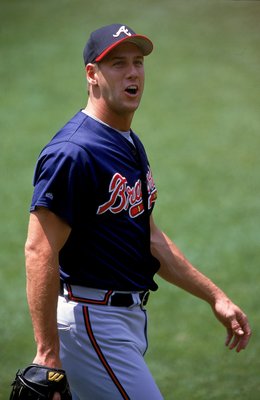 Ezra Shaw/Getty Images
Back in 2000, John Rocker was a force in the bullpen for the Atlanta Braves.
He was one of the game's most promising young players—until he got an interview with Sports Illustrated in 2000.
When asked if he would ever play for a New York team, he responded:
I would retire first. It's the most hectic, nerve-racking city. Imagine having to take the seven train to the ballpark looking like you're [riding through] Beirut next to some kid with purple hair next to some queer with AIDS right next to some dude who just got out of jail for the fourth time right next to some 20-year-old mom with four kids. It's depressing. ...

The biggest thing I don't like about New York are the foreigners. ... You can walk an entire block in Times Square and not hear anybody speaking English. Asians and Koreans and Vietnamese and Indians and Russians and Spanish people and everything up there. How the hell did they get in this country?
Sounds like something White Goodman would say.
18. Kenny Rogers Attacks Cameraman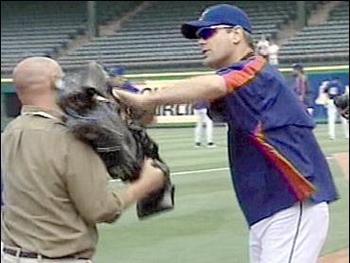 In 2005, 41-year-old pitcher Kenny Rogers was not happy with his contract situation.
After media reports surfaced that he was having trouble getting the Rangers to give him a contract extension, he refused to speak with the media.
On June 29th of that same year, a seemingly still uptight Rogers shoved two cameramen, knocking one to the ground and then kicking his camera.
Rogers was suspended 20 games for his antics and was charged with Class A and Class C misdemeanor assault.
17. Mike Tyson Wants to Eat Lennox Lewis' Children
The greatest rant in sports history. Probably even world history.
Hollywood, where the hell is our Mike Tyson biopic?
16. Jim Everett Tackles Jim Rome
The fact that this video has over two million hits on YouTube should make something clear to ESPN: Nobody likes Jim Rome. Get rid of his show.
He's like a 10-year-old spoiled brat who just tries to instigate fights. He needs to go elope with Skip Bayless or something.
15. George Brett and the Infamous Pine Tar Incident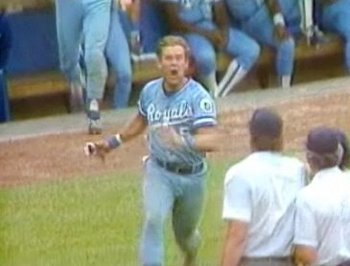 It feels like it happened just yesterday, but it was actually July 24, 1983 when George Brett famously had a home run called back because umpires believed he used too much pine tar.
Brett was obviously upset about it and went on one of the craziest rampages baseball has ever seen.
Fun fact: Lou Piniella was in the ballpark that day. Coincidence? I think not.
14. Latrell Sprewell Chokes Out P.J. Carlesimo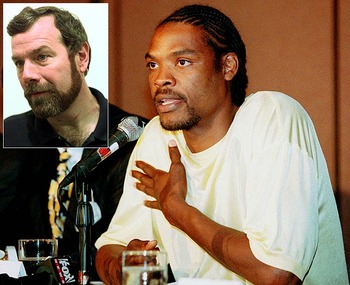 There's really not much to be said here. When you choke your coach, you'll always be on this list.
13. Terry O'Reilly Leads the Bruins into the Madison Square Garden Stands
Terry O'Reilly needs no introduction. Happy Gilmore pretty much took care of that.
We all know he's tough as nails, but it wasn't until Christmas Eve, 1979 that we realized just attending a game he plays in needed a safety precaution.
It was on that date that he led his Boston Bruins into the stands of Madison Square Garden to fight the fans after a Rangers fan punched Bruins left wing Stan Johnson in the face.
12. Roberto Alomar and the Loogie Heard Round the World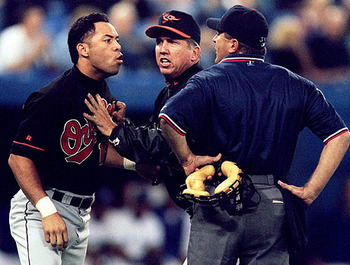 Roberto Alomar should have been a first ballot Hall of Famer, and just about every baseball fan knows it.
Unfortunately for him, it was one loogie that he'll never get back that made him wait.
On Sept. 27, 1996, Alomar spat in the face of umpire John Hirschbeck after a heated argument.
C'mon Roberto, you gotta know better than that.
11. Jose Offerman and the Independent League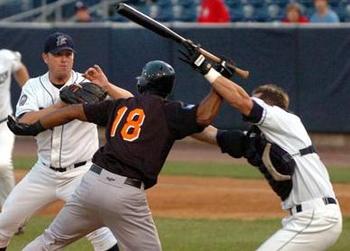 When 37-year-old former MLB All-Star Jose Offerman couldn't get a contract, he decided to sign with the Long Island Ducks of the Atlantic League.
After a slider from Bridgeport Bluefish pitcher Matt Beach was thrown in the direction of his calf, Offerman charged the mound and took two swings at him.
Luckily Beach would be OK, but the same couldn't be said about Bluefish catcher Joe Nathans, who was struck in the head by Offerman while trying to restrain him.
10. Tie Domi Fights a Fan
I could sit here and try to tell you about Tie Domi's fight with a fan, but I'll save you the time and just say you're going to want to see this.
9. Anything Tie Domi Does, Rob Ray Can Do Better
Once again, you just really need to see this.
8. Delmon Young Chucks Bat at Umpire
In 2006, Delmon Young was the top prospect in all of baseball, and just like most other top prospects, he already thought everybody should be bowing down to him.
After disagreeing with an umpire on a called third strike, he decided it would be smart to throw his bat in the umpire's vicinity.
Wishful thinking.
7. Angel Matos Kicks Referee in Head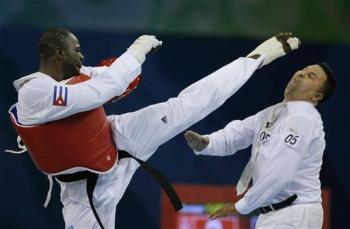 I'll tell you all you need to know here: Angel Matos kicked a referee in the head.
6. Roger Clemens Plays Darts With Mike Piazza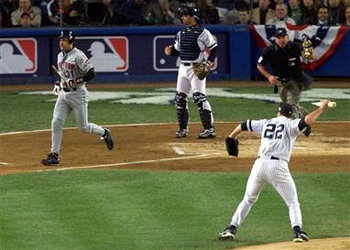 Always known as a fiery competitor (I would imagine 'roid rage was a factor in that equation), Roger Clemens didn't play baseball to make friends.
That especially applied to Mike Piazza.
On July 8th, 2000, Clemens beaned Piazza in the head, and just about everyone but the jury of the O.J. Simpson trial agreed it was on purpose.
Later that season, when the Yankees and Mets played in the World Series, Piazza hit a broken bat foul ball off Clemens, and the barrel trickled right out to The Rocket.
He scooped up the barrel and threw it in Piazza's direction.
We still have no explanation as to why he did it.
5. Allen Iverson's Talkin' About Practice
Allen Iverson isn't talkin' about the game—not the game, but practice. How silly is that?
4. Shawn Antoski Is Flying
Say all you want about the Wright brothers, but Shawn Antoski's method of flying looks like much more fun.
Boy, do hockey players love to fight.
3. Ron Artest Is in the Stands
This list wouldn't be complete without the infamous Malice in the Palace.
Ron Artest really is stupid.
2. Kermit Washington's Punch Out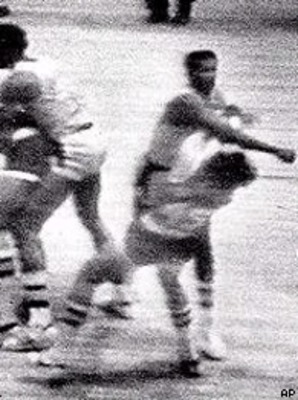 On Dec. 9, 1977, the NBA saw arguably the saddest moment in its history.
The Lakers were playing the Rockets when a scuffle between players broke out. One of the main offenders in the altercation was Lakers forward Kermit Washington.
As the fight was going on, Washington saw the Rockets' Rudy Tomjanovich running toward him. Unaware that Rudy was attempting to break up the fight, Washington punched the unsuspecting Tomjanovich right in the face.
Tomjanovich lay in a pool of blood unconscious on the floor and almost lost his life. He later stated that the impact was so painful that he felt as if the scoreboard had fallen on him.
Just a terrible day for the NBA.
1. Mike Tyson Takes a Bite Out of Evander Holyfield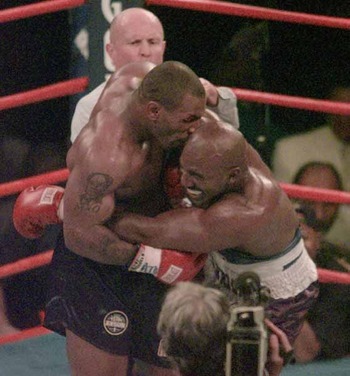 Mike Tyson took a bite out of Evander Holyfield's ear. His ear. Tyson literally took a bite.
Once again, Hollywood, where's that biopic?
Keep Reading