College Football: Where Dorial Green-Beckham and 5 Top Recruits Are Leaning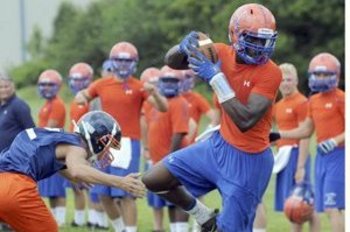 The nation's top recruit has already committed to Florida State, Mario Edwards, but there are still plenty of top recruits out there yet to decide.
It's only July, that doesn't mean they will be committing any time soon, but with the way that college recruiting; it wouldn't be a surprise to see these young men commit as soon as the season gets under way.
These are the recruits that will be expected to play right away next season in their true freshman years and they will be expected to live up to their 5-star ranking as well.
Here are six guys who fans will be playing close attention to them and their decisions.
6. Jameis Winston: Quarterback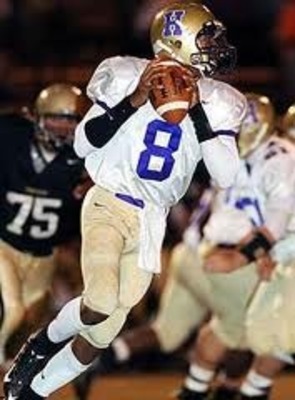 Jameis Winston is a dual-threat quarterback out of Hueytown, Alabama. He's 6'4", 200 pounds and most college recruiting outlets have him up and down on their lists.
He is the top quarterback on a lot of lists though, which means he's going to be sought after by plenty of top notch programs.
Some of the teams lining up for his services are his hometown Alabama Crimson Tide, Florida State Seminoles, LSU Tigers and Oklahoma Sooners, but those are just a few.
Nick Saban usually doesn't let home-state talent slip away, but with their current situation of quarterbacks, would Winston get a chance to play right away? He is a very raw quarterback so he'll need some time to develop, but if anyone is in the lead to land him, it's gotta be Alabama.
Winston is reportedly going to be committing later on this month, and he's leaning towards Alabama.
5. D.J. Humphries: Offensive Tackle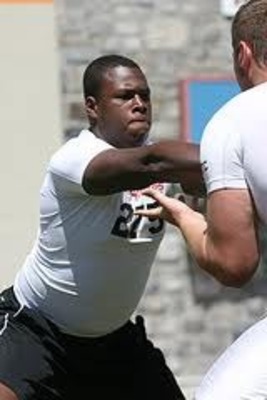 D.J. Humphries is the top offensive lineman in the 2012 class on pretty much every single recruiting outlet. He's a very long tackle with a lean build. He's been regarded as an athletic tackle that may be a little raw at the tackle position, but he's athletic enough to develop into a great one.
Humphries is 6'6", 270 pounds and has a frame to add plenty of weight.
Humphries has dozens of teams lined up trying to persuade him that their program is his best fit. The Charlotte, North Carolina native doesn't plan on committing anytime soon, but it looks like he wants to play in the SEC as his top schools are Florida, South Carolina and Tennessee.
All signs are pointing to Humphries being a Florida Gator.
4. Eddie Goldman: Defensive Tackle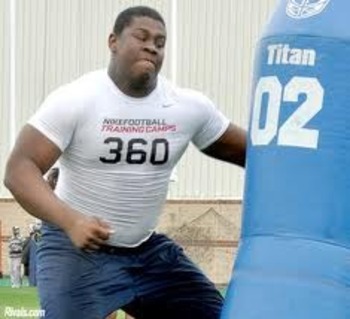 Eddie Goldman is a monster of a recruit. He's already got the build of a college defensive tackle. He's 6'4", 310 pounds with a frame athletic enough to carry 300 pounds nicely.
He's ranked in the top five of nearly every recruiting outlet and if it weren't for Mario Edwards, Goldman would be the top defensive lineman in this class.
Goldman is a Washington, D.C. native and also has a large list of college suitors.
Goldman is leaning towards Florida State, which would be scary to think about the top two defensive recruits in the country lining up side by side for three or four years in college.
3. Stefon Diggs: Wide Receiver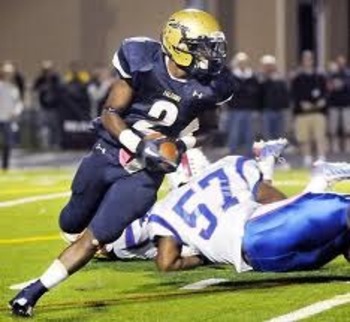 Stefon Diggs is a wide receiver/running back/athlete who could play some different positions in college. Most of the colleges recruiting for him will be recruiting him primarily as a wide receiver; he doesn't have the kind of bulk to be an every down back at the college level.
Diggs is 6'0", 185 pounds and he's athletic, but he's not overly strong and doesn't possess great speed. His 40 yard dash time is in the 4.5's, which isn't bad by any means.
Diggs has quite the list of college choices that will be narrowing as his senior year takes off, but right now it looks as if he's leaning towards Florida, but he's from Maryland and could end up being a Terrapin when it's all said and done.
2. Keith Marshall: Running Back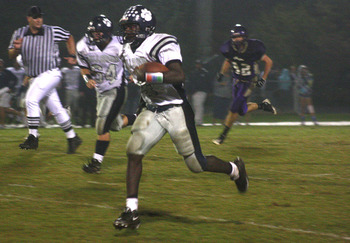 Keith Marshall is the top running back in the 2012 class. He's 5'11", 190 pounds, but he plays low to the ground and has top-notch body build.
Marshall also possesses a nice burst and he has break-away speed. He's been clocked in the 4.4's in the 40-yard dash. He's got the ability to be an every down back at the college level.
Just like the other guys on this list, Marshall has a very long list of college offers and at this moment he's leaning towards Auburn, but Notre Dame and his home-state North Carolina could persuade him otherwise.
1. Dorial Green-Beckham: Wide Receiver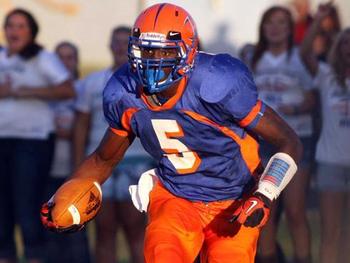 Dorial Green-Beckham is the top offensive recruit in the country and although it might be an argument, he might be the best wide receiver to hit the college football world since Calvin Johnson.
Green-Beckham is 6'6", 220 pounds. He's very athletic. He has the jumping ability and the speed to be a vertical threat.
Green-Beckham is from Missouri, which might mean that the Missouri Tigers could land their best recruit ever, but Missouri isn't the only school on his list.
Green-Beckham at the current moment is leaning towards the USC Trojans, but Notre Dame isn't far behind.
If he decides to play at USC, he will be matched with Robert Woods, Kyle Prater and George Farmer. In other words, good luck trying to defend all of them.
Keep Reading

Florida State Football: Like this team?