Formula 1: Hispania Come to Their Senses and Bring in Daniel Ricciardo
July 4, 2011
Peter Fox/Getty Images
With a lack of pace and organisational prowess that put them to shame at the start of the current season, it's a wonder what Hispania Racing are still doing within the sport of Formula 1.
Even more confusing was their decision to promote the uninspiring and unremarkable Narain Karthikeyan back into the sport. This was a driver who hardly set the time sheets alight and deservedly exited the sport after a short term at Jordan in 2005.
Bruno Senna or Christian Klien would have provided a greater focus for a team seemingly destined to fit the bill as back of the grid failures. In some respects it can be seen as a blessing that neither Senna or Klien got the drive. With the team falling further into oblivion it may only have harmed their careers. 
Karthikeyan has to put it simply been as abysmal as he ever was. The sport just does not look designed for him, and more often than not we witness a bulging gap in lap times between himself and teammate Liuzzi. 
At least now, however, the team have decided that their Indian driver is not working and are bringing in the services of Australian Toro Rosso test driver Daniel Ricciardo. The reserve driver for Red Bull's sister team has at least proven himself able in Friday test sessions and will promise greater competition to Liuzzi's in house dominance.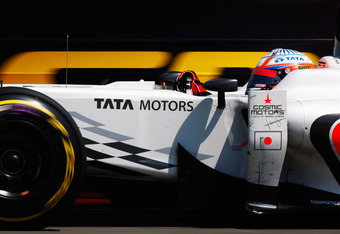 Mark Thompson/Getty Images
From a personal perspective the Aussie will look to put in some decent performances to edge himself closer to a full time race seat at a more accomplished team. 
Let's get one thing straight, he is not going to score any points behind the wheel of an Hispania racing car. Only a freak accident which wiped out half of the field would allow that to happen. 
But if Riccardio can out-peform the car in the same vein as Vettel did at Toro Rosso then he may begin to make a name for himself.
First up he must challenge his team mate from the offset when the season heads to Silverstone.Consistency will be the real test of his nerves and potential, with only the inaugural Indian Grand Prix off the list of races he is set to compete in.
Should he prove race after race that he can perform then Toro Rosso may seek to make his place within their team more permanent and routed into a first team drive. 
For Hispania on the other hand their decision to gift Ricciardo a race seat may only prolong their input in the sport. Surely it is only a matter of time before someone shows them the door.