UFC 132 Results: Dominick Cruz Retains; Leben and Ortiz Get Back to Winning Ways
February 17, 2017
UFC 132 was a stacked card from top to bottom, with the main card littered with former champions, Ultimate Fighter winners and was capped off with a UFC first.

The UFC Bamtamweight title was defended for the first time ever and champion Dominick Cruz successfully defended his belt against Urijah Faber.
This is the second time these competitors faced against each other.  In the first bout, Faber choked out Cruz at WEC 26 in March 2007.  That bout lasted 1:38.  This time, they went the distance and what a fight it was.
The first round proved to be a close one, however, Cruz showed his unorthodox style, leaving Faber to question his movements throughout the first five minutes.  Faber attempted a few take downs but Cruz got out of each of them.  Cruz landed a few solid shots and controlled the pace for the most part.  Faber claims he expected Cruz to be unpredictable coming in.
"I knew he was going to come in awkward like that," Faber said to Joe Rogan following his unanimous decision loss. "I decided to come straight forward. I didn't feel like I was in danger at any point, but it is what it is."
The second round saw Faber come back strong, landing a few strikes.  Cruz looked exhausted by the middle of the round, noticeably looking at the clock and taking a deep breath on a couple of occasions.  "The Dominator" did get a take down to slow the momentum of the "California Kid" but Faber got out soon after and finished the round strong.

Round 3 started and Faber continued a relentless pace with Cruz trying to come back with counters.  At the mid point, Cruz landed a great combination and a head kick.  With about two minutes left in the round, there was a wild scramble by both fighters.  Faber scored a take down ad then Cruz countered into side control..  Faber rolled out again and got to his feet.

Counters were the story of this fight, one that earned "Fight of the Night" honors.

Entering the championship rounds, Faber landed a devastating punch and slowed the champion down.  The rest of the round displayed more of the quick pace that these fighters in the Bantamweight division are known for.

In the final round, both fighters were looking for the finish.  Knees, guillotines, and a pace that showed what level of skill is required to be a UFC champion.

A tough one for the judges to score, but when the verdict came in, Cruz retained the title with a 50-45, 49-46, and 48-47 unanimous decision win and avenged his only MMA loss.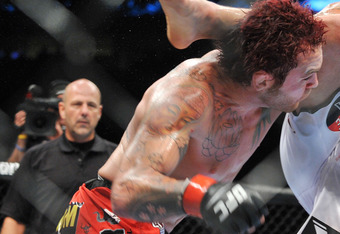 Jon Kopaloff/Getty Images
"I really feel that I had the opportunity to either make history or become history and you know, everything in me said that I was going to make history this evening and I did it." said Cruz. "It kinda will get people to quit asking me, 'Am I gonna get that loss back from Urijah' cause (now) I got it, so lets talk about me owning the title and keeping it for as long as possible."
According to Sportsnet.ca, Cruz landed 90 punches while Faber landed 50.
Chris Leben met Wanderlei Silva in the co-main event of the evening and one word can describe this fight: fireworks.
Leben and Silva came out swinging and in possibly his defining MMA moment, Leben caught the former PRIDE Middleweight Champion with a left and finished him off with a series of uppercuts.
The fight only lasted 27 seconds and "The Crippler" improved his MMA record to 26-7 while "The Axe Murderer" fell to 33-11-1-1 NC.  Leben admitted after the fight that he thought this would be a drawn out slug fest that would go the distance.
"I only visualized a three-round war. I never envisioned a knockout. Wanderlei I love you, you're my hero," said Leben. "Thanks for honouring me with that fight."
"Submission of the Night" went to Tito Ortiz as he forced former T.U.F. winner Ryan Bader to tap out to a guillotine choke.
This was the first win for Ortiz since 2006, when he knocked out Ken Shamrock.  Ortiz came into the fight as the underdog, a role he was not used to many years ago when he was the Light-Heavyweight Champion.
Ortiz knew he had to win this fight or else his days in the UFC would be over.  Ortiz looked as if he used that motivation to his advantage and secured the choke that stopped the fight at the 1:56 mark of the first round.
Ortiz stated in an interview with UFC.com that this was the first time he trained away from Big Bear in over 11 years and says he had plenty of help coming in.
"I had a great training camp.  Jason Parillo, Ricardo Parillo and Mike Giovanni, they put me through a hell of a camp." said Ortiz, "I think being mentally focused really helped a lot.  I had a lot of personal problems with my family and stuff and I've focused on the positives and surrounded myself with great, positive people that uplift me and show me what a  world champion I really am.
Bader is now on a two-fight losing streak after starting his career a perfect 12-0.
"Knockout of the Night" went to welterweight Carlos Condit when he delivered a flying knee to Dong Hyun Kim at 2:58 of the first round.
"Every time you step in the (Octagon), it's the biggest fight of your life." said Condit "(Dong Hyun) Kim's an awesome opponent and I'm just happy I was able to execute tonight."
Condit said the flying knee was something his camp and himself have been practicing and that he saw the opportunity to deliver.
Did he ever; the knee caught Kim, sending him to the mat and Condit finished the fight with a few punches.
The other main card bout saw lightweight Dennis Siver continue his winning ways, defeating Matt Wiman via unanimous decision.  This was Siver's fourth win in a row, last losing to Ross Pearson in March 2010.