NHL Free Agency: My Open Letter to Brad Richards After Signing with the Rangers
July 3, 2011
Harry How/Getty Images
Dear Mr. Richards,
I hope this finds you well.
First of all, I want to congratulate you on your new contract for nine years and $60 million that you signed today with the Rangers. You seem like a classy guy with a family and you're a hell of a hockey player so I'm happy for you and your family.
So now let's get down to business. I am going to be honest with you Brad, because you are a man and I don't lie to men, I only lie to women and children (New Yorkers who listen to WFAN know that's Craig Carton's line but I like it so deal with it).
I didn't want you to play for the Rangers.
I have sat down and watched the Rangers for my whole life and for the first time since I can remember the Rangers were doing it right. They were building from within, drafting well and letting their players develop. They were being smart with their money (for the most part), making good trades and playing a brand of hockey that will keep a team in close games.
I was really happy with the development of this team and in a year or two they could really make a free agent splash and be ready to be a true contender. And then the rumors started to circle that Glen the Savior was interested in you.
The numbers were outrageous and scared me to death. All I heard was "Brad Richards wants seven to eight years at $70-80 million." That's a cap ruiner Brad, especially since you're going to be 31 years old and coming off of a concussion. But everyone knew the Rangers wanted you and you wanted the Rangers because the Rangers have paid before and they will continue to pay until Glen the Savior steps down.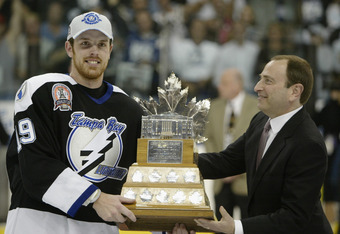 Brian Bahr/Getty Images
It was like watching a train crash, Brad. I knew this would throw off our whole plan, you would be good for the first three years and then when we are ready to win, your cap hit and lack of production would bring us down. The writing was on the wall. Everyone could see it except for Glen the Savior and James Dolan.
I was dreading July 1st. I was dreading the same old Savior and Rangers ready to throw money at a free agent who wasn't worth it. July 1st came and gone and no news came out except for one piece that scared me Brad. The Rangers had won the right to match any offer that a team gave to you.
This truly scared me. I thought the other teams would throw you everything they had, the Maple Leafs were going to exceed the salary cap to get you until the NHL told them that they weren't allowed to do it. And because the Rangers are so stubborn, they were going to match it, just so we can have you.
All of the work the past years, getting ready for a winner built from within, ruined in one day. This is what I was waiting for. I was waiting for you to ruin it. I was telling my friends, stay away from Brad Richards, let him go to Tampa Bay or Toronto or Los Angeles, just keep him away from here. I didn't want your cap hit working against us.
And then the news broke today. You signed with the Rangers. I clicked on the NHL.com article and what did I see? Nine years, $60 million.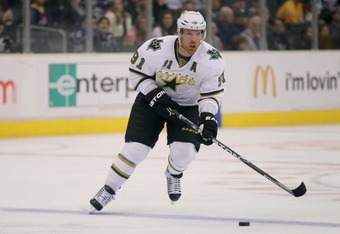 Jeff Gross/Getty Images
I was thrilled. You won me over Brad. I was overjoyed that your cap hit was only $6.7 million. I was surely expecting a $7.5 million or up for the cap hit because we are the Rangers and we pay stupid contracts. I had seen the light and had converted. I am a believer in you.
Glen the Savior was smart (to a point) with his money. Sure, you got more years, but the cap hit is nowhere near where I thought it would be. We are paying $6.5 million for a guy who will get 70 points! We'll regret it in five years but right now, we can re-sign Callahan, Dubinsky, Anisimov and Boyle. The plan is still in effect. We improved and didn't break the bank to do it.
Brad, in five years you will be our biggest mistake. I am already acknowledging that. So let's make the most of it. This is all I ask of you. Give me four productive years, two more average ones and three years where you still eclipse the 50 point mark. I know you can do it and if you do that and make the Rangers a true contender, make and win a Stanley Cup or two, I will look back at this day and rejoice.
You may not be the next Messier, actually Brad I'm going to guarantee that you aren't. But we need a hero, Brad. We need someone to feed Gaborik the puck, mentor Stepan and Kreider, be our go-to guy. You have all the tools to succeed here. We're on your side...for a while.
Before I conclude I just want to remind you that in five or six years when the Madison Square Garden faithful boo you, we are not booing you. We are booing your contract and the man who was willing to sign you to that contract in Glen the Savior. Because he is the real idiot. But not today, today he signed the top free agent of the 2011 class for a reasonable price (not term, price).
So get ready Brad, because in about 100 days we play in Stockholm and you will be out there leading our top line. And I can't wait.
Rest up and Let's Go Rangers
Sincerely,
Robert Demmett
Thanks for the read and feel free to comment