Padres GM Must Consider Moving Heath Bell and Ryan Ludwick at Trade Deadline
July 1, 2011
Jim Rogash/Getty Images
The Padres are in the midst of a hot streak.  Coming off their first three-game sweep and their first winning homestand of the season, the Padres have won four straight and seven of their past eight games to dig their way out of last place in the National League West.  
Despite being eight games below .500, the Padres sit nine games behind the division-leading San Francisco Giants with 16 head-to-head match-ups remaining on the schedule.  
The Padres record and deficit in the division are reason enough to consider them sellers at the trade deadline.  But if they can close out the first half strong with games against the Mariners, Giants and Dodgers, they may have reasons for optimism.  
Fans have been critical of Padres General Manager Jed Hoyer's comments about the possibility of trading closer Heath Bell and outfielder Ryan Ludwick.  Bell is in the midst of another outstanding season and will likely be the Padres' lone representative on the National League All-Star roster.
Ludwick overcame a horrible start to be the most productive offensive player on the Padres leading the team with 10 home runs and 51 RBI while playing half his games at spacious Petco Park.  
While I believe the Padres should be patient before ultimately deciding to move Bell and/or Ludwick, Hoyer would not be doing his job if he wasn't entertaining offers for the veterans this close to the All-Star break.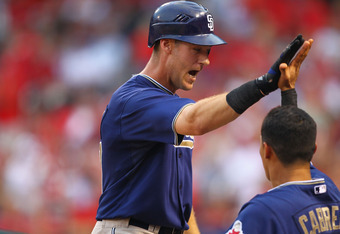 Dilip Vishwanat/Getty Images
The mid-summer classic is an opportunity for GMs around the league to discuss possible trades face-to-face.  Now is the time for Hoyer to put out the feelers and consider offers for Bell and Ludwick to lay the ground work for potential deadline deals.  
Several teams in playoff contention could benefit from the services of the one of the best closers in the game or a reliable right-handed bat, and the Padres could certainly benefit from acquiring talent for the future if this season is deemed lost.
Both Bell and Ludwick will be free agents after the season, and the Padres likely don't have the resources to offer either of them competitive contracts.  
With the Padres' recent hot streak, Hoyer would be wise to keep his finger off the trigger.  But if the Padres fail to sustain their current play and revert to their losing ways, there's no harm in Hoyer having his hand on the gun.