Matthew Hoggard
Stu Forster/Getty Images
June 29, 2011
Matthew Hoggard
What he said:
"The best way I can explain how I felt in New Zealand is to liken it to when you are a small child and you cannot get your own way. You burst into tears, and that is what I wanted to do—on the field, during a Test match."
Matthew Hoggard—in an article in The Independent—describes his struggles with depression in an attempt to make the general public aware of the disease and its effects.
---
What he said:
"It's not to do with just being overweight, it's the reluctance to buy into the discipline of it that was his downfall."
Graeme Swann is less than enthusiastic about Samit Patel's return to the English squad. The off-spinner believes that the unwillingness to control his weight pointed to disciplinary issues which earned the all-rounder his teammates' approbation.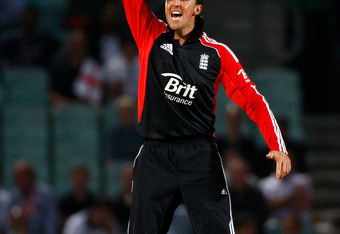 Graeme Swann
Harry Engels/Getty Images
What he really meant:
"If you can't keep off the food and keep off the kilos, mate, get off the gravy train."
What he definitely didn't:
"I'm a huge Ramesh Powar fan."
---
What he said:
"I would also like to suggest that there should be no water for bowlers at the boundary end."
Former India opener, Sunil Gavaskar, is flabbergasted at the ICC's decision to abolish runners for injured or cramping batsmen.The master bat believes that the rule should be extended to bowlers and fielders as well, leveling the playing field.
What he really meant:
"No runners for batters? What next?"
What he definitely didn't:
"Let's have substitutes for umpires, too."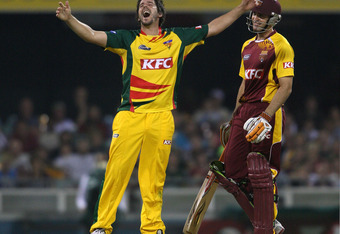 Brett Geeves
Bradley Kanaris/Getty Images
---
Brett Geeves
What he said:
"My back's about as stable as the Egyptian government."
Australian fast bowler Brett Geeves announces his retirement from first-class cricket. He joins the growing legion of pacers who feel that their bodies cannot cope with the non-stop nature of the game. The toil and rigours defy the laws of bio-mechanics.
What he really meant:
"My back's had it, mate. As for the Egyptians, they're all crying: "Mummy!"
What he definitely didn't:
"I'm off to play cricket in Cairo."
---
Hugh Grant
What he said:
"Women do love a cricketer.It's one of those things. It's like Aston Martins. They just love it."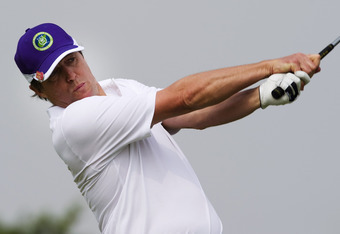 Hugh Grant
Victor Fraile/Getty Images
Hugh Grant is convinced that cricketers have sex appeal and that women are immensely attracted to them. The veteran thespian is no mean cricketer himself and represented his school, Latymer High School, as a youth. The actor adds that his aunt said that it was difficult to dislike a man who likes cricket except for wicket-keepers whom he terms "weird, chippy, lippy."
What he really meant:
"Cricketers don't just appeal to umpires—they appeal to members of the opposite sex, too."
What he definitely didn't:
"I'd rather drive a cricket ball than an Aston Martin."
"Crikey! My director wants a cricketer to star in his next film."
---
Quote of the day:
When I am abroad, I always make it a rule never to criticize or attack the government of my own country. I make up for lost time when I come home. - Sir Winston Churchill
Like the new article format? Send us feedback!