CvC 2.0: Why Ric Flair Is the Greatest WCW World Heavyweight Champion
June 28, 2011
CvC 2.0: Top WCW World Heavyweight Champion (has to be a WCW name at the time, no WWE ones)
Blue Division vs Bryan Flory (link to article here).
Earlier today, my competitor in this CvC bout, Bryan Flory, posted a well-argued piece detailing his reasons for naming Goldberg as the greatest WCW World Heavyweight Champion of all time.
While Goldberg's undefeated streak was legendary, his one reign as WCW World Heavyweight Champion was tarnished by the backstage politics surrounding his feud with Kevin Nash.
Goldberg accused Nash of booking himself to end the 173-match winning streak at the expense of good business. In short, the reason that WCW became a defunct professional wrestling company reared its ugly head.
In my opinion, the greatest Champion ever was Ric Flair and, while I may be called boring and predictable, it is hard to argue with the "Nature Boy's" credibility.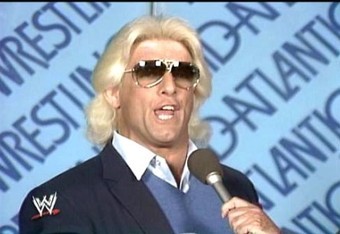 His feuds with Dusty Rhodes, Harley Race, Terry Funk and Ricky Steamboat for the NWA World Heavyweight title laid the ground work that helped establish WCW as a legitimate wrestling company.
WCW officially began in 1988 but only became independent from the NWA in 1993, and at Starrcade, Flair rolled up Vader to become Champion for the 11th time.    
He would go on to feud with Sting, Steamboat, Randy Savage and a newly arrived Hulk Hogan for the title.
It is fair to say that Flair's best years were behind him at this point but he was always willing to put over new talent and elevate them to main event level.
Flair's skills on the mic were unrivaled but he was also one of the better workers in the company and could always put on a clinic in the ring.
It was very rare that you would watch a pay-per-view headlined by Flair and regret paying the money.
Flair's turn at this point characterized why the "Nature Boy" will always be remembered as a better heel.
He was really able to strut his stuff on the microphone and lived his gimmick as an arrogant millionaire success story. His promos were well-crafted and really added something to the feuds in which he was involved. Flair was the complete package and few can boast a higher amount of money-drawing programs than "Naitch."
Some people will argue that Hulk Hogan's run as the NWO World Heavyweight Champion had a huge part to play in sparking WCW's dominance over the WWF.
Hogan's heel turn was cutting edge but his championship reigns were dominated by the bad booking decisions and the locker-room in-fighting that ultimately led to the company's downfall.
Sting was the mainstay of the company but his reigns as WCW World Heavyweight Champion were mediocre at best. This was mainly due to the fact that Hogan refused to put him over and the NWO storyline became cluttered and overdone.
No one can compete with Flair's legendary status in the wrestling business and his runs as WCW World Champion happened before the company started to degenerate.
This is why, in my view, Flair is untouchable as the greatest World Champion in WCW history.