Fantasy Football: The Big Bang, Big Ben, or Big Lebowski in 2011?
June 28, 2011
2010 Review:  Ben Roethlisberger, No. 7

Most people will never experience the hardships Ben Roethlisberger endured in 2010 throughout their entire lifetimes.  That said, I'm pretty sure the majority would say they would never want to go through that sort of turmoil either.
In March of 2010, not a month after the 2009 season had ended, a 20-year-old female student claimed she was sexually assaulted by the Steelers QB in the bathroom of a Georgia nightclub.  Nothing would come of the accusations, seeing that the D.A. couldn't find enough evidence to file charges, but there were other repercussions to be had.
Not only would NFL Commissioner Roger Goodell bestow a six-game suspension upon the Steelers QB due to a violation of the NFL's Personal Conduct Policy (which was later reduced to four games), but Big Ben would also lose various sponsors because of the incident and become a national buffoon in the wake of his latest off-the-field indiscretion.
However, as disgusted as the public and/or media may have been, their collective memories would soon fade.
Roethlisberger would return to the field for Pittsburgh's fifth game and throw three touchdowns while leading the Steelers to their fourth victory of the season.  From there, almost all mention of his prior tactless behavior would slip off into the abyss as Big Ben finished out the season going 9-3 while taking the Steelers to their third Super Bowl in the last six years.
Personal mistakes aside, what really counts in fantasy are his numbers, and there are plenty of those to make mention of.
Though Ben would play in just 12 games this past year, he still managed to throw for 3,200 yards while putting up a combined 19 TDs (17 passing, 2 rushing) on the shortened season.  Prorated over 16 games, those stats would turn into 4,267 yards and 25+ TDs.  Not too shabby considering that of the four games he missed, three of them were against teams with passing defenses ranked in the bottom third of the league, so who knows how good he might have been had he not been suspended.
In terms what really matters here, the most glaring stat of all is that his 18.8 fantasy points per game had him ranked seventh amongst all quarterbacks by season's end.  This obviously puts him smack-dab in the middle of fantasy starter status, a place he's been for a good five years running now.
Roethlisberger might not be the sexiest pick for fantasy owners or sit in the thick of the fantasy elite, but as Big Ben has proven over the years, he's quite capable of putting up a couple of monster games throughout the year and will always come out of the pack good enough to take you to the promised land.
His broken foot from a year ago may be a bit of a concern, but not enough to drop his stock.  With a bunch of young, up-and-coming players around him like Rashard Mendenhall, Mike Wallace, Emmanuel Sanders and Heath Miller, don't be surprised to see the Steelers sometimes-troubled QB knocking on the fat-cats' door by the end of the 2011 season.
(Brought to you by PYROMANIAC.COM)
Pros and Cons for 2011
(+) Beside's having a ton of talent, Roethlisberger is huge (6'5", 241 lbs) and still just 29 years old
(+) In his seven-year career, Big Ben has been to the playoffs five times and led the Steelers to three Super Bowls (winning twice)
(+) Despite losing RT Willie Colon, the offensive line improved throughout the year and should be even better come 2011
(+) Ben has become one of the more poised pocket-passers in the game today
(+) With Rashard Mendenhall coming into his own last year, the Pittsburgh run game should help keep defenses honest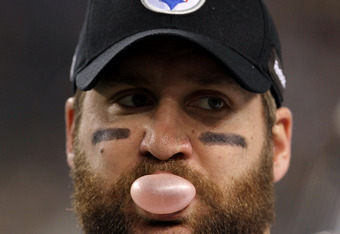 Doug Pensinger/Getty Images
(+) After a stellar 2009, Roethlisberger didn't miss a beat last season as the emergence of Mike Wallace and drafting of Emmanuel Sanders helped offset the loss of playmaker Santonio Holmes
(–) Off-the-field issues have already dealt him a four-game suspension, so one more slip-up and he could be sidelined for an entire year
(–) Still takes too many sacks, a problem which has led to injury way too often in his career (played just one 16-game season in seven years)
(–) A loss to Green Bay in last year's Super Bowl could affect his psyche and set him into a destructive tailspin
For the rest of Ben Roethlisberger's Player Profile, CLICK HERE
Follow Pyro® on Twitter: https://twitter.com/pyroman1ac