Is ONE Fighting Championship Set to Lead MMA in Asia?
June 27, 2011
A brand new mixed martial arts promotion ONE Fighting Championship has been set up in Asia. The inaugural event is set to take place in Singapore on September 3 and promises to bring "Asia's Greatest Battle of Champions" to the 12,000 capacity Singapore Indoor Stadium.
ONE Fighting Championship CEO/owner Victor Cui was the driving force behind last year's successful ESPN Martial Combat FC and also helped to develop a number of extremely successful sporting events such as X Games Asia, World Cup Indoor Soccer, Guinness World Series of Pool, and many others during his time at ESPN Star Sports.  He has since left ESPN Star Sports to launch ONE Fighting Championship.  As a former Senior Director at ESPN Star Sports, he arguably has the most MMA and sports event management experience for any business executive in Asia.  He will rely on that experience to help make this ambitious new promotion the biggest in Asia.  Additionally, Cui is rumoured to have a large capital base from a group of foreign investors from the Middle East. 
A domestic TV deal has already been secured in Singapore and there are strong rumours that ESPN Star Sports has already taken an equity stake in Cui's new venture too. Given Cui's connections, ESPN Star Sports are likely to get on board and broadcast the event to 24 Asian countries, making it the largest MMA event in Asia.  Cui's goal is to focus 100 percent on Asia only and to develop Asian fighters.  In terms of competition, Cui points out the smaller Legend Fighting Championship and the well established DREAM FC as his main competitors.
The fledgling Legend Fighting Championship has established itself as the top MMA event in Hong Kong under the leadership of two newly-minted Columbia MBAs despite having a comparatively small budget.  The Japanese organization DREAM has a lot of talent on the books but the match making and production seems to be aimed exclusively at a Japanese audience.  ONE Fighting Championship aims to have a pan-Asian focus, featuring Asian fighters and/or Asian-based fighters. 
ONE Fighting Championship has already put together the largest team in Asia with extensive experience working within Asia and is hoping to use this local knowledge to introduce MMA to an entirely new audience.  Equally important, ONE Fighting Championship already has the richest talent pool of fighters in the region.
Early indications are that fighters from Singapore camp Evolve MMA will feature prominently in the first event on September 3, given that it is also located in Singapore.  This camp boasts one of the most impressive fight teams outside of the US, with DREAM Lightweight World Champion Shinya Aoki, Rafael Dos Anjos, and numerous other world champions.  Contractual obligations make it highly unlikely that Aoki or Dos Anjos will be fighting for ONE Fighting Championship this year, but a lot of the Evolve MMA fighters who made a name for themselves on Martial Combat FC are likely to be signed.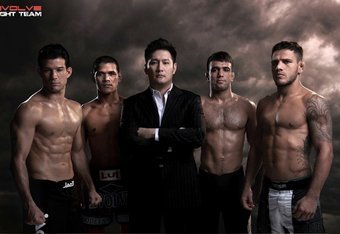 Zorobabel Moreira Jnr is a Brazilian Jiu Jitsu world champion who put in the most impressive performance of his MMA career last weekend when he beat highly experienced Judo Olympian Ferrid Kheder at Dare Fight Sports in Bangkok.
Moreira showed in this fight that he has been working hard on his stand up since suffering a surprise knockout at the hands of exciting prospect Joe Ray, who subsequently signed with Strikeforce.  He was able to dominate the stand up exchanges against Kheder and is about to drop down all the way from the middleweight division to the lightweight division where he will definitely be a force to be reckoned with.
The team at Evolve MMA consists mainly of Thais from a stand up background and Brazilians with an outstanding ground game.  Among the Thai fighters are Muay Thai legends Namsaknoi and Anuwat Kaewsamrit and former boxing world champion Yodsanan Sityodtong.  All of them have been taking BJJ lessons and Yodsanan is rumoured to be ready for his MMA debut.  If this is true he will be one of the most accomplished boxers to ever strap on the 5oz gloves.
While the Thai fighters are at an early stage of their MMA careers, Evolve MMA boasts a number of experienced Brazilians.  Arthur Cesar was on an eight-fight win streak until dropping a controversial split decision in his most recent outing and will be a force to be reckoned with at either middleweight or light heavyweight.
Leandro Issa is another BJJ world champion and is about to drop down from bantamweight to featherweight.  He is on a run of five consecutive submission wins which have all come using separate submissions.  Unbeaten prospects Mitch Chilson and Brian Choi are also likely to be among the contingent of Evolve MMA fighters showcased on the ONE FC cards.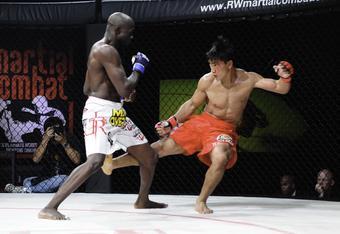 ONE Fighting Championship's cards are likely to consist mainly, but not exclusively, of Asian and Asian-based mixed martial artists meaning fighters from Tiger Muay Thai are also likely to be involved.  BJJ black belt Ray Elbe is currently riding a six-fight win streak and will be looking to dominate the welterweight division.  With repeat TMT guests Mike Swick and Roger Huerta about to open their own camp in Phuket it will be interesting to see if more fighters from the US switch to training and even fighting in Asia. 
Top rated Filipino fighter Eduard Folayang is almost guaranteed to feature and his Lakay Wushu team mate Kevin Bellingon, an exciting featherweight prospect, might also find himself a home at ONE Fighting Championship.  Meanwhile Vuyisille Colossa, a South African based in Hong Kong, is another fighter who is rapidly developing submission skills to go with some world class Muay Thai and looks set to be one of the stars of ONE Fighting Championship.
Half Filipino fighter Ole Laursen, who owns the Legacy Gym in Thailand, is also likely to be back in action. Laursen has already faced some of the best that Asia has to offer in the shape of Genki Sudo and Caol Uno and is currently riding a five figth win streak.
Although the team behind ONE Fighting Championship are promising this new promotion will be bigger and better than Martial Combat, the fighters that impressed on that show are almost guaranteed another shot.  Cui is known to have a lot of belief in the likes of Eduard Folayang, Kevin Bellingon, Zoro Moreira, and Leandro Issa and Asian or Asian born fighters such as Ronnie Mann, Taiki Tsuchiya and Justin Cruz have also been linked with the show.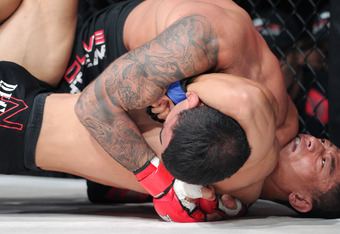 Any talent from China, Japan and Korea is also likely to be of interest and ONE Fighting Championship allegedly has been extremely competitive when it comes to snapping up some of the top mixed martial artists in Asia.  Strong rumours indicate that several current and former champions have already signed up with ONE Fighting Championship.
The full fight card has yet to be released but there was so much demand for tickets when they went on sale from Sistic in Singapore that the server was unable to cope and repeatedly crashed, much to the frustration of fight fans.
Such is the excitement that this new promotion has generated that cage side seats sold out almost instantly despite their being very little publicity outside of the MMA media. It appears inevitable that the Singapore Indoor Stadium will be sold out on September 3 for this promotion which aims to be among the most popular on the planet.  With a seasoned management team, a ton of capital, and the richest talent pool of Asian fighters in Asia, ONE Fighting Championship is well-poised to take over Asia.  The question remains, however, whether the hype is greater than the reality.  All indications are that ONE Fighting Championship is the real deal.
For updates on the fight card you can follow One FC on Twitter or like them on Facebook.
-----------------------------------------------------------------------------------------------------------------------------------------------------