The Evolution of Welterweight Mike Jones
June 27, 2011
Ethan Miller/Getty Images
Creationism versus evolution.
Big networks like HBO and SHOWTIME have the power to create a false sense of undeserved hype for fighters that haven't really lived up to their created legend. The evolving fighter is always harder to find, because those fighters often take losses early on, or take on tougher opposition while they are still learning their trade.
A few years ago North Philadelphia native Mike Jones was driving a forklift inside a local Home Depot. The World Boxing Organization No. 1-rated welterweight contender personifies the blue-collar, working-class hero that really attracts sports fans in Philadelphia.
There is something very special about Jones though.
Mike is a very big and talented welterweight, and although he has classic power, he has not allowed his natural athleticism to curb his boxing IQ. Unlike many fighters in the 21st century, Mike seems to be continually learning and growing as a boxer and a puncher.
Just like his former job at Home Depot, he brings his lunch box to work, and whether he is moving a skid of brick to a rack or methodically breaking down a world-class opponent, he does it the way it is supposed to be done.
People who work in a struggling economy know what it is like to have a quarter tank of gas on Wednesday, and are not sure if they can make it to payday. With all his early success and all his tremendous athleticism, Jones fights and trains like a very hungry fighter who is still looking to make it to payday.
Mike Jones turned professional at 22 years old, and he was a banger. He belted out 12 straight mostly early, knockout wins under the watchful eye of Hall of Fame promoter Russell Peltz in Philadelphia. The team behind Jones has a done a very good job of bringing him along because they have challenged him to step up against tough competition, as opposed to looking for the easy opponent.
You could literally watch the metamorphosis when he defeated Juliano Ramos, who was 15 -1 at the time, on Aug. 29, 2008, for the vacant North American Boxing Association welterweight title. He was coming off two convincing decisions, but most were saying as he stepped up that those big knockouts he scored early in his career would disappear.
For most, yes that would be the case. But for Jones he quietly went to work and honed his skill, handing Ramos a defeat by TKO.
He would step up again after five consecutive wins, four by knockout, to stop Hector Munoz on April 17, 2010, in just five rounds to add the vacant WBO North American Boxing Organization welterweight title to his waist. All seemed sunny in Philadelphia, but his true test was waiting. The one that would decide if Mike Jones was what we thought he was. On Nov. 13, 2010, inside Cowboys Stadium, on the undercard of Manny Pacquiao and Antonio Margarito, Jones faced a very tough and rugged stalking brawler in Jesus Soto-Karass (24-4-3).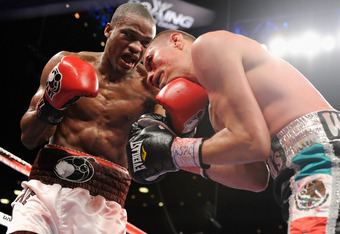 Ethan Miller/Getty Images
The former sparring partner of Oscar De La Hoya seemed all but gone by a mindless barrage of punches landed by Mike Jones in Round 2. That type of barrage would have stopped lesser fighters, but Soto-Karass survive, and gave Jones his biggest test yet, in front of the largest live crowd he had ever fought in front of, and with over a million viewers at home watching on pay-per-view.
Jones seemingly shot both barrels and had nothing left. As the fight continued, Mike Jones was in a position he had never been in. He was dog tired, hurt at times, with nowhere to go. He pulled every ounce of skill out of his hat. Soto-Karass was cut under both eyes by the third round, but kept coming forward, as if he knew this was his final shot to show the world how good he could be. Through exhaustion Jones had to become a flat-footed counter-puncher to survive. He had to stand his ground, shoot his jab like a rope, take his shots, and turn and counter for the rest of the fight.
Jones suffered a cut in the ninth round, but maintained his counter punching as Soto–Karass maintained his pressure. In the final ten seconds, Jones was trading like he did in Round 2, knowing the fight was close, but also knowing he may have blown the biggest opportunity to date.
The scores were 94-94, 95-95 and 97-93 for Jones.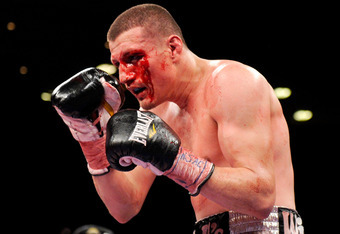 Ethan Miller/Getty Images
Jones landed 258 of 821 punches (31%), while Soto-Karass connected on 141 of 667 (21%). Jones dominated on jabs, landing 90 to Soto-Karass' 10. The overall impression from boxing writers was, "not impressed" and "one-dimensional."
Great fighters overcome. They evolve, and although most fighters in Mike Jones' position would not have taken a rematch against the very dangerous Soto-Karass, he did just that on Feb. 19 in his very next fight at the Mandalay Bay Events Center on the undercard of the Fernando Montiel vs. Nonito Donaire bantamweight championship fight. Jones brilliantly out-boxed and clearly defeated the bloodied Soto-Karass in a very entertaining fight.
The judges had it 117-111, 116-112 and 115-113, all in favor of Jones. The Philadelphia Boxing Report had it 118-110 for Jones.
"I stuck to the game plan. The game plan was lateral movement, try to hit him with the jab," Jones said. "He was no different than the first fight and we put together a better game plan."
Jones easily defeated Raul Munoz in Round 2 this past weekend in South Philadelphia. It was his old stomping ground inside "The Arena," formally the New Alhambra. He gave his fans an opportunity to see him again in a very small venue, and gave the crowd what they came to see, another convincing knockout victory.
Jones is on call to replace Juan Manuel Marquez if he is not able to face Manny Pacquiao on July 16.
A normally quiet and humble Jones is exuding the aura of confidence he needs to get to the next level. When asked about the possibility of facing the pound-for-pound king, he said
"I am waiting for the phone call from Bob Arum. If anything happens to Marquez on July 16, I will take the fight with Pacquiao. He is such a great warrior. Let's see how he deals with my right hand. I am much more confident now and am ready for big fights," Mike Jones
Creationism and evolution is a touchy subject in church, but in boxing, created fighters almost always get found out eventually, and there is never any argument when it comes to who is better.
Those that evolve naturally usually become world champions.
Wladimir Klitschko lost three times by knockout but hasn't lost since 2004 and is the most dominant heavyweight in the world. Manny Pacquiao came out of the Philippines like an out-of-control undisciplined typhoon, he took some losses, but he has evolved into the pound-for-pound king.
Mike Jones has shown traces of that same ability to evolve into a world champion. Whether he will get caught up in real or created hyperbole like so many other great prospects I do not know, but one thing is obvious: He has evolved into a great fighter. But if a real world title is the top of the Empire State Building, he is just walking into the lobby.
Where he goes from here is entirely up to the guy driving the forklift, waiting for payday.