Green Bay Packers Ring Ceremony: Private Ceremony, Public Speculation
June 26, 2011
Matt Ludtke/Getty Images
Greetings from the frozen tundra, friends!
What has consisted of a busy summer (or what can be considered summer in Wisconsin) has led this writer to not be as diligent with her writing so we have one specific event to catch up on. 
While others have maintained a steady chatter of what is going on with the Packers, it should be remembered that it is the offseason, and the NFL remains in the lockout, and other than speculation and charity events, there is little to report as of this writing. 
With that being said, let us recap the main event surrounding our beloved Green Bay Packers in the past few weeks (this time with feeling, and humor, please).
On June 16, 2011, I was sitting outside, playing football with our hound (she is a great receiver...  I'm waiting for college scouts to come check her out) when suddenly the Eastern sky lit up with the brightness of what could only be compared to a nuclear explosion.  Birds stopped singing, animals cowered due to the awesomeness of the bright light and furry Norwegians everywhere, who are not accustomed to the sun, had to scurry back into the house to protect their skin. 
What was the cause of this great brightness, you may ask?
Well, it was only the Super Bowl winning Green Bay Packers receiving their Super Bowl rings!
Yes, friends, the Packers finally received their rings.  And what rings they received!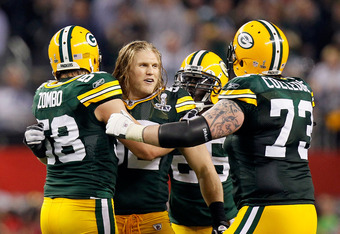 Kevin C. Cox/Getty Images
These rings are not your average rings, my friends.  They are the bright shiny rings that will stun easily distracted people into sudden calm (look at the shiny ring!  Look at!  Look!), and make others strive for greatness (thus the green "G").
The one ring that all football players seek, that will unite all...
Yup, as the Packers organization decided that the ring ceremony was a private event, there can only be speculation as to what occurred during the ceremony, but that is where we, with strong imaginations, can think of what happened during this event.
I can only speculate that after the players arrived, they put on their super hero capes and then received their rings.  Super hero capes, you may be asking?  What is that all about?
Did you not watch football last year?  The injuries, the losses, the drama, then the wins?  Super hero powers abound!
Once the rings were on their fingers, the Packers players stood in a circle, put their rings together (thus causing the bright light in the east, a.k.a. nuclear explosion) and then went out to save the universe from evildoers.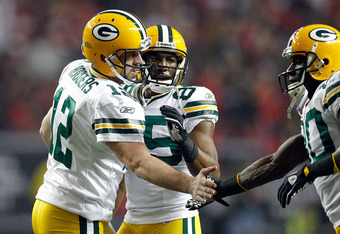 Chris Graythen/Getty Images
Charles Woodson may have run into a burning building and saved sleeping children by flashing his iced-out ring, thereby causing the flames to fizzle and collapse. 
Clay Matthews may have flashed his ring into the eyes of true evildoers, thus stunning them into submission, tackling them to the ground and then flipping into his signature finishing move all without breaking a sweat. 
Aaron Rodgers, Donald Driver and Jordy Nelson may have held their rings together, after flying into outer space, to disintegrate a deadly comet hurtling towards Earth.     
Or, they may have just received their rings and then had a nice dinner.  Either way, it worked out pretty well.
And with the Packers receiving their rings, and having the NFL allow them the ability to receive their rings despite the lockout, it may be only speculation that the NFL is only trying to save us.
How, you may ask?
By keeping the lockout in place so that the Green Bay Packers aren't all in one city, because all those shiny rings may burn out our retinas.  While people in Western Wisconsin (close to the Minnesota border) will be safe, the people in Eastern Wisconsin may want to consider purchasing a few more pairs of sunglasses.
Anyway, congratulations, again, to the Green Bay Packers players and organization to a job well done.  Raise your glass and celebrate until the start of the new football season!
And, as a gentle reminder: Please save us from the Minnesota Vikings fans who insist the Vikings are Super Bowl bound this year.
Have a good week, all.