Official B/R MMA Rankings June 2011: Top 10 Bantamweights in MMA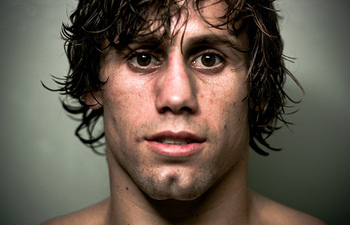 Some of Bleacher Report's best MMA writers have come together to give their opinions on who is the best-of-the-best in June. Each respective division voted on by these writers.
Going along with Bleacher Report's continuing efforts to provide our readers with the most unique content, we are also taking strides to compile consensus MMA rankings for each weight class.
It's been a tough month for some of these fighters since the last time we did the rankings in mid-May. UFC 130, 131, Strikeforce Overeem vs. Werdum and even The Ultimate Fighter 14 finale have helped shape the rankings voted on by the writers of Bleacher Report MMA.
So here you are, the reader, the mid-June 2011 Bleacher Report official rankings as voted by our panel of writers from the MMA section.
Special thanks to those who contributed:
Nick Caron
Jason Schielke
Vince Carey
Sean Smith
Dwight Wakabayashi
John Heinis
Sal DeRose
Notable Mentions
Renan Barao
Record: 26-1 (one no contest)
Promotion: UFC
Age: 24
Zach Makovsky
Record: 13-2
Promotion: Bellator
Age: 28
10. Eddie Wineland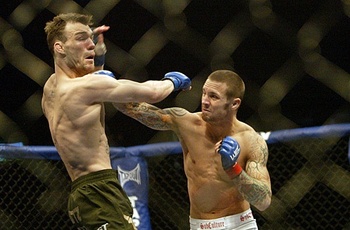 Record: 18-7-1
Promotion: UFC
Age: 26
Reason:
Eddie Wineland went from BMXer to No. 10 in our bantamweight rankings. The Texas native is coming off of a loss against No. 1 bantamweight title contender, Urijah Faber, at UFC 128 in March.
The former WEC bantamweight champion holds wins over fighters like Ken Stone, Manny Tapia and George Roop.
Wineland is now slated to fight Joseph Benavidez in a huge fight for his career at UFC Live in August. A win there could push Wineland back into the minds of MMA fans and get him back into the bantamweight title mix.
9. Takeya Mizugaki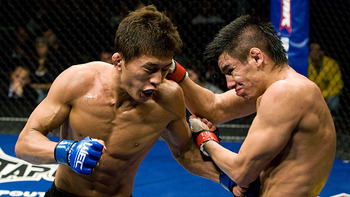 Record: 14-5-2
Promotion: UFC
Age: 27
Reason:
Takeya Mizugaki is currently 3-3 in Zuffa-owned promotions. His only three losses have come against Urijah Faber, Scott Jorgensen and Miguel Torres. Only Faber was able to finish Mizugaki, and Torres fought Mizugaki for the WEC bantamweight title.
Mizugaki is coming off of a split decision victory against Reuben Duran at UFC Live in March and is now only a week away from his bout with Brian Bowles at UFC 132.
Bowles would be a huge landmark victory for Mizugaki, who already has beaten Jeff Curran and Rani Yahya.
8. Brad Pickett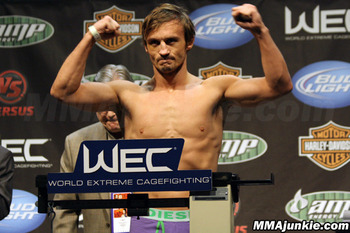 Record: 20-5
Promotion: UFC
Age: 32
Reason:
Brad Pickett hasn't fought since he beat Ivan Menjivar by unanimous decision at WEC 53 in December.
Over the course of his career, Pickett has amassed a 20-5 record with nine wins by submission and five by knockout.
Pickett was expected to face former WEC bantamweight champion, Miguel Torres at UFC 130, but he had to pull out due to injury. The British fighter has no clear match in the future after recovering from his injury.
7. Miguel Torres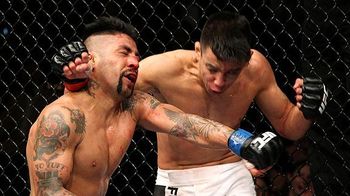 Record: 39-4
Promotion: UFC
Age: 30
Reason:
Miguel Torres is the former WEC bantamweight champion and top MMA fighter. Does anybody else remember when Torres was seen as unbeatable and amazingly good?
Now, Torres is in the worst part of his career. In his last five fights, he has gone 2-3 with all his losses coming against great competition.
Torres is an animal, and his 39-4 record shows that. Torres holds 23 wins by submission, and nine by form of knockout.
When you look at it, Torres is a big name and a few fights should get him back on track for the UFC gold.
6. Scott Jorgensen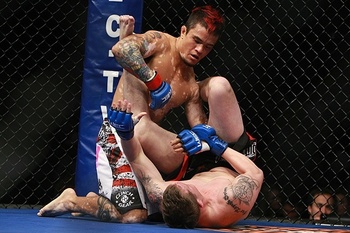 Record: 12-4
Promotion: UFC
Age: 28
Reason:
After losing to Dominick Cruz at WEC 53 for the bantamweight title, Scott Jorgensen came out and beat Ken Stone at the TUF 14 Finale earlier this month.
Jorgensen holds wins over Antonio Banuelos, Takeya Mizugaki and Brad Pickett. Not to mention the two "Fight of the Night" awards he won during his tenure with the WEC before it folded into the UFC.
Now Jorgensen will take some time off and prepare for his next bout, which could take place sometime in the fall.
5. Demetrious Johnson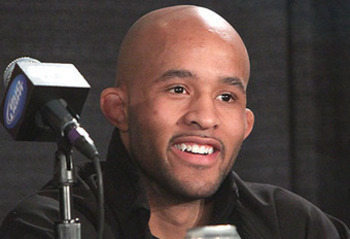 Record: 10-1
Promotion: UFC
Age: 24
Reason:
Demetrious "Mighty Mouse" Johnson has burst onto the scene in his last few fights.
Mighty Mouse's last three wins have come against some good competition. Miguel Torres, Norifumi "Kid" Yamamoto and Damacio Page have all fallen to Mighty Mouse.
In his last bout, Mighty Mouse was able to outgrapple BJJ black belt Torres for a unanimous decision victory in what was an exciting grappling matchup.
With that win, Mighty Mouse catapulted himself into the writer's top five and could soon be close to a title shot.
4. Brian Bowles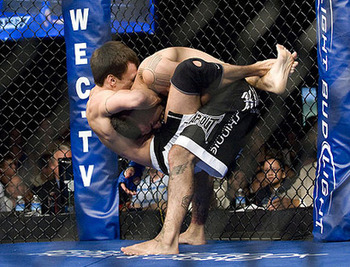 Record: 9-1
Promotion: UFC
Age: 31
Reason:
Brian Bowles is the former WEC bantamweight champion after winning the title from Miguel Torres at WEC 42. That win earned the West Virginia native "Knockout of the Night" honors and gave him the belt.
Unfortunately for Bowles, he would go on to lose the belt in his next fight against Dominick Cruz. After that fight, Bowles was out of commission for 362 days, and he made his return in an impressive submission victory over Damacio Page.
Oh and by the way, it was the same submission (guillotine choke) that Bowles had beaten Page with previously at WEC 35.
Now the former bantamweight champ looks to get back on the road to the top with his next fight coming against Takeya Mizugaki at UFC 132 next weekend.
3. Joseph Benavidez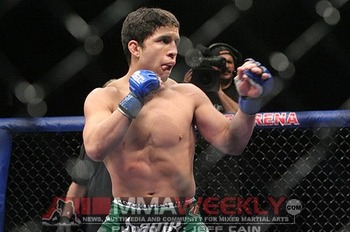 Record: 14-2
Promotion: UFC
Age: 26
Reason:
Here is the first of two Team Alpha Male members in the top three. Joseph Benavidez is a tough fighter, and already earned his title shot back at WEC 50 against Dominick Cruz.
Benavidez has now won two straight since that split decision loss to Cruz with those wins coming over Ian Loveland and Wagnney Fabiano.
Now Benavidez is set to face the man his teammate, Urijah Faber, just faced, Eddie Wineland. A win there could earn Benavidez a title shot for late this year and he could possibly be wearing UFC gold sometime soon.
Of course that gold could come at flyweight if the UFC does in fact add the division, as many people predict Benavidez would face Demetrious Johnson for the title.
2. Urijah Faber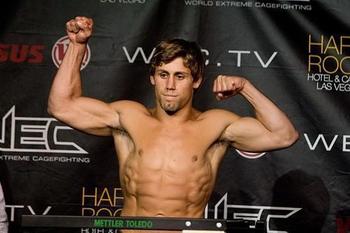 Record: 25-4
Promotion: UFC
Age: 32
Reason:
Standing in at five feet, six inches tall is "The California Kid," Urijah Faber. Faber earned much love from our panel of writers and it got him the second spot on our rankings.
Faber is an all-time great when it comes to the lower divisions, no question. Faber has helped bring in a lot of fans (I'm a testament to that) with his fight style and his cool demeanor.
Now, some people think Faber may be past his prime, which could be the case. No better way to find out than a fight for the UFC bantamweight title against Dominick Cruz.
Cruz and Faber already met once before, but at featherweight. Cruz lost in the first round to Faber by guillotine choke.
Now at bantamweight, is Faber past his prime? Or is Faber just getting warmed up under the UFC spotlight? This UFC 132 main event should be the fight everyone is anticipating.
1. Dominick Cruz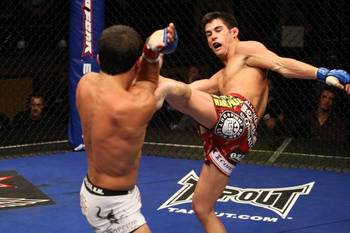 Record: 17-1
Promotion: UFC
Age: 25
Reason:
Dominick Cruz has been a dominant fighter throughout his career, with his only loss coming against Urijah Faber back at WEC 26.
So it has been a little over four years since Cruz has lost, and he hasn't lost at his new weight class yet.
Cruz is the bantamweight champion and for good reason. Cruz has impeccable footwork, fast hands and great cardio. All that wrapped into one little package makes for a deadly fighter.
Cruz hasn't earned much love for his rematch, but as the current UFC champion, you can't overlook the man.
Cruz and Faber faceoff at UFC 132 in what is the biggest battle at bantamweight in recent memory, or overall history of MMA.
Keep Reading