NBA Draft 2011: Jimmy Butler Brings More Humble Character and Talent to Chicago
June 28, 2011
You've read the story, and if you haven't, ESPN's Chad Ford has it here. Jimmy Butler, once a troubled youth at age 13, whose mother had given up on him was hoping that NBA teams would not do the same.
We could sit here and go over the emotional story that ESPN has already reported and touched thousands of hearts with the story of a young kid who was given a second chance by a new family, and the aftermath growth of both Butler's game, attitude and maturity.
So what can Chicago Bulls fans look for in their first-round selection, pick No. 30, Jimmy Butler? Well, as far as Butler as a person goes, they can find flashes of D-Rose in Butler. A kid who has faced adversity in his life but has found a way to make it, living under the quote "one day at a time."
That's how the Butler did it, one day at a time. While he spent most of his high school career searching for a home, he graduated high school at the age of 17. Unlike most hyped players, Butler stayed all four years even when his name gained interest. 
The common theme in the 2011 NBA draft was a lot of younger, underclassmen being taken in the first round. While that was happening, the Chicago Bulls decided to go against the storm and drafted Butler with pick No. 30. 
Now as Bulls fans may grunt that their team needs a shooting guard, what they may not realize is exactly what Jimmy Butler can bring.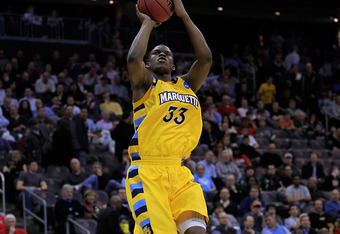 Chris Trotman/Getty Images
Butler, saw increases every year he played in college and became the focal point for the Marquette Golden Eagles basketball team. Butler could once be labeled as a "troubled-teen" which is why he kept his story out of the limelight, but now, Butler will be a beloved figure in the city that has grown due to its young-and-humble basketball stars. 
It isn't where Jimmy Butler has come from, it's about where he's going. As he said himself, "one day at a time." It remains to be seen what Butler's role will truly be with the Chicago Bulls, but one thing is certain, when he steps out on to the floor, he will bring energy, heart, passion and desire to be the best player out there on both sides of the court.
"One day at a time" isn't just some quote to Jimmy Butler, it's his attitude. Slowly but surely, with one day at a time, Butler will win the fans of Chicago over with his personality, and even more importantly, his talent. No matter what position Butler is slotted at, he will do all that he can to make sure the Chicago Bulls win their basketball games.
Once introduced to the Bulls media and fans, Butler took time to hang with the reigning MVP, Chicago's own Derrick Rose. If Rose is most famously known off the court for his humble character and he was the first player to hang out with the Bulls rookie, things can only be looking up for Jimmy Butler and his future with the Chicago Bulls.
Thanks to Stacey Kin, we know that Derrick Rose is "too big, too fast, too strong, too good!". Thanks to Jimmy Butler's hard work, it's only a matter of time before the new slogan becomes "The Butler Did It!"
That Butler is Jimmy, and he'll make his name, "one day at a time."
For more 2011 NBA draft coverage, stay tuned to Bleacher Report for NBA draft results and NBA draft grades.