2011 US Open Golf: Rory McIlroy Isn't the Next Tiger Woods
June 20, 2011
Andrew Redington/Getty Images
We have all just witnessed one of the greatest performances in the history of golf. 
Over the last four days, Rory McIlroy put on a clinic. And this wasn't at another ho-hum tournament. This was the U.S. Open! 
McIlroy's 16-under-par total was the result of absolutely perfect golf for four days. And the scary thing for the rest of the field is this is not the first time McIlroy has done this. 
He did the same thing at the Master's for three days. A 43 on the back nine at Augusta saw him toss that tournament away, but he came to Congressional a wiser, more seasoned 22-year-old. 
The way McIlroy played at the U.S. Open was as good, if not better than Tiger Woods' performance at the 2000 U.S. Open at Pebble Beach.
His performance was so dominating, so mind-blowing, that McIlroy has already been named the next Tiger Woods by many. 
But let's be careful here. 
Rory McIlroy will never be Tiger Woods.
McIlroy will be the best Rory McIlroy he can be.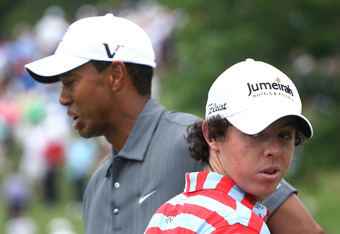 Scott Halleran/Getty Images
After shooting a final round 80 at the 2011 Masters, you saw McIlroy fielding questions from the press. And McIlory was giving the press honest answers! He told them how awful it felt to lose, he told them the truth. 
I find it hard to image Tiger Woods acting the same way if he ever found himself in that situation. 
And today, as McIlroy was playing the 18th hole, the television cameras showed fellow countryman Graeme McDowell. 
McDowell was done for the day; no one made him wait to congratulate McIlroy. Yet, there McDowell stood, with a smile so large you would have thought he just won the U.S. Open trophy for the second year in a row. 
I've never seen another pro wait around to hug Tiger at the 18th green. I'm not saying the other professionals don't respect Tiger, but the facts seem to speak for themselves.
So, I would like to congratulate Rory McIlroy for his first major victory.
I can promise this won't be the Irishman's last major win. With the game he displayed at the U.S. Open, this may not be his last major win this year.
But Rory McIlroy is not Tiger Woods. Never has been, never will be. The beauty of it is Rory doesn't have to be Tiger. 
Why would he? I mean, his game may be even better.