WWE and the NBA: Can LeBron James Be the Catalyst for a John Cena Heel Turn?
July 5, 2011
Mike Ehrmann/Getty Images
John Cena has been the face of the WWE since his Wrestlemania victory over JBL in 2005. 
However, fans have been criticizing him since he has been the face of the WWE.
"John Cena should turn heel because his 'SuperCena' character is stale! He only has five moves! Turn him to heel to make him more interesting!"
A counter argument would be like this. "His merchandise sales are so high, Vince won't want to risk losing his cash cow. His charity work will be limited. He is too popular with the kids to turn him heel."
Both sides of the argument have good points. But which side is correct?
Let's look at the facts relating to John Cena.
Fact: John Cena's merchandise sales have the second highest gross sales in WWE history behind Hulk Hogan.
Fact: John Cena has 7,599,654 facebook fans and 691,533 Twitter followers.
Side note: In comparison Cena's rival Dwayne "The Rock" Johnson has only 4,142,082 facebook fans and 803,661 Twitter followers.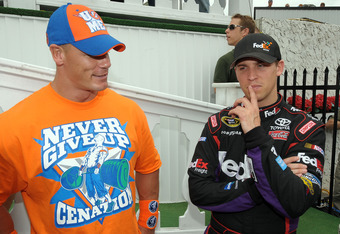 Drew Hallowell/Getty Images
The Cenation outnumbers Team Bring It by almost 4,000,000 fans.
Fact: John Cena's theme song has over 30,000,000 views on youtube.
These facts show how popular John Cena really is among the WWE Universe. Fans are still flocking to him in droves regardless of whether or not his character is stale.
This alone should quash any notions of shaking things up by turning John Cena into a bad guy.
But the reward far outweighs the risk.
A heel turn one year ago could be the blueprint for a John Cena heel turn. This heel turn gave the NBA desperately needed publicity. The man who turned heel was the MVP of the league with his hometown Cleveland Cavaliers in the 2009-10 season.
He is LeBron James, the most reviled villain in the NBA today.
Ratings in the NBA went up exponentially this season because of the controversy surrounding James' decision to join fellow superstar Dwyane Wade in Miami.
LeBron James had the highest selling jersey in the NBA this past season.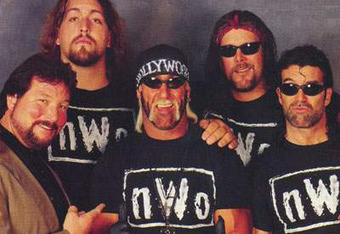 In fact, Jim Ross has dubbed the Miami Heat the "nWo Heat" because of the similarities between the two groups.
LeBron James is like the Hollywood Hulk Hogan of the NBA right now. Fans were stoked when his Heat fell to the Dallas Mavericks in the NBA finals.
You can compare that to when Hulk Hogan lost to Sting in Starrcade 1998.
With all of the new found attention surrounding the NBA, should WWE follow the NBA's blueprint?
Let's compare John Cena to LeBron James.
He gets overwhelmingly positive reactions from the Cenation. However he is often despised by the hardcore wrestling fans who grew up watching the Attitude Era or the 1980s.
But you already know that.
To Cena's defense the PG era made him change into the kid-friendly, human Popsicle we all know and love (or hate). His superhero gimmick has officially gone on since WWE turned PG in 2008.
Furthermore Cena's finishing moves were the FU and the STFU before WWE went PG. 
Hardly PG.
On the other hand LeBron James, while he was at Cleveland, was a popular figure. However, some people were turned off by his antics and perceived lack of sportsmanship.
The difference between the WWE and the NBA is the relationship between faces and heels.
The NBA model of a villain is the team that always wins or everyone despises. 
In that context, Michael Jordan's Bulls, Kobe Bryant's Lakers and Tim Duncan's Spurs would be villains.
Throughout the 1990s, Michael Jordan was the face of the NBA. His popularity was not because he did the right things (research his shortcomings at your leisure) but because he was the best.
Same with Kobe Bryant and the 2000s.
Obviously for the NBA, cheering or booing someone depends on what team you root for.
If you are a Lakers fan, you will perceive Kobe Bryant as a face. But if you are a Suns fan, Kobe would be a heel.
If you are a Bulls fan, you would perceive LeBron James as a heel. Whereas if you were a Heat fan, you would perceive James as a face.
This type of heel has not been seen in the WWE since the Hart Foundation in 1997. This was because Bret Hart was a face in Canada but a heel in the United States.
But the WWE has never had a heel be the face of the company in their long history.
Bruno Sammartino, Hulk Hogan, Bret Hart, Shawn Michaels, Stone Cold Steve Austin, the Rock and John Cena were all good guys when they were the top guys in the WWE.
John Cena is already despised in certain areas (London, Chicago, New York). Therefore he already is that type of heel by default.
So the conclusion seems like turning John Cena heel would be a risky idea at best and a terrible idea at worst.
But there is more to the story.
As you might know, the Miami Heat garnered a lot of attention in 2010 when All-Stars Dwyane Wade, Chris Bosh, and LeBron James signed with the team.
Basketball fans were surprised with James in particular because he gave up the chance of being the man for being a man.
LeBron James was a superstar with his hometown Cleveland Cavaliers from 2003 to 2010.
Then he made a "Decision" that turned him from a beloved babyface to a despised heel when he announced he was "taking his talents to South Beach." 
The highly publicized public relations flop known as the "Decision" made LeBron James in the eyes of many Americans (especially those from Cleveland) the most hated player in the NBA.
To add kerosene to James' red hot heel turn, the Miami Heat had a celebration party resembling a WWE show with their three marquee free agents Dwyane Wade (who also turned heel), Chris Bosh (likewise) and LeBron James.
As for wrestling, the nWo was the best-selling merchandise WCW had by a long shot. Hulk Hogan's fading career was resurrected by the nWo angle.
WCW shot out in front of the ratings thanks to the popularity of the nWo.
But does John Cena need to have a group to turn heel with?
No. In fact, a stable might hold him down unless if WWE is willing to have a group as powerful as the nWo.
The only way it could possibly work if John Cena and Randy Orton both turn heel and form some sort of a power trip alliance just like Stone Cold and Triple H in 2001.
But WWE is severely lacking in the face department. Turning your top two faces heel makes no sense.
There are two ways John Cena can turn heel next year and it will make some sense.
Option No. 1: Defeat the Rock at Wrestlemania 28 by dubious means. After the match Cena destroys a little Jimmy coming to the ring trying to get an explanation as to why Cena cheated.
He officially turns heel on Raw when he explains why what he did. He says he is despised when he does the right thing. Therefore he will no longer do what the fans want him to do.
Boom. Makes perfect sense because Cena can play off the whole "Everyone Hates Me" card and fans would buy that.
A rematch with the Rock would be inevitable in this situation. Summerslam comes to mind if Rock wants to have another match.
Option No. 2: Lose to the Rock. Then Cena whines about how Rock cheated on Raw.
Then he takes some time off to do a movie or rest his injuries. He comes back and makes a slow heel turn.
At the culmination of his heel turn, he completely destroys another face (Rey Mysterio comes to mind). If it were against Mysterio, he rips his mask off and effectively ends his career.
Either way ratings would skyrocket because of how well-known Cena is. People would want to tune in to see what a heel John Cena does. The challenge would be making Cena's heel character fresh every week.
In short, his heel turn might make Raw must see TV again.
But if John Cena is to turn heel it must be done with complete effort. That means Cena must become the most despised heel in the company.
Of course, WWE must find a replacement for Cena as top good guy before Cena turns heel.
Randy Orton is the obvious pick but he is much better off on Smackdown. Miz might be a good choice but he has never been a face before.
CM Punk is a good choice as an antihero but his status with the company is still up in the air. Not to mention he is a fantastic heel.
Alex Riley and John Morrison could be good long-term choices. However Riley lacks experience while Morrison will never be mistaken for the Rock on the microphone.
Out of all of those choices, CM Punk is my favorite guy to feud with Cena because his mic skills are top notch and he can legitimately become a fan favorite again just by opposing Cena.
A double turn at Money in the Bank would make for compelling TV. However it makes very little sense for Cena to turn heel right before his match with the most electrifying man in all of entertainment.
As for the NBA, David Stern had the insight to build Kevin Durant of the Oklahoma City Thunder to be the next face of the company before LeBron James turned heel.
WWE did not have the insight needed to find a replacement for John Cena.
Now obviously John Cena's heel turn won't be exactly like LeBron's.
But if John Cena turns heel anytime soon, WWE should look to the success of LeBron James' heel turn as a model going forward.
Thanks for reading!