BJ Penn and the Top 5 Fighters with Total Strikes Landed in UFC History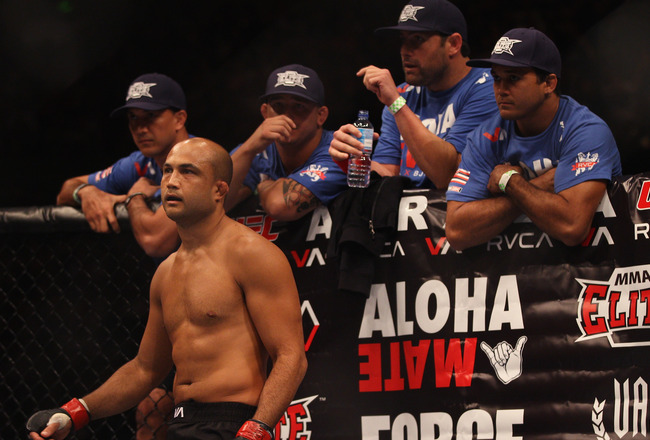 Mark Kolbe/Getty Images
BJ "The Prodigy" Penn (16-7-2 MMA, 12-6-2 UFC) was once the most feared lightweight in the Ultimate Fighting Championship.
Three of his first four fights in the octagon ended via punches, and while he's regarded as a lethal submission artist, it's Penn's striking that has often been his opponent's downfall.
Making the list with Penn is a current champion and three of the top five fighters with total strikes landed in UFC history are scheduled for upcoming fights.
5. Chris Lytle
Mark Nolan/Getty Images
Chris "Lights Out" Lytle (30-18-5 MMA, 9-10 UFC) comes in at the five spot with 1,399 total strikes landed in the Octagon.
His defeats over Matt Serra and Paul Taylor were absolute slugfests and that's exactly what "Lights Out" prides himself on.
Since a 2006 loss to the Serra, Lytle rebounded with the aformentioned victory and has won multiple "fight night" bonuses.
Lytle gets another favorable style matchup next when he faces British striker Dan "The Outlaw" Hardy at UFC on Versus 5 in August.
4. Chris Leben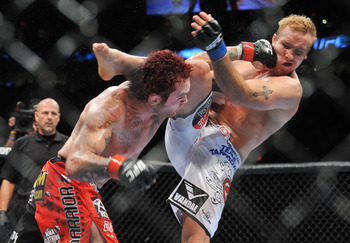 Jon Kopaloff/Getty Images
Chris "The Crippler" Leben (25-7 MMA, 11-6 UFC) has displayed one-punch knockout power on multiple occasions during his tenure in the UFC.
Considering Leben's fight ending power, it's amazing that "The Crippler" has landed 1,477 strikes since he entered the Ultimate Fighting Championship in 2005.
Leben will attempt to put his striking on display when he faces Wanderlei "The Axe Murderer" Silva on July 2 in Las Vegas.
3. BJ Penn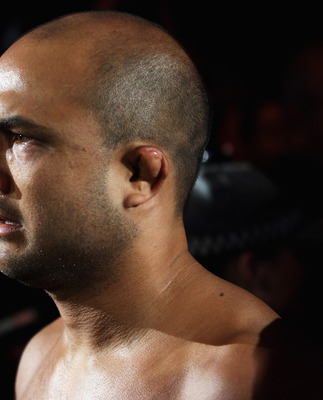 Mark Kolbe/Getty Images
BJ "The Prodigy" Penn (16-7-2 MMA, 12-6-2 UFC) may hold a Brazilian Jiu-Jitsu black belt, but it's his striking that has ended the night for multiple opponents.
Penn's landed a total of 1,516 strikes since his 2001 knockout victory over Joey Gilbert.
Over the span of 10 years, "The Prodigy" has battered the likes of Sean Sherk, Georges St. Pierre (UFC 58), and UFC Hall of Famer Matt Hughes with his quick and precise striking.
The Hawaiian was set to rematch fellow welterweight contender Jon Fitch at UFC 132, but injuries forced the fight to be put on hold.
2. Jon Fitch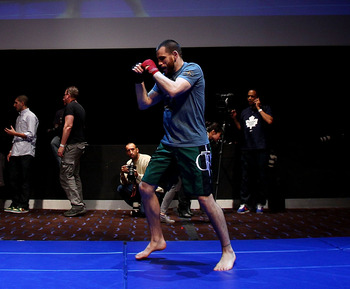 Mark Nolan/Getty Images
The American Kickboxing Academy trained fighter has used a different method of striking to accumulate his 1,973 total strikes landed in the octagon.
Fitch (23-3-1 MMA, 13-1-1 UFC) has only seen defeat once in his UFC career and mostly utilizes his striking through ground and pound.
His record stands at 5-0-1 over his past six fights, and while Fitch has taken heat for not being the most exciting fighter to watch, he's landed a tremendous number of strikes since his entrance into the UFC in 2005.
1. Georges St. Pierre: UFC Welterweight Champion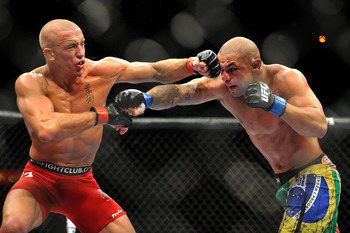 Jon Kopaloff/Getty Images
Georges "Rush" St. Pierre (22-2 MMA, 12-2 UFC) has cleaned out the welterweight division in the UFC and will now face Nick Diaz at UFC 137 in October.
In St. Pierre's most recent victories over Jake Shields (UFC 129) and Josh Koscheck (UFC 124), "Rush" utilized his striking.
However, in his victories over Dan Hardy (UFC 111) and Thiago Alves (UFC 100), St. Pierre took the fight to the mat where he dished out most of his landed strikes.
With that being said, over St. Pierre's seven years of dominance, he's compiled 2,016 total strikes landed and ranks No. 1 all-time in the Ultimate Fighting Championship.
For additional information follow Joshua Carey on Twitter.
Stats provided by FightMetric.
Keep Reading