UFC 131 Results: Sam Stout and the Top 10 Knockouts of 2011
Many expected fireworks at UFC 131 and boy, did we see them.
Although the main event that featured Junior dos Santos and Shane Carwin did not produce the first round knockout that everyone expected, there were still plenty of memorable moments for the night.
One of the biggest came when the lightweight division's Sam "Hands of Stone" Stout brutally knocked Yves Edwards unconscious.
It only June, and we have seen some some great KO's in MMA this year. Stout's KO was one of the most most brutal, but where does it 's rank among the top 10?
Here's a list of some of 2011's best.
Begin Slideshow

»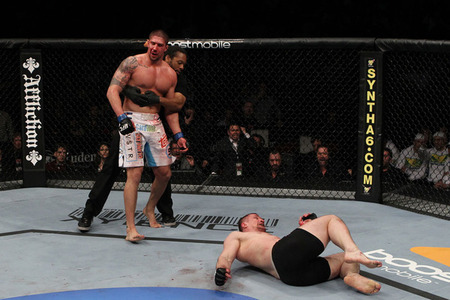 Before this we get started, I wanted to describe how I came up with the list.
TKO's are great, but I went with KO's that left the guy limp and gone.
Also taken into consideration was the move used to get the knockout, impact of it, and what makes it stand out.
Some knockouts that just missed the list:
Brandon Schaub over Mirko Cro Cop
Mark Munoz over C.B. Dollaway
Patricky Pitbull over Rob McCullough
Bryan Baker over Joe Riggs
Scott Jorgenson over Ken Stone
Leave some more suggestions, and I'll add them to the list.
Sergei Kharitonov is a Pride FC vet who is the last man to beat Strikeforce heavyweight champion Alistair Overeem.
Kharitonov is a hard hitter. Mixing that with a guy who has a glass jaw like Arlovski is never a good mix.
At Strikeforce: Fedor vs. Silva, we saw yet another example of why Arlovski should consider another job and watched Kharitonov get one step closer to another fight with Overeem.
Hector Lombard is one of the best MMA fighters not signed to the UFC.
The Bellator middleweight champion is one of the most aggressive strikers right now, and has almost looked unstoppable.
Making his 2011 MTV2 debut at Bellator 44, Lombard faced Falaniko Vitale in a non-title match.
In the third round, Lombard hit Vitale with a hard right that sent him going down. Vitale briefly stood up and fell down once again.
One thing you should never do is count Jeremy Stephens out of a fight.
Lil' Heathen was down in his fight against Marcus Davis and needed to finish big in order to win.
After coming out aggressively, Stephens caught Davis with a counter right punch that knocked Davis out cold.
Stephens landed a brutal diving superman punch for good measure. The KO gave Stephens his third KO of the Night award.
Mark Hunt was on a five fight losing streak before facing Chris Tuchscherer at UFC 127.
The Super Samoan needed a win badly in order to remain in the UFC.
In a match that saw both Hunt and Tuchscherer land some big shots, Hunt got the better of an exchange in the second round with an uppercut.
What makes this KO memorable is Hunt's reaction after the punch. Hunt knew it was over as soon as he landed it and walked away from Tuchscherer as if he had just hit a home run.
Although Patricky "Pitbull" Freire did not win this season of Bellator's lightweight tournament, he had one of the most memorable runs.
After knocking out Rob McCullough in his first tournament match, Freire faced Toby Imada in a semi final match.
Freire hit Imada with a flying knee midway through the first round that rocked Imada badly. Still standing, a hobbled Imada was put to rest as Freire swarmed him, knocking him out with a hard left.
John Makdessi was 8-0 with 6 TKO victories coming into his match with Kyle Watson at UFC 129.
Makdessi was originally supposed to meet TUF winner Jonathan Brookins in the fight, but an injury forced Brookins out of it.
The fight was close until the third round, when Makdessi landed a hard spinning backfist that would make Shonie Carter proud.
The shot sent Watson to the ground hard and gave Makdessi his first KO of the night bonus.
Travis Browne and Stefan Struve are two guys who are willing to stand with anybody.
Both stood and traded with each other when met at UFC 130 last month.
The undefeated Browne got the better of Struve, as he landed a superman punch square on Struve's chin.
The punch sent Struve leaning back as if he was trying to limbo.
Despite having the nickname "Hands of Stone," Sam Stout had not had a KO victory in almost four years.
That all changed last night as Stout brutality knocked out Yves Edwards at UFC 131.
After a few exchanges, Stout caught Edwards with a hard counter overhand left that sent Edwards hitting the ground hard.
Dana White called the KO one of the nastiest he has ever seen.
Randy Couture is without a doubt a legend in the sport of MMA. Captain America has had many great memorable moments and as accomplished more than just about anybody in the sport.
Not many gave Couture much of a chance when he faced former light heavyweight champion Lyoto Machida, and for good reason.
The younger, faster, elusive Machida was looking to make a big statement as he was coming off of two straight losses.
Machida controlled much of the fight and waited for the right moment to go for the kill. That moment came at the second round when Machida hit Couture with a flying front kick that sent the MMA legend into retirement.
After nearly losing to Chael Sonnen at UFC 117, some questioned if Anderson Silva still had it.
Vitor Belfort was a dangerous striker who said he would be the man that could finally beat Silva in the Octagon.
With some help from Steven Seagal, Silva made Belfort eat those words and his foot, as he landed a front kick right in Belfort's face.
The kick is one of the most memorable knockouts in MMA history and proves why Silva is the best fighter in MMA today.
Share your thoughts! What are your top 10 KO's of 2011?! Be sure to catch all of B/R's UFC 131 results!