Cricket: Musings on WI-Pak, SL Premier League and IPL Rumbles
May 16, 2011
Clive Rose/Getty Images
Another batch of random thoughts, in no particular order (are random thoughts ever sequenced?):
West Indies beat Pakistan in the first Test match. The most laughable captain in world cricket, Darren Sammy, comes up trumps claiming a fifer as the Caribbean side wins an encounter between unpredictable "a-bit-more-than-minnows."
Devendra Bishoo and Saeed Ajmal impress. Ajmal gets 11 but ends up on the losing side.
Shivnarine Chanderpaul lets his bat do the talking. Walking the talk? Certainly.
The Sri Lankan Premier League will see Irish hero Kevin O'Brien in action. Just for that, it will be worth tuning in. Funny, how no one thought of ways to circumvent IPL rules and rope in the burly railwayman. The IPL could surely use more eyeballs abroad.
The Mumbai Indians have taken their foot off the accelerator. After looking like champions, they now appear paupers. Sachin Tendulkar complains about the pitches and how they don't suit his side. Excuse me, is the other side using a different wicket?
Kings XI Punjab continue their charge. They may make it, they may not. But it sure provides a reminder why Adam Gilchrist (in my opinion) , not Shane Warne, is probably the best captain Australia never had. He led Deccan Chargers to the 2009 title. And for historians, he's also the man under whom the Kangaroos conquered the Final Frontier.
Rajasthan Royals may be willing to let Warne go. But not the Rajasthan Cricket Association. 'Beach-blondie' is now the main accused in a criminal case to be filed by the cricket association's legal affairs committee. The provocation for this extreme step is the unwillingness by Royals' management to divulge details of the punitive action taken against the star spinner for publicly abusing RCA officio Sanjay Dixit.
Meanwhile, a Twitter war is being waged online between Warne, Lalit Modi and Dixit, Warne's 'victim.' Warne threatens to reveal all while Sanjay Dixit terms Modi a 'bloody fugitive.' Hilariously real or really hilarious?
Dean Jones, too, will be taken to task for his televised comment that the RCA should lick Warne's feet.
It does seem that the former IPL commissioner enjoys quiet support from certain IPL franchisees.
Virender Sehwag expects to be back in action in six weeks after undergoing shoulder surgery in London. Good news for his fans, bad news for English bowlers.
Quote of the day:
You live and learn. At any rate, you live. – Douglas Adams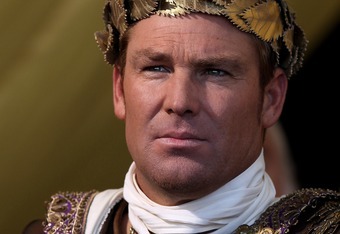 David Rogers/Getty Images