Philadelphia Phillies: 2011 MLB Season Preview
March 30, 2011
J. Meric/Getty Images
PHILADELPHIA PHILLIES 
Last Year: 97-65, 1st in NL East  
Manager: Charlie Manuel
PROJECTED LINEUP 
C- Carlos Ruiz (R) 
1B- Ryan Howard (L)
2B- Chase Utley (L) (will start season on DL) 
3B- Placido Polanco (R) 
SS- Jimmy Rollins (S)
LF- Raul Ibanez (L)
CF- Shane Victorino (S)
RF- Ben Francisco (R) / Domonic Brown (L) (Brown will miss 4-6 weeks) 
The Phillies struggled with injuries and inconsistency throughout the 2010 season, and this year looks like it might have more of the same. Right now, Utley's knee remains a major concern. If healthy, Utley can be counted on for 25-30 home runs, but no one is sure when he will come back or whether he will play at all. Wilson Valdez is also looking like he will get the time at 2B in his absence.
Ryan Howard will need to get back to his 40 home run days with Jayson Werth in Washington and Utley questionable for this season. My gut says he does and hits 42 home runs with a .260/.350/.540 line. Jimmy Rollins struggled with injuries in 2010, but reports are that he has come into camp in better shape. The lineup is best when Rollins leads off, but Rollins will need to produce enough to stay there. I don't see him returning to his MVP days, but 15-20 home runs, 20 stolens, and a line of .270/.335/.425 line should do. Polanco, who consistently strikes out less than 9 percent of the time, remains a a perfect number two hitter. Finally, expect Polanco to produce his usual .290/.340/.390 line.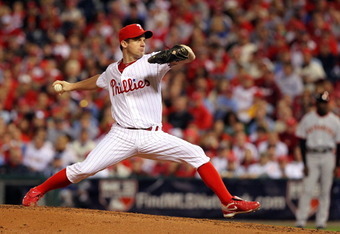 Al Bello/Getty Images
The Phillies do struggle with an excess of left-handed hitters in the lineup. In a perfect world, Ruben Amaro would have traded away Raul Ibanez and gotten a right-handed bat to play LF. Ibanez is getting old, but if he put up a .270 average and 20 home runs, the Philles should be happy. Shane Victorino provides 30 plus stlolen bases and 15 home runs in the sixth spot in the lineup. Victorino is a much better right-handed hitter, but his bad season from the left-side looks like an aberration. Domonic Brown and Ben Francisco were scheduled to platoon in RF, with Francisco playing against lefties. Brown is scheduled to miss the first month of the season, but Francisco can hold his own for a month. He has shown that he can hit 15 home runs with 450 AB and will certainly reach 10. Check out Brown's impact later in the piece. 
The Phillies are an average defensive team. They make most of the plays, but the range is somewhat limited. Carlos Ruiz is the second best catcher in the league behind Yadier Molina. He has a canon for an arm, and all the Phillies' pitchers rave about how he calls a game. The infield defense, besides Ryan Howard, is very good. Utley, Rollins, and Polanco are all in the top 5 in UZR at their positions.
Wilson Valdez is a solid defender at all positions in the infield. Ryan Howard is one of the worst defensive first basemen in baseball, but I am sure John Kruk will say he has improved. The outfield stands on even shakier ground. Shane Victorino is one of the most overrated defensive players in baseball, and is considered an average center fiedler. Raul Ibanez is below average in LF, while the combination of Ben Francisco and Domonic Brown doesn't impress.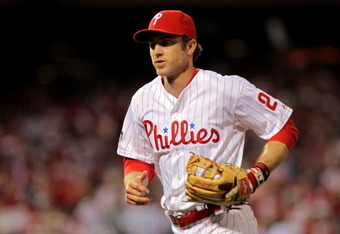 Doug Pensinger/Getty Images
BENCH
1B/OF- Ross Gload (L)
IF- Wilson Valdez (R)
OF- John Mayberry Jr. (R) 
C- Brian Schneider (L) 
IF- Michael Martinez (L) 
IF/OF- Delwyn Young (L)
STARTING ROTATION
RHP- Roy Halladay  
LHP- Cliff Lee 
RHP- Roy Oswalt
LHP- Cole Hamels
RHP- Joe Blanton 
Let's state the obvious, the Phillies have the best rotation in baseball. In my opinion Roy Halladay is the best pitcher in the league. He uses a great sinking fastball, one of the best cutters in the game, a good curveball, and change-up to record a high groundball rate and average more than 7 strikeouts per 9 innings. Halladay should pitch to a 2.50 ERA while averaging 1.50 BB/9 innings.
Cliff Lee has has a similar repertoire to Halladay, with a good two-seamer in the low 90's, great cutter, curve, and change-up. Lee possesses the same pinpoint control as Halladay, but he has less room for error. Lee changed his approach in 2010 after two very successful season. Lee went with the current trend in baseball, and started throwing his cutter close to 20% of the time while using his curve and change more sparingly. His cutter works off his fastball in the same way a change-up goes, and using the change and curveball less often made the pitches more successful. I see Lee putting up similar numbers, but it is impossible for him to replicate his record K/BB ratio.
Roy Oswalt made an impression on Phillies fans by having an impressive second half of 2010. Oswalt is a classic four pitch right-handed starter with a fastball that averages 92.6 MPH with a slider, curveball, and change. All of his secondary pitches are above average. Oswalt changed his approach in 2010 by increasing the use of his change-up by ten percent and throwing each of his secondary pitches fifteen percent of the time. This strategy should help Oswalt in the long run and his velocity decreases with age.
Former ace, Cole Hamels, is the best strikeout pitcher of the bunch. Hamels benefited from an increase in velocity (up 2 MPH to 92) that benefited his dominant change-up. Hamels' curveball was more successful in 2010, and he added a cutter to his compliment his other pitches. Hamels can be homer prone, but he has recorded one of the more consistent xFIPs (3.50 range) since he broke into the league. A lot of teams would love to have Joe Blanton as a number three starter. Blanton will eat innings for this team, and record an ERA in the 4.20 range with a 2.5 K/BB ratio.    
BULLPEN
RHP- Brad Lidge (Closer) (Will spend first 3-6 weeks on DL) 
RHP- Ryan Madson 
RHP- Jose Contreras 
RHP- Danys Baez
LHP- JC Romero 
LHP- Antonio Bastardo 
RHP- Kyle Kendrick
RHP- David Herndon  
The Phillies bullpen has not gotten some of the credit it deserves over the years. Brad Lidge returned to form in 2010 after a dismal 2009 and put good numbers. Lidge has lost velocity but he has compensated by throwing a higher percentage of sliders (60% in 2010). This season, Lidge should average similar strikeout rates around 10-11 per nine innings, as well as his usual four walks per nine with an ERA in the high 2's if he comes back healthy.  
Ryan Madson is one of the best setup men in baseball striking out over 64 in 55 innings last year, while only walking 14. He throws a mid 90's fastball with a decent cutter and a fantastic change-up. That change-up allows Madson to be almost as effective against left-handed hitters.
In addition, Jose Contreras thrived in his first full season as a reliever. The switch allowed Contreras to throw his fastball in the mid 90's with a devastating slider that makes him extremely tough on right-handed hitters. Contreras figures to be the closer until Lidge comes back. JC Romero will be the situational lefty out of the pen where he has been successful the last few years, though his command was an issue last year (7.12 BB/9). Danys Baez struggled in 2010, but he does have a high groundball percentage. Antonio Bastardo will be the second lefty but has the ability to get out right-handed hitters on a regular basis. Kyle Kendrick will be the long-man and insurance if any of the starters get hurt. 
KEY PLAYER: Chase Utley  
BREAKOUT PLAYER/PROSPECT TO WATCH: OF Domonic Brown (L)
The Phillies were ready to let Jayson Werth go because of Domonic Brown. Brown has fantastic power to CF and RF, and very good bat speed. One scout compared him to a young Reggie Jackson. He will miss the first four to six weeks of the season, but I expect Brown to contribute in his ABs versus righties. He will go through a little bit of a rough patch, but I expect his power numbers to impress (.500-.520 SLG).
PROJECTED FINISH: 1st in NL East
I'm going to stick with the Phillies because of the rotation. I wouldn't be surprised if the Braves win the division now with all of the injuries. Utley and Lidge are keys to this team, and the lineup was a question coming into the season with a healthy Utley.
Right now I'm just betting Halladay, Lee, Oswalt, Hamels and Blanton keep them afloat.