NASCAR Cage Matches: 10 Battles We Would Love to See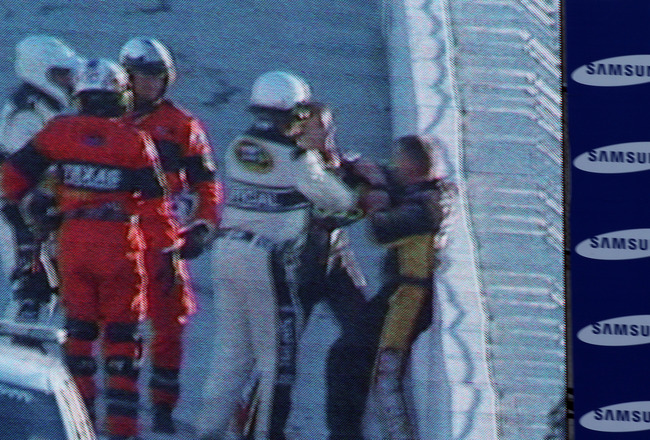 Watching Jeff Burton and Jeff Gordon Last year battling along the fence in Texas gave me an idea.
Jonathan Ferrey/Getty Images
What if NASCAR Sprint Cup installed a UFC Octagon cage right next to Victory Lane? Who would make the best matchups in NASCAR to enter the cage and proceed to have a battle royal? Not many of the drivers in NASCAR would be able to compete with Carl Edwards, but it would make for some exciting extra-curricular activities.
Watching Jeff Burton and Jeff Gordon battle along fence in Texas got my wheels spinning last year, but it was tough to think about even matchups in a mixed martial arts battle. Drivers usually cool off pretty quick after they have their initial confrontation.
As we proceed through the 10 battles we all must suspend belief to a point but we can have some fun with it as well. The following 10 are battles that are brewing or have carried over from last season or several season past and could erupt in the near future. Get the Octagon ready Mike Helton, I will sell the tickets.
10. Robby Grodon vs Kevin Conway Rematch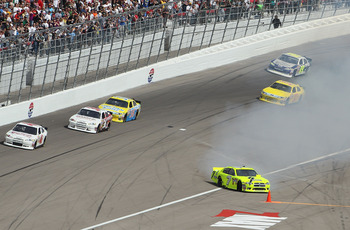 This wasn't the only time Robby Gordon was smoking in Las Vegas.
Jeff Gross/Getty Images
Robby Gordon has had his share of run-ins on the NASCAR Sprint Cup circuit. Jeff Gordon and Robby have had a few discussions after a race as well as Robby Gordon and Marcos Ambrose a few years ago. Gordon is accustomed to ruffling feathers and is not one to back down.
In Gordon's first battle with Kevin Conway, the dispute looked like it went Gordon's way. Conway was said to have a blackened eye and Jeff Gluck of SBNation wrote,
A user named "Allen" on TheHotLap.com posted last night that he "got to see Robby Gordon and Kevin Conway get in a fight in the garage today."
Asked what happened by fellow users, Allen wrote: "Not sure but Robby had him by the shirt shaking him then put him to the ground and hit him once then slapped. Was short but I'm not sure if it means anything yet."
The dispute occurred because Gordon said he was not paid by Conway for last season. Conway drove Robby Gordon prepared cars under an agreement he would finance the deal. According to Gordon he has not paid and owes Gordon more than $600,000.
Conway and Gordon have not crossed paths since and since Conway filed a complaint with the police department regarding an incident within the track, he will be an outcast from this point forward. I would make Gordon a -450 favorite in this battle.
9. Tony Stewart vs Goodyear Director of Racing Greg Stucker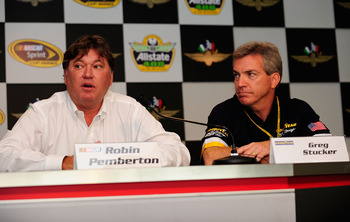 Not many people know who Greg Stucker is but Tony Stewart does.
Rusty Jarrett/Getty Images
Greg Stucker is the man that has to listen to Tony Stewart's comments when he shows his displeasure of the latest Goodyear tire.
Stewart has calmed down since assuming ownership of Stewart Haas Racing, but he does let out an occasional grumbled comment regarding the Goodyear tire program when it comes to NASCAR.
If these two entered the cage it may be a toss up. Greg Stucker could take out years of frustration directed at Tony Stewart and his derogatory comments about Goodyear and Stewart could pound Stucker for all of the times he felt compromised by a blown Goodyear tire. I would make Stewart a -120 favorite in this match.
8. Greg Biffle vs Kevin Harvick
Kevin Harvick has had his run-ins with several drivers including Greg Biffle.
Tom Pennington/Getty Images
Kevin Harvick and Greg Biffle have had their battles in the past and the two will see more of each other this season. Greg Biffle has one win this season over Jimmy Spencer in the introduction of NASCAR's Race Hub. It was a funny and worth another look courtesy of this Race Hub clip.
Biffle and Harvick had one of the most memorable battles after Biffle wrecked Harvick at Bristol and then Harvick patiently waited for Biffle to finish the race. Harvick said after the altercation, seen in this FX video on YouTube, "Biffle's an idiot." The two have both run well this season and it their rivalry will sizzle again this season.
Setting the odds on this UFC Octagon battle would be tough. Biffle is tougher and Harvick is much like the kicker in the movie "The Replacements," he is wirey. The odds on this fight are Harvick favored at -120.
7. Matt Kenseth vs Carl Edwards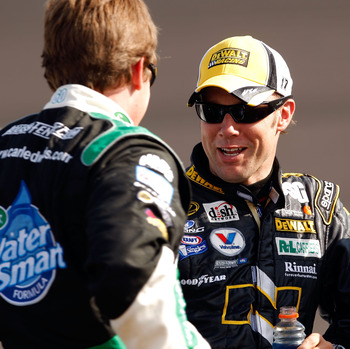 There is no doubt who would win a cage match between Matt Kenseth and Carl Edwards.
Chris Graythen/Getty Images
Carl Edwards is much like the unbeatable heavyweight champ. No one would ever want to fight him but Carl is always good for a little intimidation. The last time he and teammate Matt Kenseth had a disagreement, Matt Kenseth looked terrified that Edwards might actually hit him after the race.
The incident occurred at Martinsville and Carl Edwards walked Kenseth back a few steps, said a few things in his ear and then when he went to leave the track he made a punching gesture towards Kenseth. Kenseth backed up and looked shaken as this YouTube video of the Speed show Victory Lane shows.
A UFC match between this two in the Octagon would be a mismatch of epic proportions. remember when Mike Tyson fought Michael Spinks? This battle would be ugly. Carl Edwards would be the prohibitive favorite at -900.
6. Matt Kenseth vs Jeff Gordon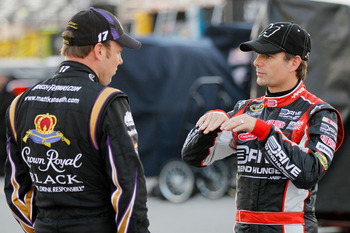 Jeff Gordon and Matt Kenseth in the Octagon with their helmets off may be an even match.
Matthew Stockman/Getty Images
Matt Kenseth may have a shot in this battle. These two are still battling even though their confrontations outside of their cars have been long ago. Last season at Martinsville, Gordon shoved Kenseth out of the groove and caused him to lose several positions at the end of the race.
Maybe the next time these two go at it Matt Kenseth will be the one coming at Jeff Gordon. Maybe the next time these two will have their helmets off as well. Gordon and Kenseth are a ticking time bomb and they will battle this season at least once.
Who wins a battle in the UFC Octagon between these Jeff Gordon and Matt Kenseth? I would make Kenseth a slight favorite at -115 over Gordon.
5. Brad Keselowski vs Kyle Busch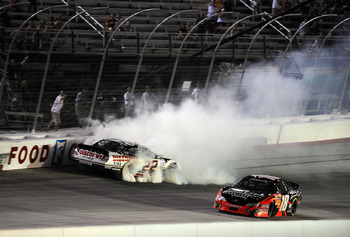 Kyle Busch and Brad Keselowski heated up over this incident in 2010. It isn't over.
Jared C. Tilton /Getty Images
Brad Keselowski has ticked off more than a few drivers in his short career and he and Kyle Busch have been like magnets early in his career. The latest battle between these two was at Bristol Motor Speedway when Busch swept the weekend in August.
After the two had an altercation in the Friday night event at Bristol, Keselowski made a derogatory comment about Kyle Busch during the introductions for the NASCAR Sprint Cup race the next night.
If these two ever entered the UFC Octagon it may be one of the best fights on the card. Give Keselowski the reach advantage and give Kyle Busch the crazy advantage. This fight would be a straight-up pick-em fight, too close to call.
4. Jeff Gordon vs Jimmie Johnson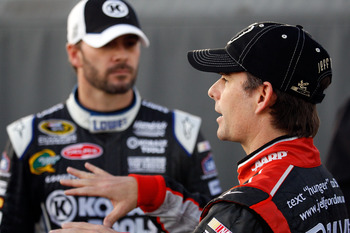 Jeff Gordon has not been happy with his protege jimmie Johnson of late.
Chris Graythen/Getty Images
Jeff Gordon despises the success of his protege and he actually owns the car Jimmie Johnson has driven to five consecutive NASCAR Sprint Cup titles. Gordon's nerves were a bit frayed when the two battled at Las Vegas last season and his emotions got the best of him at Texas Motor Speedway later last year.
Gordon is tired of being second fiddle in the Hendrick Motorsports camp after being the golden boy for so many years. Now that he is in Johnson's shadow, Gordon is looking to put Johnson in his place this year. Although Gordon is the only Hendrick Motorsports driver with a win this season he still has a chip on his shoulder.
If Jeff Gordon and Jimmie Johnson entered a UFC Octagon who would come out unscathed? My money is on Jeff Gordon in this one. It would be therapy for Gordon to pound out Johnson. Jimmie Johnson is not that strong and Gordon has a lot of pent up frustration. Gordon would be a -125 favorite if these two were ever locked up in the cage.
3. Carl Edwards vs Brad Keselowski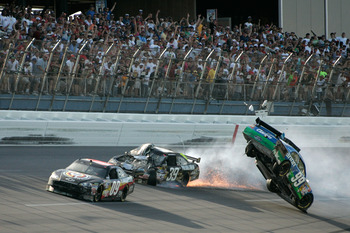 Edwards has never forgiven Keselowski for this incident at Talladega.
Jerry Markland/Getty Images
Carl Edwards is much like an elephant; he never forgets. Edwards has been harboring ill feelings for Brad Keselowski since the horrific crash at the end of the April 2009 Talladega race. Edwards has exacted his revenge not once but twice.
Edwards first retaliatory action occurred in Atlanta when Keselowski flew upside down into the catch fence at Atlanta. Edwards was well out of contention when he returned to the track and deliberately turned right into Keselowski, ending his top-five run.
Edwards also dealt another blow to Keselowski when he wrecked him in front of the entire field during a NASCAR Nationwide race last season. In that crash Keselowski was turned by Edwards and turned into a pinball with wheels in front of the entire field.
This battle would be slaughter if the two drivers ever entered a UFC Octagon cage. Carl Edwards is a monster compared to Keselowski but give Keselowski the reach advantage in this battle. Carl Edwards would be a -650 favorite over the scrawny Keselowski.
2. Carl Edwards vs Kyle Busch
Edwards and Kyle Busch will have one or two more spats this season.
Todd Warshaw/Getty Images
Kyle Busch and Carl Edwards will go at it several times this season on the track. Carl Edwards has already said he owes Kyle Busch pay back for an incident at the Phoenix International Raceway.
In that incident, Edwards felt Busch cut down on him and caused him to crash after getting off course in the dog leg at PIR and hitting the elevate concrete, as seen in a YouTube video of the Fox Sports telecast.
Edwards' interview after the incident was telling, "I will talk to Kyle and we will handle this accordingly."
As a UFC match in the Octagon this would be yet another mismatch. Kyle Busch may have the crazy factor but Carl Edwards has the brute force factor. Carl Edwards would once again be the favorite at -550.
1. Jimmie Johnson vs Kevin Harvick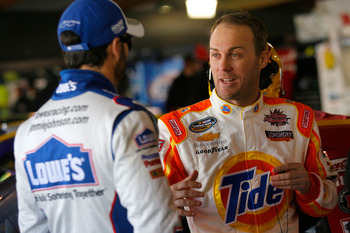 JImmie Johnson and Kevin Harvick will be around each other a lot this season.
Jason Smith/Getty Images
Kevin Harvick and Jimmie Johnson have been a rivalry in the making for more than a year now. Last year after Johnson won the race at the California Speedway Kevin Harvick made the now famous comment, "They have a golden horseshoe stuck up their ass."
This year Harvick would not let Johnson take the win in California. Harvick trailed Johnson on the last lap and once he got to Johnson's back bumper he shoved the No. 48 hard into the corner heading into the turn.
It was enough to get Johnson to pull his foot off the gas pedal and allow Harvick to pass on the outside. The move was brash, aggressive and a statement for the remainder of the season. Harvick served notice to Johnson that he will do anything to make sure does not finish behind the No. 48 Lowe's team this season.
What would happen if these two warriors entered the UFC Octagon and the cage door slammed behind them? Kevin Harvick would tear Jimmie Johnson apart. Years of frustration and the junkyard dog mentality of Harvick would take over. Harvick would be a -300 favorite over Johnson in a battle between the two.
Looking at the 10 matches overall, who would be the best pound for pound fighter of all the NASCAR drivers? The answer is obvious. Carl Edwards would destroy anyone in the NASCAR garage. I don't see any driver showing up for a match against Edwards.
Keep Reading