Tiger Woods and 15 Golfers Who Should Be on 'Dancing With the Stars'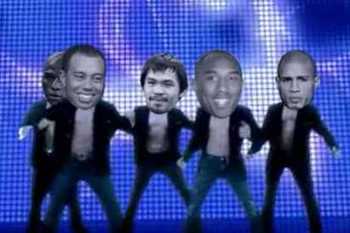 A recent phenomena, Dancing with the Stars, has taken the United States by storm.
Former and current athletes, actors and actresses—and even some people of historical significance have been the "Stars" of the show.
However, no golfers have ever been represented within the athletic base.
This is largely due to the fact that the golf season would interfere with tapings, so current players are unable to participate. Many senior golfers are on the Champions Tour and cherish their little time off, so are also unable to participate.
But let's leave those facts aside, and look at the golfers who would make great members of the "Dancing" cast.
Arnold Palmer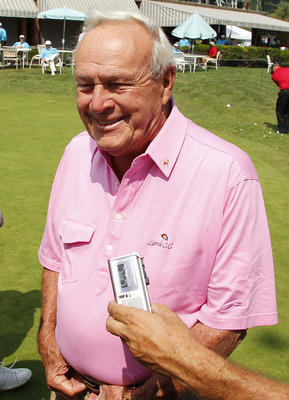 Gregory Shamus/Getty Images
Starting off on an older note, Arnold Palmer fits into one of the categories the show always fills.
That is, the elderly person who everyone thinks is really nice to have on the show, and who we're sad to see go after three episodes—even though their stay was too long to be justified.
While I'm not saying Arnie couldn't cut a rug, I don't see it being highly likely. Even so, it would be fun to see someone like him out on the show.
He is still spry for his age and would definitely be comparable to Buzz Aldrin, who has participated on the show before.
Jack Nicklaus
David Cannon/Getty Images
You can't have Arnie without Jack.
While I would rather see Arnie give it a go, I'm sure Jack Nicklaus would provide us with some pretty unforgettable moves as well.
Jack is the best player that has ever played, until Tiger breaks his record and would definitely fit the star status needed to get in.
As for what he would provide dancing-wise, I don't see it being as fun as Arnold dancing. Still, you have to include Jack if you talk about Arnie.
Chi Chi Rodriguez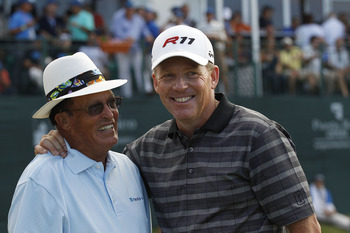 Michael Cohen/Getty Images
Another older member of the golfing community, it would be easy to see Rodriguez come on the show with some Latino flair and a good sense of humor.
Of those mentioned so far, I think Rodriguez would be the most fun to watch.
Then again, so is the next guy on this list.
Lee Trevino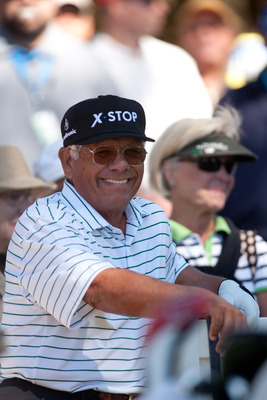 Darren Carroll/Getty Images
If you thought Chi Chi Rodriguez fits the bill of a member on Dancing with the Stars, then you can be sure that Lee Trevino would.
Both of them were the most comical players of their time, and the show needs someone to provide comic relief for the audience after the performances.
If you can't see Lee Trevino doing the salsa, then you clearly don't have a very good imagination.
Anthony Kim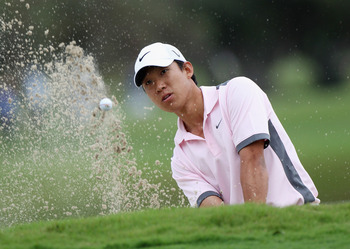 Sam Greenwood/Getty Images
Time to break into the new kids on the block.
Kim often comes under fire for questionable habits. Seeing him dance could probably raise those issues. However, he wouldn't be at a club, so issue avoided.
It's not even that he would be great at dancing. He doesn't seem like he would have perfect coordination on the dance floor, despite his golf swing.
Yet that's exactly what would make him so much fun for the show. The lack of skill.
Dustin Johnson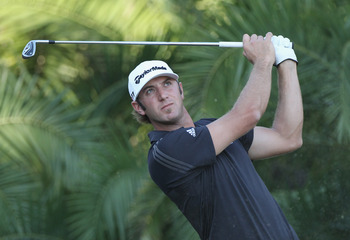 Sam Greenwood/Getty Images
Dustin seems like he could have the coordination to take his girlfriend down in a dance competition.
Let's stop kidding ourselves here—it wouldn't even be close. While DJ seems to be one of the nicest guys on tour, his height would probably prove to be an issue. Not to mention, getting him to learn dance routines in a matter of days (he wouldn't be the only one struggling).
Sergio Garcia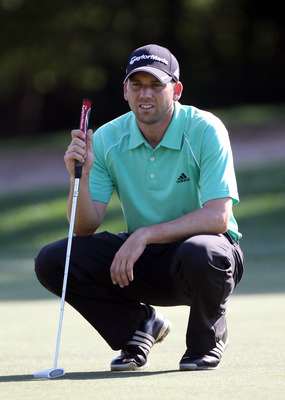 Sam Greenwood/Getty Images
If you like fiery Spaniards, then talk to Sergio Garcia.
The man is a ball of raw emotion. He loves the game so much and shows it with every mistake he makes, or every success he has.
That fire and passion is exactly what would make him perfect for the show. Everyone likes to see a Spaniard put out a good flamenco.
Matt Kuchar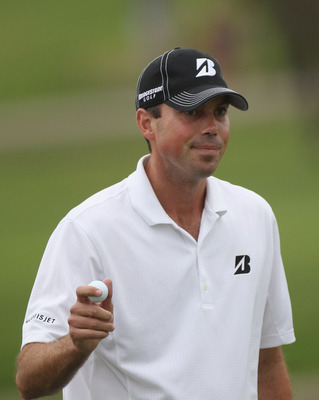 Sam Greenwood/Getty Images
If Matt Kuchar danced horribly and looked like a fool on the floor, he would still have that same smile plastered on his face.
That's what would be great about him. He wouldn't get bothered by the competitive nature of it and would just keep pressing forward.
Everyone would love to see this guy dance around, because you would never know if he wasn't having fun.
Luke Donald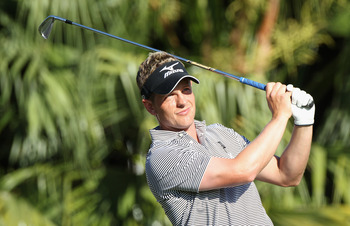 Sam Greenwood/Getty Images
The first Englishman on the list, Donald is probably more popular than ever since his recent successes—and it's not like he's an unattractive man.
What Donald would bring is a following of females, ones who might even eventually watch him golf.
Of all the guys I have mentioned, I think it is a toss up so far between Garcia and him as to who is the better dancer.
Phil Mickelson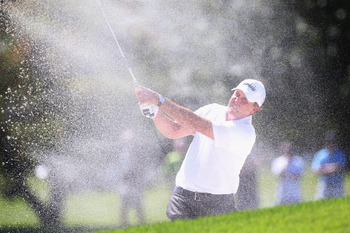 Sam Greenwood/Getty Images
As awkward as Phil can sometimes be, for some reason I think he would be the man to shock everyone with some fresh new dance moves.
For some reason, I just see Phil doing an awesome job with what he works at. He would embrace and enjoy the challenge.
Unfortunately, it would take away from family time. Anyone can respect why Phil wouldn't make an appearance, even if his schedule for golf permitted it.
Camilo Villegas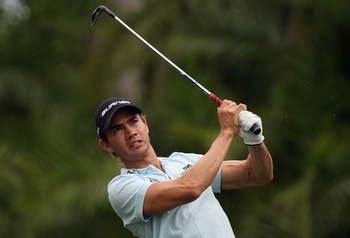 Sam Greenwood/Getty Images
Camilo Villegas is another fiery personality, who also has a strong following of young women and would definitely help ratings in any way possible.
He is a muscular, fiery South-American man. What isn't to be liked by women?
Fred Couples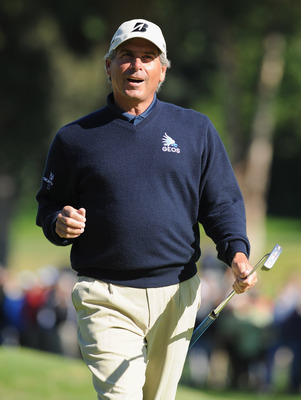 Stuart Franklin/Getty Images
The most relaxed man on the golf course would be the one to have the slickest dance moves.
Despite a bad back, Couples would still be my favorite to watch in each episode, as he just seems like he has that confidence about his stride that would be key to a dancer.
Morgan Pressel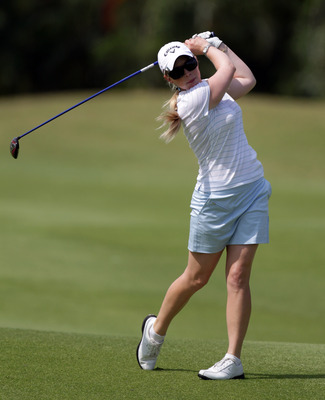 Ross Kinnaird/Getty Images
One of the LPGA's better-looking players, Pressel would be another hit for the show to land.
That is, if she didn't have that whole golf thing going on in her life.
Pressel is young, talented, athletic and attractive. I don't think I see any downside to having her on any show, for that matter.
Pressel could probably dance better than all of the guys on this list too.
Paula Creamer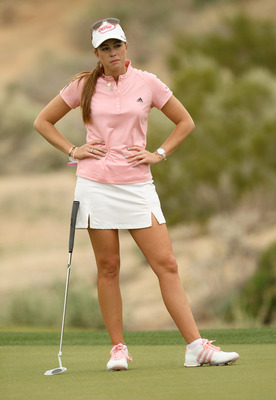 Stephen Dunn/Getty Images
If you have Morgan Pressel, then certainly Paula Creamer would be a great pick as well.
She's another attractive talented female with lots of potential on the golf course, and probably on the dance floor, too.
Despite the surgery on her hand, you can expect that any issues have since subsided and that a "Dancing" appearance would be a welcome experience.
Tiger Woods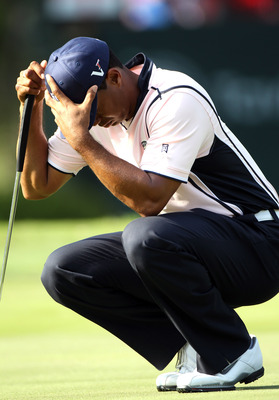 Sam Greenwood/Getty Images
I didn't really rank these in any order, except for the last two, to make it clear that I don't think Tiger would be the most entertaining golfer on the show.
He falls second to very worthy competition, though.
I don't even want to know what would be up with Tiger's dancing abilities—it seems like his fortress of secrecy probably also includes the fact that he is a bad dancer.
I have a feeling that the look he has in the picture wouldn't be too different from what many people would have when they see him dance. That's what's both scary and awesome about it.
Natalie Gulbis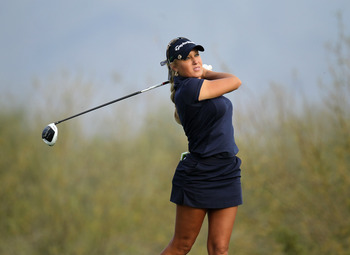 Stephen Dunn/Getty Images
Come on—everyone would want to see her out on the dance floor.
She's the best looking woman on the LPGA Tour that has any big credits to her name.
If she were on the show, every male golf fan in America would watch at least once, just to see her move on the dance floor.
I sense a good fit for the show and Gulbis.
Keep Reading