UEFA Champions League: Five Things That Went Wrong for Arsenal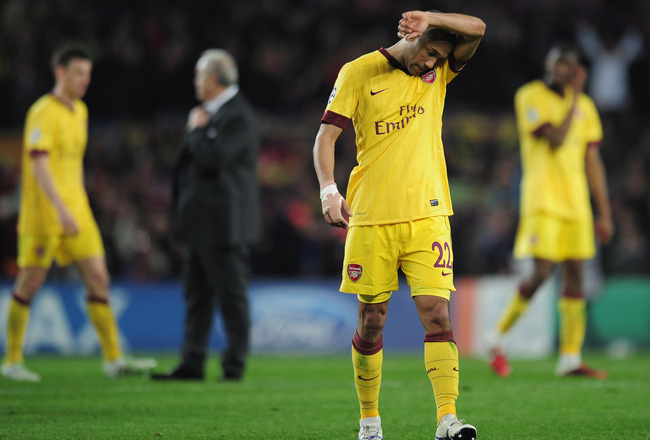 Shaun Botterill/Getty Images
Arsenal stunned Barcelona at the Emirates Stadium, and people were expecting Arsenal to finally shake their image as the team that couldn't handle the pressures of European football.
They didn't.
There were five things that went wrong for Arsenal, and they all contributed to their exit in the UEFA Champions League.
5. Cesc Fabregas' Backheel

Messi scoring his first goal (audio is a bit low, but you can see the backheel that led to the goal)

Cesc Fabregas' back heel that was intended for midfielder Jack Wilshere arguably can be said to set up Lionel Messi's first goal. The Spanish giants are masters of the passing game and cannot be underestimated at any costs. Unfortunately for Fabregas, his backheel found Andres Iniesta, whose pass to Messi found the back of the net after he chipped keeper Manuel Almunia. According to the SkySports recap, "One of the worst moments of my life. I apologize," Fabregas said after the game.
4. No Attack from Arsenal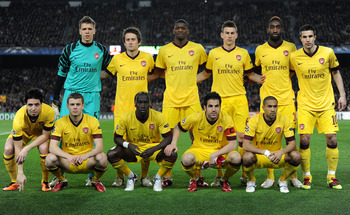 Jasper Juinen/Getty Images
Arsenal is well known for being an attacking team, and are leading the Champions League in goals scored with 21.
Their only goal was a Sergio Busquets own goal in the 58th minute. Other than that, Barcelona kept the ball away from Arsenal, who only managed 26% possession.
Did I mention that Arsenal took a grand total of zero shots on goal?
In contrast, Barcelona had 20 shots, 12 of which were on goal.
3. Robin Van Persie's First and Second Yellow Cards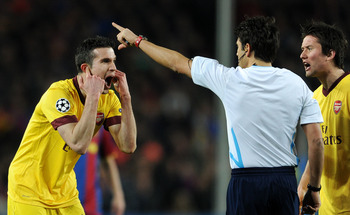 Robin Van Persie being sent off after his second yellow card.
Jasper Juinen/Getty Images
Van Persie received his first yellow card in the first-half injury time for shoving Barcelona defender Dani Alves. In a controversial call, Van Persie received his second yellow card in the second half for kicking the ball after the referee had whistled for offside.
The second yellow was more questionable, but the first could have been completely avoided.
2. Lionel Messi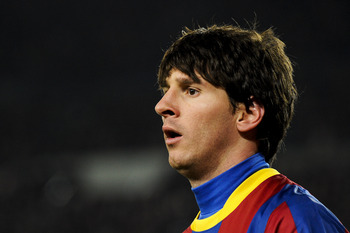 David Ramos/Getty Images
The headline should speak for itself.
The two-time Ballon d'Or winner stepped up once again when it counted, scoring two goals, including a penalty, in Barcelona's 3-1 win.
1. Officiating
Referee Massimo Busacca booking a player.
David Ramos/Getty Images
Possibly the biggest thing that went against Arsenal in the match was referee Massimo Busacca's officiating. Along with Van Persie's red card, Arsenal received an additional three yellow cards: Bacary Sagna, Jack Wilshere and Laurent Koscielny, and were called for 19 fouls compared to Barcelona's eight. Barcelona had no bookings.
According to BBC News, Van Persie and manager Arsene Wenger complained about the officiating.
"We feel betrayed a bit, when it was 1-1 it was all to play for and in my opinion this referee killed the game," Van Persie said.
"We are frustrated with his [Busacca's] decision. It is very difficult to understand his attitude," Wenger said after the match.
Keep Reading