Manhattan Basketball: Who Will Take Charge of the Jaspers in Place of Rohrssen?
March 9, 2011
After a season-ending loss in the MAAC tournament on Friday night, Manhattan fired head coach Barry Rohrssen. The athletic director has announced that searches for a new coach will begin immediately.
And now that the coach carousel is about to get moving, we can let the speculation begin. Here are a few coaches that Manhattan should consider pursuing for the open position.
First off is Steve Masiello of Louisville.
Originally from the New York area, Masiello served as an assistant coach at Manhattan under Gonzalez until 2005. After that, the graduate of Kentucky left for Rick Pitino and Louisville. Masiello has a good reputation and was ranked as a top 25 assistant coach by Rivals.com for his knowledge of the game and his ability to recruit.
Another potential candidate is Jim Ferry of Long Island.
Ferry might not be ready to leave LIU, which he has turned into a mid-major powerhouse. This year, he led LIU to a NEC championship. He is another New Yorker whose ties within the metro area could help tremendously with recruiting.
It would not be surprising if he has some interest in the position since the MAAC is a level up from the NEC.
Much lesser known than the other potential candidates for the job is John Mateyko. Mateyko has spent 10 years coaching at Saint Joseph's College a D-III school in Long Island. In those 10 seasons, he has compiled a 160-108 record with the Eagles. This year, his Eagles went 22-7 with a 16-4 league record.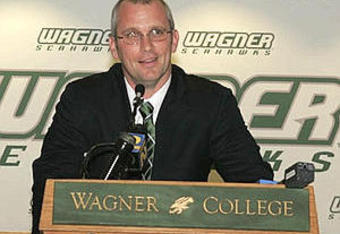 Another very unlikely candidate is Danny Hurley. Hurley spent nine years at St. Benedict's Prep HS in Newark before coming to Wagner for the 2010-11 season. In one year, Hurley took a five-win team to a 13-17 season, where Wagner went 9-9 in the NEC before losing to Robert Morris in the NEC conference tournament. 
Although Hurley might be a good fit for the Manhattan program, it is unlikely that he would leave Wagner after only one year with the Seahawks.
And lastly, there is current Manhattan assistant coach Scott Padgett. Padgett spent a year with John Calipari at Kentucky and then spent the 2010-11 season on Rohrssen's staff. Although Padgett has limited coaching experience, he has already shown some good coaching ability while on the Manhattan sidelines.
Follow Jesse Kramer on Twitter @Jesse_Kramer for more college basketball news and information.