WWE Memory Lane: Ranking the 10 Best PPV Matches of 2000 (More Highlights)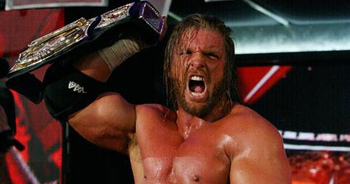 Courtesy of WWE
This is the third slideshow of a short series I intend to create ranking top WWE pay-per-view matches for each year during the late 90's and the early 2000's.
This one will focus on the best PPV matches during 2000, which featured many amazing matches and some new faces in the WWE.
Probably the biggest story of 2000 was Triple H's coming out party as a true main event wrestler, as he dominated the spotlight for a majority of the year.
As with the previous slideshow in this series, please be sure to leave comments mentioning any matches that I forgot or didn't make my final list, or if you like would to discuss of any of these all-time great matches.
If you enjoyed this slideshow, be sure to check out some others in the series:
10. Rock vs. Chris Benoit (Fully Loaded)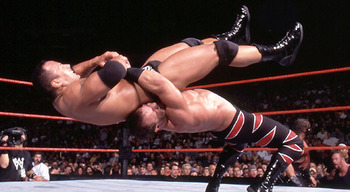 Courtesy of WWE
This was the first of several pay-per-view main events for the late Chris Benoit while he was with WWE, and both performers put on a great show in this one.
While Benoit would come up short in his efforts against the Rock, he did put up a heck of a fight against the Great One.
The Rock would retain his WWE Championship after finishing off Benoit.
9. Triple H vs. Rock (Judgment Day)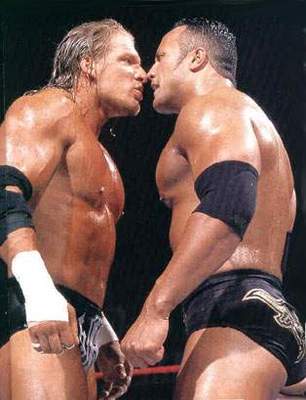 Courtesy of WWE
This classic bout between these two stars was an hour-long Iron Man match for the WWE Championship.
The fact that the Heartbreak Kid Shawn Michaels acted as the special guest referee made this match even more entertaining.
At the end of the hour, the Game reigned supreme as he regained his title from the Rock.
8. Cactus Jack vs. Triple H (Royal Rumble)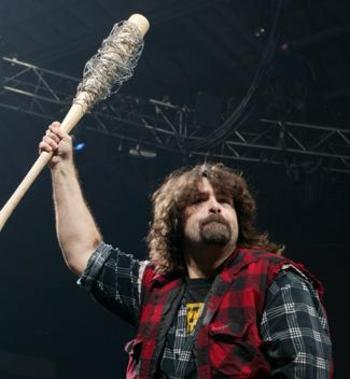 Courtesy of WWE
This was one of my favorite Mick Foley matches of all time, and one of his last matches as a full-time WWE wrestler.
This match definitely saw plenty of violence, as it was a Street Fight that saw both wrestlers take plenty of big bumps.
The match ended with Triple H retaining his title after he pedigreed Cactus Jack onto a bed of thumb tacks, which Cactus Jack had ironically poured across the ring.
7. Chris Benoit vs. Chris Jericho (Judgment Day)

Part 2 of Jericho-Benoit Submission match

These two wrestlers had plenty of classic matches during their time in the WWE, and this was one of the best.
With Benoit's Intercontinental title on the line, these two submission experts did battle in a very fitting match at Judgment Day, a Submissions match.
Benoit would retain his title and win this battle, but the war between these two was just heating up.
6. Chris Jericho vs. Chris Benoit (SummerSlam)
Courtesy of WWE
This was another classic matchup between these two, as they battled in a best two-out-of-three falls match.
As you might expect, the match went down to the final fall, with both superstars using their signature submissions to make the other tap out for a split of the first falls.
Benoit got a little bit of help from the ropes when he countered Jericho's cradle into one of his own, but it was enough to pick up the victory as it went unnoticed by the referee.
5. Edge & Christian vs. Hardy Boyz vs. Dudley Boyz (WrestleMania XVI)

Three-Way Tag Team Ladder Match Highlights

These three tag teams did more for the tag team division in the early 2000's than perhaps any other trio of teams in wrestling history, and this match only added to their legacy.
I would highly recommend watching the highlight clip, as words simply won't do some of their moves justice.
Edge & Christian picked up the well-earned victory and the tag team championships along with it, taking the titles from the Dudley Boyz.
4. Triple vs. Cactus Jack (No Way Out)

Cactus-HHH Hell in a Cell Highlights

This was a rematch from their Royal Rumble encounter, with the added stipulation that Foley would retire if he lost the match.
Foley had another career defining match inside the Hell in a Cell, but once again came up short against Triple H as he eventually lost to the Game.
However, Foley wouldn't be "retired" for long, as he would be in the four-way main event at WrestleMania a month later.
3. Kurt Angle vs. Rock vs. Stone Cold vs. Triple H vs. Rikishi vs. Undertaker

Six-Man Hell in a Cell Highlights

This match was one of my personal favorites from this year, as it saw six of the biggest names in the company battling for the WWE Championship.
I'd recommend watching this clip and catching Rikishi's fall from the top of the cell with a little assistance from the Undertaker.
Somehow Kurt Angle defied major odds and walked out of this one the winner, retaining his title as a result.
2. Chris Benoit vs. Kurt Angle vs. Chris Jericho (WrestleMania XVI)

Part 2 of this classic bout.

This WrestleMania gem featured three of the best technical wrestlers of the past 20 years in the WWE doing battle with two titles on the line.
Angle came into the match with both the Intercontinental and European titles, but he would leave the event with neither.
Benoit would pick up the first victory for the Intercontinental title, while Jericho would secure the second victory of the match for the European title.
1. Hardy Boyz vs. Edge & Christian vs. Dudley Boyz (SummerSlam)
This was the first Tables, Ladders, and Chairs match, and it was a career defining moment for all six of the competitors involved.
If you only watch one video from this slideshow, I would highly recommend that you choose this one.
There were countless big spots in this match, with all kinds of carnage. However, Edge & Christian would find a way to eventually win the bout and retain their tag team titles.
Keep Reading