Arsenal: 5 Things They Must Do To Overtake Manchester United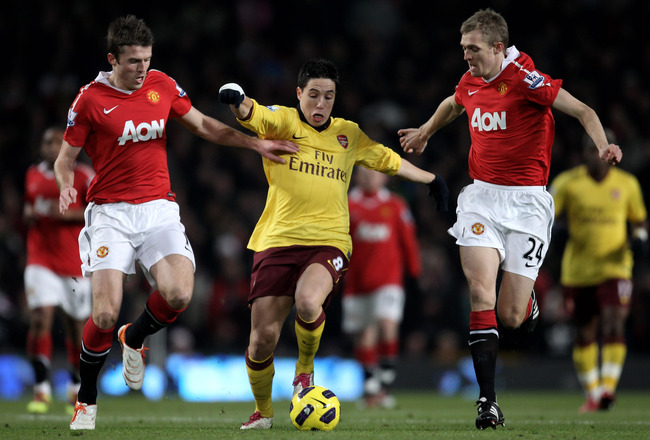 Alex Livesey/Getty Images
Despite a heartbreaking loss to Birmingham City in the Carling Cup Final over the weekend, the English Premier League title is still well within Arsenal's reach. The Gunners are only 4 points behind league leaders Manchester United, with 11 league fixtures remaining for both top flight title contenders. Arsenal have been consistently stepping on the heels of the league leader's boots for most of Premier League season now.
Arsene Wenger is considered one of the best managers in recent English top flight history, but he and his world-class squad have failed to add to the club's impressive trophy cabinet for almost 6 years now, in all competitions. However, their standing in the current Premier League title race presents them with their best chance to win the top-flight since they dominated the league back during the 2003/04 season.
We're going to take a look at a few things Wenger and company should do to regain the Premier League crown, which in doing so, will prevent the Red Devils from capturing their record-breaking 19th English league title.
Related Article: Manchester United: 5 Things They Must Do To Hold Off Arsenal
If you are interested in the relegation battle at the other end of the table, then check out my analysis on the teams involved at this link: 2010/11 English Premier League Relegation Roundup: Who Will Survive?
5. Build and Maintain Momentum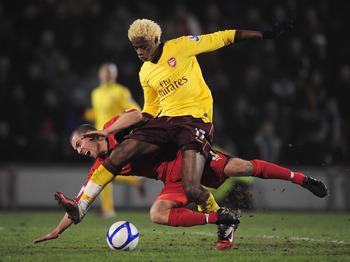 Shaun Botterill/Getty Images
Everybody knows that Arsenal needs to put the Carling Cup Final defeat behind them. Despite the emotional weight, the loss has no mathematical effect on their standing in the Premier League. Victory over Leyton Orient in their 5th round FA Cup replay on Wednesday will help Arsenal put the loss behind them, though. A dominant display against the League One side will not gain them any ground in the top flight race, but will give them a much needed emotional boost.
Their FA Cup tie-breaker is followed by a league fixture at the Emirates this weekend with a Sunderland side fighting for a spot in next season's Europa League. Arsenal then must make a crucial away trip to Barcelona for Champions League survival. A positive result from both match-ups will give the Gunners some much needed momentum to put towards their remaining league fixtures.
However, Arsenal cannot let results in past and remaining cup ties this season affect their performances in the Premier League; which is easier said than done with a squad full of young players lacking a ton of top-flight experience. It'll come down to the experience of Arsene Wenger and the veteran internationals on the squad right now to keep them on course in all competitions. There are a lot of 'what-ifs' involved here, but a series of strong performance over the next week, especially victorious results, will give Arsenal a great chance of putting some much needed pressure on Manchester United.
4. Take Charge When United Slips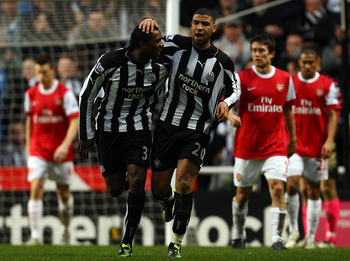 Richard Heathcote/Getty Images
One of the biggest obstacles Arsenal has made for themselves in recent weeks has been their inability to produce positive results when United drop points. For example, United allowed a late Lee Bowyer goal to draw 1-1 against Birmingham City back on December 28th. Arsenal failed to close the gap against United the following day by drawing 2-2 against a struggling Wigan Athletic side.
Arsenal had an even better chance to close the gap up top on February 5th when United suffered a 2-1 defeat at Wolverhampton; the Red Devils first and only loss of the current campaign. On the same day, Arsenal proceeded to let a 4-0 first half lead against Newcastle United turn into a 4-4 draw when the final whistle was blown. Arsenal's failure to pick up the pace when United trips and falls is a major contributing factor to why they have been stuck in second for so long now.
United has struggled on the road, though, with only 4 wins, 8 draws, and 1 loss away from Old Trafford. This is relevant because United have a trip to Stamford Bridge to face Chelsea today, followed by an always-hostile trip to Anfield for a match-up against struggling bitter rivals, Liverpool. If United does not come home with the full 6 points, Arsenal must take advantage of such an occurrence and gain positive results in corresponding matches to close the gap on United.
3. Stick with Szczesny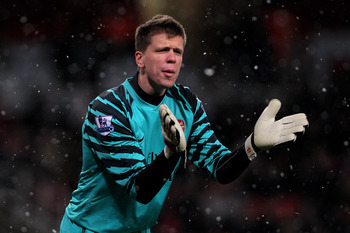 Clive Rose/Getty Images
Arsenal has struggled to find consistency between the goal posts this season, but at only 20 years old, Wojciech Szczesny has been a revelation for the North London side. Szczesny has only a few league starts to his name but has impressed in recent weeks deputising for the struggling Lukasz Fabianski and Manuel Almunia. In doing so, he's been Arsenal's number one keeper for most of the new year.
Szczesny should not be replaced in goal if Fabianski gets fit again or if Almunia somehow recaptures the form he displayed when he displaced Jens Lehmann in the net for the Arsenal back during the 2007/08 campaign. The key to building a young player's confidence is to keep playing him. The performance of the Gunners' young midfielder, Jack WIlshere, is a prime example of this fact.
Szczesny had a terrible Carling Cup Final; lucky to avoid giving Birmingham City a penalty in the early minutes and a mix-up with Arsenal defender Laurent Koscielny leading to the game-winning goal. He has proven his ability to bounce back, though. The previously mentioned 4-4 draw with Newcastle was the only league match where Szczesny showed any signs of struggle. He bounced back with a clean sheet against Wolves, despite rarely being challenged, but performed admirably in the first leg of Arsenal's Champions League quarter-final draw against Barcelona.
Arsenal needs consistency in the net. That has not been found with Fabianski or Almunia, so Szczesny is their best and only bet for the remainder of the season. However, he will need help...
.
2. Defense!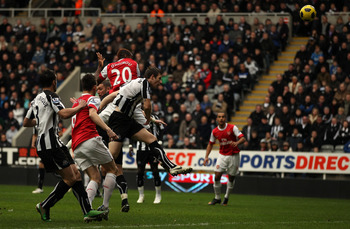 Richard Heathcote/Getty Images
Arsenal have posted a good defensive record when it comes to goals conceded this season, with only 27 goals allowed up till now. The Gunners' have two of the most consistent fullbacks in the league, with Gael Clichy and Bacary Sagna leading the team in league appearances (25 and 24 respectively). They do have issues in the center of the defense due to injuries and a general lack of Premier League experience.
With the loss of veteran defenders William Gallas, Philippe Senderos, and Kolo Toure over the last two seasons, Arsenal entered the current campaign with Thomas Vermaelen and Johan Djourou as the club's only central defenders with a reasonable amount of English footballing experience. Arsene Wenger chose to poach two French defenders to bolster his defensive ranks with the arrival of Sebastien Squillaci and Laurent Koscielny during the summer transfer window.
Although loaded with plenty of top tier footballing experience in France and Spain, Squillaci has struggled to adjust to the rigors of the English game. Meanwhile, the less-experienced Koscielny has had a very up and down season with his recent blunder in the Carling Cup Final further prolonging Arsenal's silverware drought.
Vermaelen made 3 appearances near the beginning of the season, but a nagging Achilles injury has kept him out since the end of August. Meanwhile, Djourou has been Arsenal's most consistent defender for most of the last few months. Wenger chose to use him sparingly at first due to recently recovering from a knee injury that had kept him out most of the previous Premier League campaign, but a string of strong performances has cemented him as Arsenal's first choice defender.
If Arsenal wish to even keep pace with United at the moment, they have to defend better when it counts, especially near the end of matches. United have also struggled with late goals, but the difference in the loss column (United's 1 to Arsenal's 5) separates the two at the moment. With the previously mentioned young keeper in the net, Arsene Wenger must figure out who to partner with Djourou or they will struggle to keep the ball out of the back of the net for the remainder of the season.
1. Victory Against United in May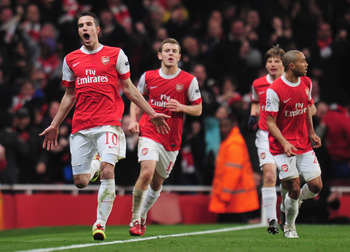 Shaun Botterill/Getty Images
The late season showdown between the two clubs at the Emirates Stadium in May will probably be the biggest decider in who wins the Premier League when it's all said and done. Either team will be looking at widening or closing the gap up top with this fixture. I've already touched upon this in my analysis of United's title to-do list here.
Arsenal have the advantage of playing more than half their remaining league fixtures, including this one, at home. Boasting the league's second best home record, Arsenal should be in good standing going into the match against United. As previously mentioned, United has struggled on the road this season, plus the Emirates will be a tough and hostile environment for the to go into and win at that point in the season.
However, Arsenal must win this match-up with difficult fixtures to follow. They finish the season with tough trips to Stoke City and London-rivals Fulham, with a home match-up against Aston Villa in between. United has their second meeting with Chelsea following their showdown with the Gunners, but finishes the year against much weaker sides Blackburn and Blackpool.
One final note. There is a good chance that these two clubs will meet each other in both the FA Cup (barring a Leyton Orient upset of Arsenal) and Champions League (barring one or both teams expulsion next week) between now and May 1st. One or both clubs could be looking for revenge for a cup tie knockout previous to this May fixture, adding another incendiary element to an already explosive Premier League season.
Keep Reading

Arsenal: Like this team?