The Top 10 Fighters You Expect to Lose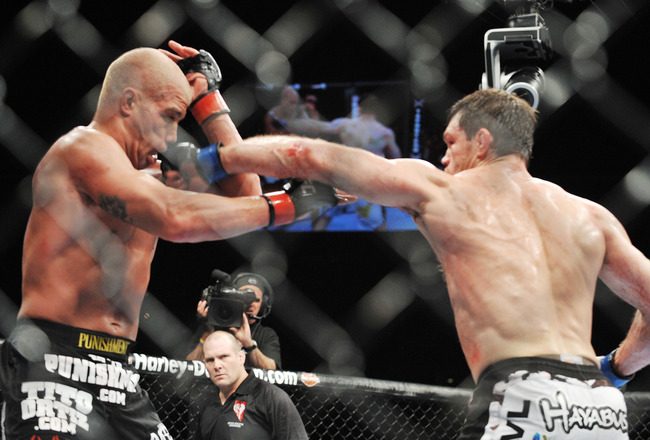 Jon Kopaloff/Getty Images
Coming in to most fights there are always expectations of who will win. And with them, expectations of those who will lose.
The fighters we think of first are usually the fighters we expect to win—the Anderson Silva, Jose Aldo and GSP figures. When we think of fighters who will lose, we are usually thinking of the men who are as adept in losing as those men are at winning.
It's expected for a fighter to lose at some point. All of the greats have losses attached to their name. Yet there are some people who the fans just expect to lose. We see these names throughout win columns everywhere, and wonder to ourselves, "Did they really expect him to have a chance?" Other times we remain hopeful, but know that all the hope in the world doesn't change the odds that this guy is going down.
These are the fighters that are the focus of this article.
The fighters that have been so spectacular or consistent in losing that it's their trademark. Brock Lesnar has a giant (and silly) chest tattoo, Rampage Jackson has his chain, Royce Gracie has his gi, and these guys have impressive loss columns.
10. Terry Martin
Notable Losses: Chris Leben, Vitor Belfort, James Irvin
When Terry Martin steps into any arena there's a strong chance that somebody that night will be knocked out. The problem is: there's a strong chance it will be Terry Martin.
Though he holds notable knockout wins over Ivan Salaverry and Jorge Rivera, he has even more notable knockout losses against the men mentioned above, along with Jason Lambert, Scott Smith and Julio Paulino.
Terry Martin is an extremely athletic and heavy-handed individual, but he's also a one-man knockout highlight reel—and not in the good way. We've seen him taste glove and taste canvas in rapid succession far too many times, which is why he is more often than not expected to be cannon fodder for some heavy-handed individual.
The video above is from Martin's fight against Chris Leben. Though he fought a great fight up until round three, what people will remember more than his valiant effort is the left hand that put his lights out.
9. Elvis Sinosic
Notable Losses: Tito Ortiz, Forest Griffin, Michael Bisping, Renato Sobral, Evan Tanner, Frank Shamrock
The good thing about Elvis Sinosic is that when he loses, he loses to high quality fighters. He's also been very important in jump-starting the careers of Ultimate Fighter winners Griffin and Bisping, as well as solidifying the legacy of Tito Ortiz as one of his five title defenses that made him a legend.
What might be even more of an accomplishment is that he was the first man to introduce the gogoplata into an MMA fight.
However, sporting an 8-11-2 record does not give him much of a legacy. Though he has been a part of many important fights, those fights were all important because of his loss to a rising star or legend.
The attached video is from Sinosic's most recent fight against English journeyman, Paul Cahoon. Just another knockout that shows bigger isn't always better.
8. Carlos Newton
Notable Losses: Matt Hughes (twice), Anderson Silva, Dan Henderson, Renzo Gracie, Brian Ebersole
Carlos Newton is not often remembered as a UFC welterweight champion or the first Canadian to reach large national success MMA, but the guy who got power-bombed by an unconscious Matt Hughes. The vast inconsistencies in his career can be noted in his 15-14 record.
He's been out-muscled by the heavier Dan Henderson, pushed Matt Hughes to his limits and was knocked out cold by Anderson Silva. All of these men are high quality fighters and the losses are completely understandable.
Issues arise in situations like dropping a decision to Daiju Takase, losing his first fight by exhaustion and despite being a grappling specialist who defeated Renzo Gracie, losing to Matt Lindland by guillotine.
Perhaps Newton is expected to lose not because he is a bad fighter, but because of the generally high level of competition he's gone up against. Not many people are expected to beat Anderson Silva after all, even at the stage in his career when he fought Newton.
If you want to see how that turned out just check the video above and ponder why Pride ever let Anderson Silva go.
7. James Thompson
Notable Losses: Kimbo Slice, Aleksander Emelienko, Brett Rogers, Alistair Overeem
Like Carlos Newton, James Thompson also has 15 wins and 14 losses to his name. Unlike Newton he was never a champion or fought anybody at nearly the same caliber as Newton did.
What is most amazing about Thompson is his uncanny ability to get knocked out. The man makes Andrei Arlovski look like Dan Henderson when it comes to taking punches.
His nickname is "The Colossus," which I find odd. As I recall, Colossus of the X-Men was made of metal while I'm sure Thompson is made of glass—or at least his jaw is.
I'll admit that he is fighting heavy- handed individuals when he steps into the cage; however, maybe if he learned to move his head he wouldn't be seeing stars as often.
Don't believe me? Attached is a video of him fighting Eric Esch, also known as Butterbean.
6. Tito Ortiz
Notable Losses: Frank Shamrock, Chuck Liddell, Forest Griffin, Matt Hammill
If I would've made this list 10 years ago everybody and their mother would be out for my head after this inclusion. There was a point in time when Tito Ortiz was considered the best light heavyweight on the planet. With five consecutive UFC title defenses to his name, there was a strong case supporting that.
Following his back-to-back losses to Randy Cuture and Chuck Liddell, Ortiz went on a five fight win streak from 2004-2006. The problem was two of those victories were close split decisions, one was a decision over Patrick Cote who only had four days notice to accept the fight, and the other two were over an aging Ken Shamrock.
Since December 2006, Tito has gone 0-4-1 in his last five fights. Injuries have kept him out of steady competition along with a year long feud between he and Dana White.
At this point in his career, Tito is having a hard time keeping up with younger fighters. Though he will always be remembered as one of the sport's pioneers, he is rarely given a shot at victory these days.
Though only his second loss, the video above shows why Tito has had a problem winning. When he can't keep you down he usually can't win.
5. Keith Jardine
Notable Losses: Rampage Jackson, Wanderlei Silva, Houston Alexander, Ryan Bader
After being knocked unconscious six seconds into his third MMA fight, it was hard not to question Keith Jardine's chin. The Dean of Mean has had his fair share of wins, but has been widely inconsistent at the upper levels of MMA competition.
After his first loss he went on a nine fight win streak that was derailed by Stephan Bonnar. However, he rebounded with wins over Wilson Gouveia and Forest Griffin. Then he was stopped by Houston Alexander in under a minute, then he beat Chuck Liddell by split decision, then was knocked out by Wanderlei Silva, and then beat Brandon Vera.
Then after the Brandon Vera fight Jardine became quite consistent—in losing.
He went on to lose his next five fights (two by knockout). His first win in over a year came when he defeated Francisco France in a fight where he was accused of greasing, and time was kept on a cell phone.
Though he may be on a small win streak with his recent victory over unknown Aron Lofton, it is expected that upon meeting a decent opponent he will most likely fall short.
Attached is the video of Jardine's first loss, skip to 2:20 and be prepared for fireworks.
4. Kazushi Sakuraba
Notable Losses: Wanderlei Silva (three times), Royce Gracie, Jason Miller, Rogerio Nogueira
This is a sad entry for me, but alas it must be done.
Kazushi Sakuraba is Japan's most famous mixed martial artist. His catch/professional wrestling style makes for entertaining fights, and his "take all comers" attitude is truly admirable. However, his legendary career is made all the more legendary by his losses.
Wanderlei Silva defeated him with knees, injury via slam and knockout by punches. Jason Miller and Marius Zaromskis manhandled him in his two most recent fights.
Throughout his career, most fans pulled for Sakuraba to win, but that regarded his personality more than his skill. Today, if we ever see Sakuraba back in the ring it is expected he won't be leaving victorious.
He has five losses in his last seven; skip to 1:30 in the video above to see where the downward spiral began.
3. Kevin Randleman
Notable Losses: Bas Rutten, Mirko Cro Cop, Fedor Emelianenko, Shogun Rua, Chuck Liddell
Kevin Randleman started his MMA career as a heavyweight going 9-4, however, in that time he became UFC Heavyweight Champion, even defending the belt. After dropping the title to Randy Couture he would lose his next fight to Chuck Liddell, then continued on to a five fight win streak before his career turned sour.
Since 2003 he has won three fights and lost ten.
His once dominant wrestling and explosiveness seem to have lost their edge, and his overall record has slumped to 17-15. While he has generally faced solid competition, "The Monster" is all too often seen staring at his opponents hand being raised in victory.
The fight begins at 1:55 and is a rare site indeed...not Randleman losing, but Cro Cop winning via submission.
2. Ken Shamrock
Notable Losses: Tito Ortiz (three times), Don Frye, Rich Franklin, Kazuyuki Fujita
Ken Shamrock was one of MMA's early pioneers with a stellar list of accomplishments.
After leaving the sport for four years to try out professional wrestling, his situation worsened. Since his return to the sport in 2000 he has gone 5-10. Each of his wins were fairly insignificant and against generally low quality opposition.
However, his losses made for great entertainment.
He had a classic brawl with Don Frye at Pride 19, lost to Tito Ortiz three times with the beatings becoming progressively worse each time, had his leg pounded into raw meat by Pedro Rizzo and much more.
Before 1996 Shamrock had a clear shot at victory in every fight he entered, after that he usually had a clear shot to a doctor's office.
His fights with Ortiz are his most memorable losses and can be summed up in less than 30 seconds above.
1. Phil Baroni
Notable Losses: Kazuo Misaki, Amir Sadollah, Frank Shamrock, Matt Lindland
The best analogy I can make for the career of Phil Baroni is that of a roller coaster.
Sure, there are ups, but they always pale in comparison to the downs. Baroni came into the MMA world with explosive hands and an attitude that bordered insanity.
He'd win a fight or two and talk about how he was the greatest fighter on Earth. He'd go on a losing streak and contemplate retirement until he won again. That was the general pattern of Baroni's career.
I could elaborate on it more but that sums it up well.
At this point in his career Baroni loses at the drop of the hat. When he lost to Evan Tanner and Matt Lindland they were at the peaks of their careers. Loses to up and comers like Brad Tavares and Amir Sadollah are hard to explain for a veteran like Baroni.
When it's all said and done, we expect Baroni to lose. Want to see what that looks like? The video above will show you and also give an elaboration on Baroni's reasoning for never acquiring a ground game.
The End...OR IS IT!
Now for the disclaimer! This article was written in good fun. I completely understand and respect the sacrifices made by each of these fighters. I was simply reiterating the sentiments of various MMA fans I've talked to over the years. So please, do not flood me with the comments about how they could destroy me or I could never do what they do and so on. I know that. It's just a list. Be happy!
Furthermore, this list is by no means complete. I'm sure there will be many disagreements or missing fighters, and I'm okay with that. Tell me what you think and enjoy.
Now behold Morgan Freeman and be inspired!
Keep Reading