Super Bowl 2011: 10 Potential Bets that Vegas Should Consider
Ronald Martinez/Getty Images
Las Vegas is the sports betting capital of the world.
Don't expect it to be any different this weekend as Super Bowl XLV kicks off in Dallas.
Even though most of the betting will be centered around the game, it would be interesting to think what kinds of bets could be played based on the glitz and glam that surrounds the Super Bowl.
Here is a list of 10 things that Vegas should begin taking bets on during Super Bowl Sunday.
10) How Many Ads Will Have Something to Do With Troy Polamalu's Hair?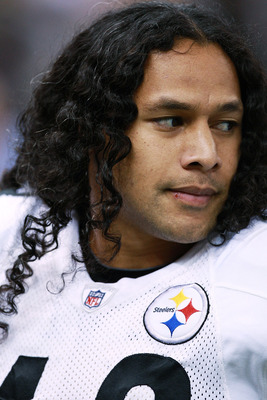 Karl Walter/Getty Images
Troy Polamalu's hair has become an entity unto itself in Steeler nation, so why not place a bet on it?
Commercials have run all season long with Polamalu representing different lines of hair products, and Super Bowl Sunday should be no different.
Another option would be how many Steelers players will be wearing Polamalu-like wigs if they win the game.
Hines Ward and Mike Wallace both sported the wigs during Media Day this past week.
9) How Long Will It Take the Announcers to Mention Brett Favre?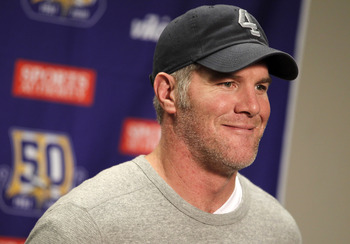 Gregory Shamus/Getty Images
It would be naive to believe that Brett Favre will not be mentioned at all during the Super Bowl as Green Bay and Favre had quite a few shots at it during his tenure there.
Other than that, people just love to keep talking about Brett Favre!
So how long will it take the television sportscasters to mention him?
I'd put my money down sooner rather than later.
8) What Color Gatorade Was the Winning Team Drinking?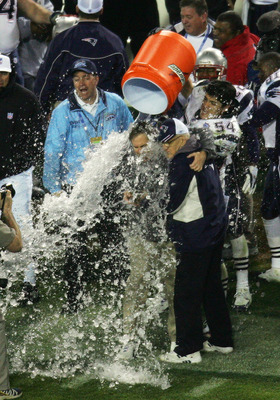 Harry How/Getty Images
Let's face it--the Gatorade bath is one of the most anticipated events in all of sports.
Watching the coach of you're favorite team get drenched with a bucket of colored sugar water is priceless.
The thing that can make this bet so interesting is all of the options that are possible.
Will the Packers go green?
Will the Steelers go yellow?
Did anyone even think of water?
See--endless possibilities!
7) Who Will Be the First Person Crying After Winning the Super Bowl
Nick Laham/Getty Images
The camera's always manage to catch at least one player from the winning team crying after they win the big game.
Who will it be this year?
If the Steelers win, my money would have to go on Ben Roethlisberger.
Roethlisberger cried for at least five minutes on one knee when the Steelers won the AFC Championship, and Super Bowl Sunday should be no different.
6) What Will Be Worse: Pre-Game or Halftime?
Stuart Franklin/Getty Images
Christina Aguilera will be singing the National Anthem during the pre-game of Sunday's Super Bowl, while the Black Eyed Peas will be in control of the halftime entertainment.
At least one performing act receives terrible reviews after their Super Bowl performance every year.
You may just want to play it safe and place money on both of them.
5) Will Mike Tomlin Ever Smile?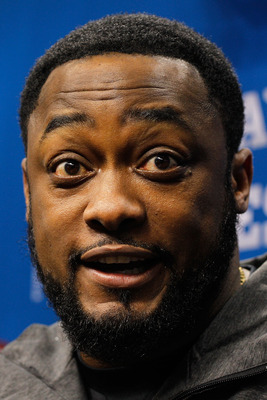 Scott Halleran/Getty Images
Mike Tomlin must have taken advice from Bill Cowher when it came to never showing positive emotion while his team is on the field.
Tomlin has mastered the angry Cowher stare and I wouldn't expect it to change unless the Steelers were involved in a complete rout on Sunday.
4) Which Team Will Have More Support From the Fans?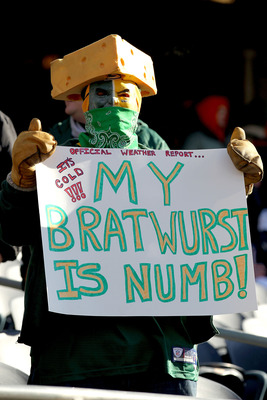 Andy Lyons/Getty Images
This one may be a toss-up as Steelers fans always seem to travel well and show good support for their team during away games.
However, the game is being played on NFC turf, which may result in a large turnout for Packer supporters.
This one may end up close to 50-50, but it will be easy to decide a winner when you look at the crowd during the post-game.
3) Will Anyone Storm the Field During the Game?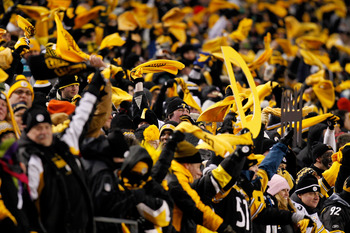 Gregory Shamus/Getty Images
It seems to happen at least once every year.
A crazed fan decides to rush the field during an NFL game and pays the price by either meeting a player or getting arrested on the spot.
The Super Bowl is the perfect place for anyone to get in their 15 minutes of fame.
So will anyone be brave...or stupid enough to try it?
Place your bets!
2) Who Will Commit the First Penalty of the Game?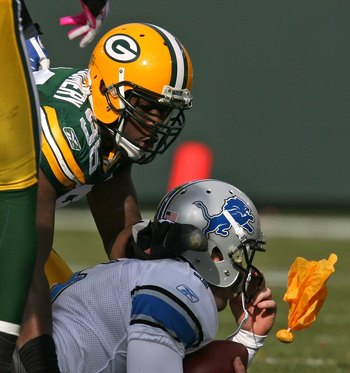 Jonathan Daniel/Getty Images
This is a bet that will be decided early in the Super Bowl and give the victor the opportunity to place even more bets with the money they won!
Someone is bound to commit a penalty early in the Super Bowl, as nerves and jitters will be at their peaks.
A false start is probably the safest bet to place in this situation .
1) What Will Be the Best Super Bowl Ad?
Tom Pennington/Getty Images
Super Bowl ads are the best part of the game for some people, and advertising agencies always seem to hit the nail on the head at least a few times.
What will be the best Super Bowl ad of 2010?
E-Trade talking babies and the Gieco Gecko are expected to have strong showings, and GoDaddy.com will introduce two new campaigns.
What company will you put your money on?
Keep Reading