Kimbo Slice vs. Brock Lesnar: 10 Bold Predictions for This Dream Matchup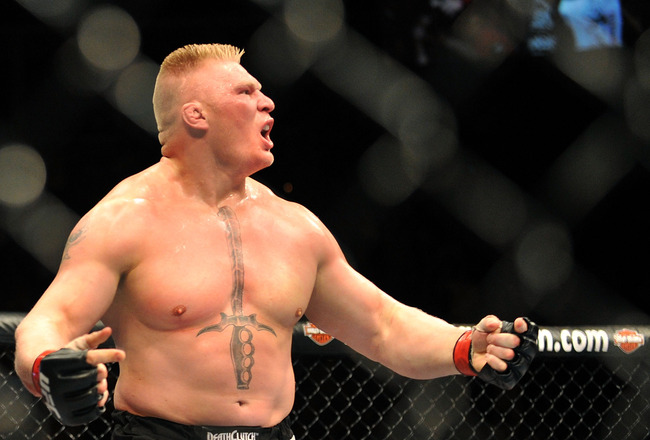 Jon Kopaloff/Getty Images
Kimbo Slice vs. Brock Lesnar: Chances are that even the masterful businessman Vince McMahon couldn't pull this match off.
But both Slice--who's making his professional wrestling debut next month--and Lesnar have been rumored to be in the running for matches at Wrestlemania 27.
With new of Lesnar's involvement on The Ultimate Fighter, chances are slim to none that we'll see him back in a WWE ring anytime soon.
Not for Slice, though.
He's expected to be at the WWE's biggest pay-per-view event of the year in some form or another (f he and the WWE can agree to terms).
But just for kicks, what would happen if two of MMA's most well-known names met at this year's Wrestlemania?
Well, here are 10 things I'd want to see for Slice vs. Lesnar at the granddaddy of them all.
10. No Undertaker Involved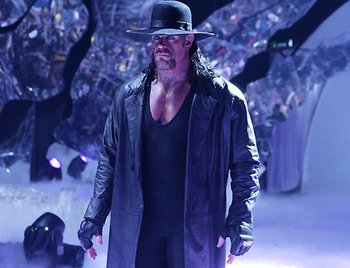 I know we want to see Brock Lesnar take on The Undertaker, but I honestly think most of us would have been disappointed if that match actually happened.
If Taker was healthy and a bit younger, then a match with Lesnar would probably hit that ****1/2 to ***** range.
But the Deadman's most recent shoulder injury could prevent him from working this year's Wrestlemania.
And even if Taker is able to compete at the big event, he won't be the same guy that put on the Match of the Year at two straight Wrestlemanias with Shawn Michaels.
That's just the way life is--people get hurt, and people get old.
So with Lesnar back in the WWE, interacting with the Undertaker is fine, but don't center the feud around a guy who isn't 100 percent.
9. The Entrance Music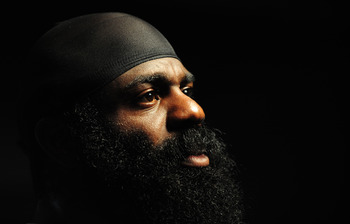 Robert Laberge/Getty Images
Kimbo Slice may not be able to fight inside the octagon, but no one in their right mind would mess with him if they saw him on the street.
You might say that Slice "Can't be touched."
As for Brock Lesnar, he was known in the WWE as "The Next Big Thing."
He's gotta stick with that moniker because it's the way that WWE fans like to remember him.
In fact, the crowd would erupt if Lesnar entered the arena with a song that bears his likeness.
8. Brock Lesnar As The Heel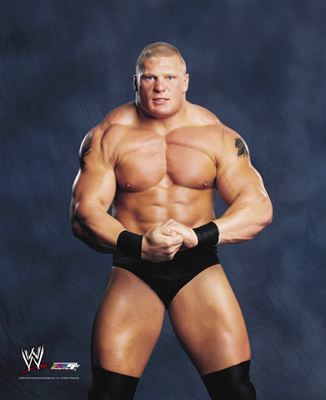 Brock Lesnar has become one of UFC's bad boys, but the guy sells pay-per-views like no one in recent memory.
Heel, face, tweener--it doesn't matter. People will pay to see Brock Lesnar.
While it may be hard to bring him into the WWE as a heel given his popularity among MMA and wrestling fans, I think that's the best way to do it.
Excluding Mason Ryan and Sheamus, the WWE hasn't had an insanely jacked, maniac of a heel like Lesnar since Batista.
And no one can go in the ring like Lesnar.
If he came in as a heel, it would probably take him one show to get the crowd to despise everything he does.
7.Kimbo Slice As The Face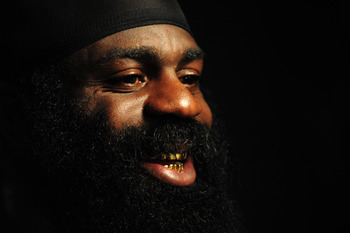 Robert Laberge/Getty Images
Whether you like him or hate him, Kimbo Slice is a marketable man.
I mean, the guy's hardly accomplished anything outside of street fighting, but he's still an incredible draw wherever he goes.
Kimbo could probably sell a jar with a Lifesaver in it.
No, but seriously, given his size and stature Kimbo could certainly work as a heel.
But no one's going to question him being a face either, because behind that scary, bearded face is a pretty nice and humble gay.
Ladies and gentlemen, get on your feet and applaud the WWE's newest face (in more ways than one), Kimboooo Slicceee.
6. The Number Of Pay-Per-View Buys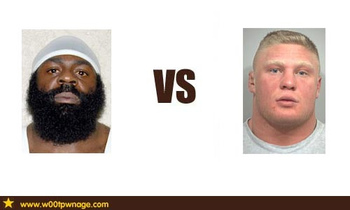 Haha. Check out the mugshots.
From what I gather, the WWE sets a target of about one million pay-per-view buys for each Wrestlemania.
Some get more (Wrestlemania 23 with 1.2 million buys) and plenty of them get less (Wrestlemania 26 with 960,000).
But imagine if you combine WWE's biggest draw (Wrestlemania) with another huge draw (Kimbo Slice) and the biggest draw in UFC History (Brock Lesnar).
Vince McMahon would be smiling from ear to ear with a ridiculous amount of pay-per-view buys for Wrestlemania 27.
How many?
Anywhere from 1.3-1.5 million in my opinion, which translates to an astronomical amount of income for the money-hungry McMahon.
5. The Debut Of Brock Lesnar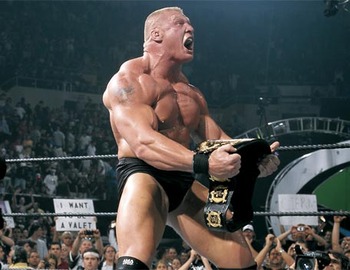 After the Royal Rumble pay-per-view, Edge is still the World Heavyweight Championship.
And Dolph Ziggler and Vickie Guerrero are pissed.
Well, at Elimination Chamber, Smackdown's WHC match features Edge, Ziggler, Alberto Del Rio, Rey Mysterio, Big Show and Wade Barrett.
The match comes down to Ziggler and Edge when the Rated R Superstar is moments away from putting Ziggler away for the win.
Then, surprise!
From underneath the ring comes Lesnar, who hits Edge with the F5, giving Ziggler the pin and his first ever world championship.
4. The Debut Of Kimbo Slice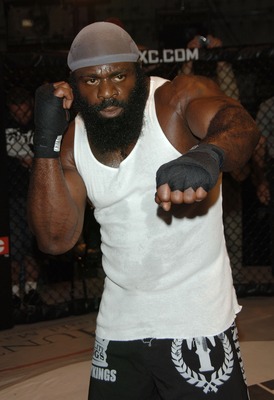 Stephen Shugerman/Getty Images
On the episode of Smackdown after the Elimination Chamber, Teddy Long comes out to start the show--"Holla, holla, holla!"--and tells Vickie that what happened at the pay-per-view won't be tolerated.
"And if Brock Lesnar wants his shot at Edge, then he can have it tonight in a Last Man Standing Match."
Lesnar will then go on to beat Edge in a 20-minute epic match, but Lesnar will be on his last legs once the match is over.
Long appears on the titantron and says, "If Edge can't get rid of you, then I know someone who will."
Seconds later, out comes Kimbo Slice, who beats the holy hell out of Lesnar and lays him out to end the show.
This would ignite the feud between Kimbo and Lesnar that would culminate at Wrestlemania 27.
3. The Stipulations
At Wrestlemania 23, it was Umaga (in Vince McMahon's corner) taking on Bobby Lashley (in Donald Trump's corner) in a Hair vs. Hair match.
At Wrestlemania 27, I'd so something similar with Brock Lesnar as the heel in the corner of Vickie Guerrero taking on Kimbo Slice in the corner of Teddy Long.
If Kimbo wins, then Long becomes the sole decision-maker on Smackdown.
If Lesnar wins, then "Excuse me!" Vickie is your new Smackdown general manager.
2. The Placement on The Card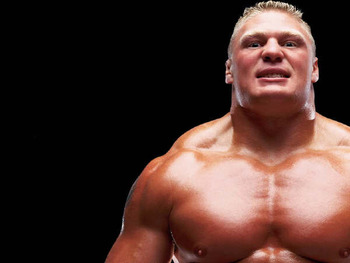 You could make this match the main event, but that would probably piss off a lot of people in the company.
Plus, we all know John Cena will be in that spot anyway.
So let's put this match in a place where it will set the tone for the rest of the Wrestlemania pay-per-view.
Yep, I'm talking about first on the card.
Could it be an epic failure? Sure, if Kimbo Slice sucks.
But it could also be a hell of a way to get the crowd going very early in the show.
1. The Match Itself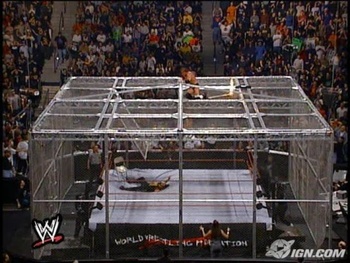 What type of match do we want to see between Kimbo Slice and Brock Lesnar?
Hmm. TLC? Steel Cage? No Holds Barred?
Nah, we're going for what was once the rarest and most unique match in all of the WWE.
Kimbo vs. Lesnar in a Hell in a Cell match.
Keep Reading