Formula 1: Some Possible New Years Resolutions For Drivers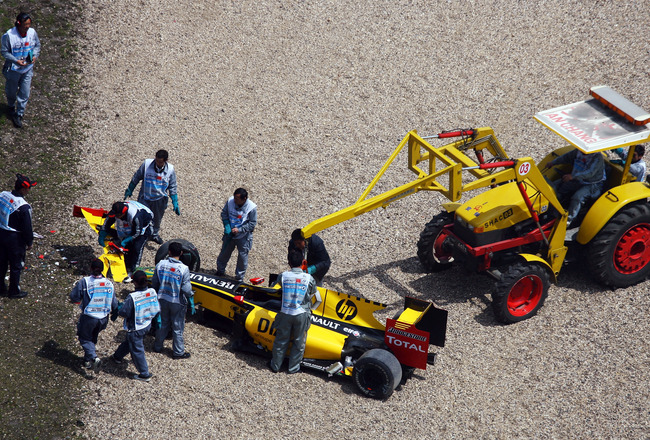 Ker Robertson/Getty Images
There were many lessons to be learned from the 2010 season and many mistakes made by drivers throughout the field. From overtaking to spinning, there are some things that drivers will be hoping to iron out in 2011. This slideshow will take a look at what some possible New Years resolutions for the six of the drivers could be.
Sebastian Vettel: Improve Overtaking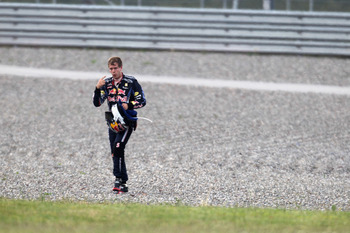 Sebastian Vettel after his accident with Webber in Turkey
Malcolm Griffiths/Getty Images
Sebastian Vettel may have been the world champion in 2010, but there was no shortage of mistakes made by the German. Vettel will have had nightmares over his attempted pass on Jenson Button in Belgium that ended Button's race.
And when talking about the Germans overtaking you can't forget the accident with team mate Mark Webber in Turkey.
Vettel has also been criticised for weaving at the beginning of races to block other drivers.
If Seb wants to retain his title he will definitely have to improve his overtaking or he might end up in more collisions in 2011.
Jenson Button: Be More Aggressive!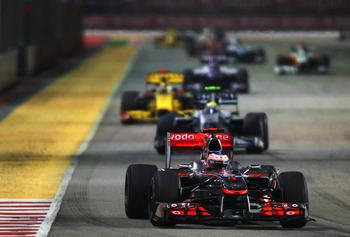 Paul Gilham/Getty Images
How many times has it been said this season? Button must be more aggressive! The Englishman's smooth driving style may save his tires, but it doesn't wow the fans.
Button's two 2010 victories came in changeable conditions, where Jenson nursed his car home but many times he has lacked killer instinct.
If he can improve his qualifying and have a little more flair we could see Jenson challenging next season.
If Button wants to regain his F1 crown his news year's resolution should be to up the aggression.
Lewis Hamilton: Have Patience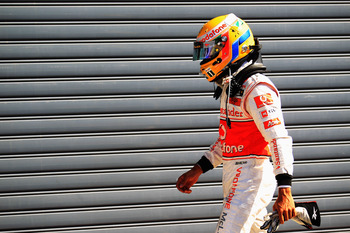 Mark Thompson/Getty Images
Lewis Hamilton missed out on the title in the final race and he will look back at Singapore and Monza to where it all went wrong.
Hamilton clipped Felipe Massa on the first lap in Monza, retiring him from the race and also tagged Mark Webber in Singapore whilst rushing an overtaking move.
In 2011 Hamilton needs to pick his moments to pass better or once again, he may end up with one too many DNFs.
Vitaly Petrov: Stop Spinning!
Ryan Pierse/Getty Images
Petrov may have kept his seat at Renault for 2011, but the Russian will need to spend more time pointing in the right direction next year.
The Renault driver had far too many spins, including going off at Spa in qualifying and retiring in Australia.
The Russians needs to keep his composure to match his talent and 2011 might just be a better year.
Felipe Massa: Prove Your Not a Number Two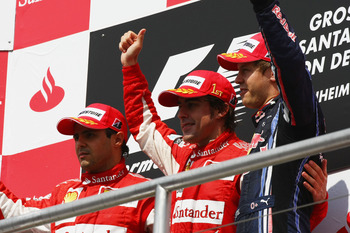 Massa finished second in Germany, behind Alonso
Andrew Hone/Getty Images
2010 was a dismal year for Felipe. He was comprehensively outpaced by teammate Alonso, and finished far behind the Spaniard in terms of points.
It's hard to believe Massa was challenging for the title in 2007 and 2008 if you look at his form in 2010.
Also, whilst he was on course for victory in Germany, he was asked to let Alonso through and Massa finished the race second.
But if Felipe can match his Ferrari teammate in 2011, then he'll have the chance to prove he is not just Ferrari's number two.
Fernando Alonso: Lighten Up!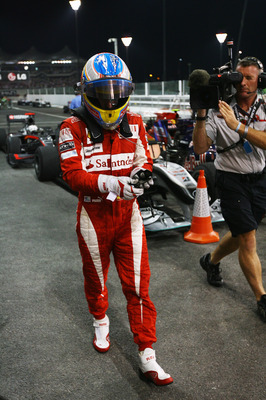 Ker Robertson/Getty Images
There is no doubting the Spaniards intensity, but there's a possibility it was too much in 2010.
Under pressure, Alonso made mistakes in China and Monaco, leading to a slide down the points standings.
He may have eventually recovered, but he did himself no favours by passing Felipe Massa in Germany and the former champion maintained a serious intensity throughout the campaign.
In 2011 Alonso could lighten up a little and still be the great driver everyone either loves to love or loves to hate.
Conclusion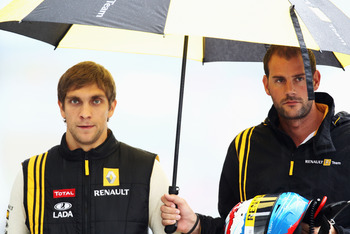 Paul Gilham/Getty Images
Thanks for reading my list and feel free to comment any New Years resolutions you think drivers should have.
Have a happy New Year!
Keep Reading