The De Souza Special: Burning Predictions For The Entire UFC 125 Card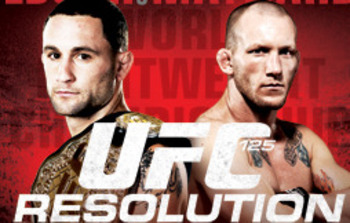 So I was thinking about the fact of myself cranking out many editions of "The De Souza Special" in just this year alone, and I have to say, despite the times that I've been off predicting a few fights, I've been pretty impressed with every edition of The Special.
The only problem I had with it?
None…that is until I picked apart my brain trying to come up with a way to cook up the last Special of 2010.
I mean, what should I do?
Should I admit I've made mistakes? Should I said we've done this before?
Should I say that every edition of The De Souza Special was good enough in my eyes to even consider a final one for 2010?
Seriously, what should I do?
Maybe I should say "I'm not a role model!"
Maybe I should embrace my role as the villain—the Fireball Kid of MMA World's chosen few writers, the Man on Fire that burns up pages with multiple columns loaded with kickass verbage and balls-out predictions.
Should I not use strong language and get viewers through corny pop culture references? It's POP CULTURE!
You tell me what I should do.
I say you should crack open a cold one and get comfy, because The Special is ready for your final take-out of 2010, and this isn't a "Best Of" deal.
I'm lighting the entire UFC 125 card on FIRE, and if you value your news, you'll keep your hands off of the fire extinguishers.
I've got the original version posted up on Sprawl N Brawl MMA, but for this edition, the final one of 2010, I decided that since B/R is where I originally concocted The Special, B/R is getting the final edition of The Special.
So one last time, players and playerettes, let's turn it up!
Excitement Vs. Retirement
Antonio McKee said something before his fight with Luciano Azevedo that Dana White may hold him to, just as he's done to the likes of Gerald Harris and others in the UFC thus far.
In other words, Antonio boldly declared that he'd retire if his fight with Azevedo went to a "boring decision."
There's a difference between boring decisions and exciting decisions, and McKee shoots for the latter in every fight; that's something you don't hear about with many wrestlers in the sport of MMA.
The other thing you don't hear too much about is pretty much anything about Jacob Volkmann's past two Lightweight fights, which were both wins.
The first two fights of Volkmann's UFC run (and the only two losses of his career) were a Unanimous Decision loss to Paulo Thiago and a Submission loss to Martin Kampmann, but Volkmann's found his rhythm at Lightweight as of late it seems.
That being said, I can't say that Volkmann's two-fight win streak will turn into a three-fight win streak on Saturday.
For a guy who's won 18 fights by decision in a 30-fight career, he's actually quite entertaining to watch, especially when he gets a hold on his opponents, winds up spinebustering them to the floor a la Randy Couture, and working like greased lightning to get full mount or a submission.
I won't rule out a submission win for McKee on this one, but Volkmann ain't losing by the judges' scores this time.
I see McKee getting on top of Volkmann, scrambling for control, and eventually mounting Volkmann, who will succumb to McKee's fist-flurry, thus snapping the two fight win streak.
Because I'm a nice guy, however, I'm going to see McKee getting the takedown primarily as a means to escape what would otherwise be a standing guillotine attempt from Volkmann.
I won't be surprised if the takedown itself is actually not the best-looking or most fluid takedown in the world.
All I know is that Volkmann is going to try to finish McKee, but he's going to get finished in the process.
McKee defeats Volkmann by TKO (Strikes)
The Ninja Vs. Batman's Prodigy
So the way I see this one, you've got a battle of two ground gamers here.
Roberts is a blue belt in BJJ under Cesar Gracie, while Soto is a brown belt under Kurt Pellegrino.
To date, Soto's only loss was the DQ by Illegal Upkick at UFC 111 against Matt Riddle, but the man has never tapped or submitted in a fight.
Roberts falls in the same boat, except he's been knocked out by never submitted or outclassed in a fight.
I don't know how much either man has improved in the striking department, but I expect Soto's hands to be heavier coming into the fight, while Roberts should have a reach advantage.
If the fight hits the ground, and I haven't seen this one as a striking war in my mind as of yet, I would like to expect that Soto's guard will be tough to get past, unless Roberts works inside Soto's guard and disturbs his equilibrium well enough to slam Soto and loosen up the guard.
From there, Roberts might be able to get side control, but I do anticipate Roberts actually being unable to get in a strong submission from any position before the end of the third round.
Somehow, someway, I actually see this fight being an exciting fight between two well-versed submission specialists, and one that probably could go either way.
You know how some fights end in a Unanimous Decision, but they're entertaining enough to where one could see them being a Split Decision?
This is going to be one of them.
Daniel Roberts defeats Greg Soto by Unanimous Decision (29-28 x3)
The Former 145-Lb. King Vs. The Young, Hungry Prospect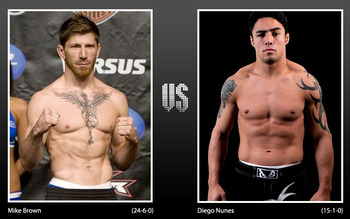 You generally hear Bruce Buffer announce certain guys as "the former UFC champion" whenever a former champion is fighting.
Even if the guy wasn't literally the last guy to hold the belt, Buffer still announces them as such.
When UFC 125 goes down, he'll address the crowd about the style, pro record, height, weight , and the zone that the former WEC Featherweight Champion Mike Brown is fighting out of.
The American Top Team standout will face a brutal test when he faces Diego Nunes, who is much of a finisher like Brown is but is short in experience.
I hate to count out Brown since he is the man that snapped the three-year-long reign of Urijah Faber, but at the same time, Nunes is a prospect, and while few know much about him other than he's got a pretty good Muay Thai/Kickboxing game and a respectable ground game, he's still not the guy anyone should bet against.
Exciting fight?
Hell yeah, it's a Featherweight fight.
Is this Brown's night?
In my eyes, he'll keep his place in the UFC, but I don't see him getting past Nunes.
Actually, if you want honesty, we might see a bit similar of a situation like what happened when Brown met Jose Aldo.
Then again, experience might play a role.
Winners are going to be the fans. I'm kinda split on this one, but I'm going to lean towards Nunes by R2 KO.
The Report Is In: Phil Baroni Out?

Maybe Phil has a better chance of winning than what most -- even myself -- would be giving him at UFC 125.

Brad Tavares beat Seth Baczynski in his last UFC outing at the TUF 11 Finale, but he's in for a bit of a rougher test when he meets Phil Baroni.
The longtime MMA vet has been getting into the best shape he's been in for quite some time to jump back up to Middleweight to face Tavares.
I won't run this one down too much, but I will say that if Baroni can take Brad down and control him for the full 15 minutes, he has a good shot of handing Tavares his first pro defeat.
At the same time, however, Tavares is one of those guys who isn't necessarily bad on the ground.
He could easily be improving on his ground game and his grappling skills in preparation for the exemplary Wrestling that Baroni's has made a career out of.
Will the fight end by something other than a decision?
Perhaps, but I believe that in fact, there will be some vast improvements in Tavares' ground game, and he may get a hold of Baroni's wrists early.
Once he takes control of the wrists, it's "bye-bye, New York Bad Ass."
Tavares defeats Baroni by R1 Arm Bar
Will The Fluke Prove to Be For Real In Sin City?
They call Josh Grispi "The Fluke" because he's always beating the guys that are supposed to beat his ass every time he fights.
Mark Hominick?
Passed out to Grispi's Rear Naked Choke.
Micah Miller, the brother of Magrinho?
Grispi knocked him out in 50 seconds.
Jens Pulver?
Made him tap out and give an emotional speech after the fight.
LC Davis?
Replay the Mark Hominick fight, replace Hominick with Davis, subtract 22 seconds from the time it took Grispi to make Hominick pass out to that Rear Naked Choke, and replace the RNC with a Guillotine Choke.
That's what happened to Davis, and it almost led him to Jose Aldo.
The same fate was awaiting Aldo in the minds of many, but an injury halted the fight.
Now Grispi gets newcomer Dustin Poirier, whose only loss was to Danny Castillo.
As with the Nunes-Brown fight, the young newcomer could pull it off against the more experienced veteran, but Grispi isn't Mike Brown.
He's not a former WEC Featherweight Champion, and he's not a ripped-up wrestler who steamrolled through every WEC Featherweight not named Jose Aldo or Manny Gamburyan.
Grispi is the kid who falls into a similar category as many people put Frankie Edgar into.
He's the guy who's supposed to be needing a win in the UFC just to keep his career at such a young age, yet he's proven about 3/4 of the skeptics wrong every time.
In other words, he's probably the guy most people might doubt, even against someone as relatively unknown as Poirier.
The remaining skeptics will see that Josh Grispi is no fluke against Poirier come this Saturday.
Winner: Grispi defs. Poirier by Submission (Rear Naked Choke) in R1
The Irish Hand Grenade Set To Explode In The Lightweight Division.
Marcus Davis needed a change after an up-and-down road in the UFC Welterweight division.
The last image of his face thus far was that nice alien eye Nate Diaz gave him in Boston.
Trimming down to 155, the still-explosive Irish Hand Grenade faes off against an opponent who actually wanted (yes, WANTED) to welcome Davis to the UFC Lightweight division.
Davis, believe it or not, has won eight of his fights by submission, though six wins came by way of knockout, so Stephens isn't dealing with a guy that will want to grind out a decision.
The difference in this scrap will be conditioning, the way I see it.
Not so much is it about if Davis comes in in the best of shape or if Stephens has good cardio coming in, but mostly it's about who's conditioning and cardio is better between Davis and Stephens.
I say Stephens pulls out the W, but only by a thread.
Jeremy Stephens defs.Marcus Davis by Split Decision (29-28 on all three scorecards, but whether Stephens should or should not have gotten the win will be open to debate).
WARNING: THE FOLLOWING FIGHTERS MAY EXPLODE UPON CONTACT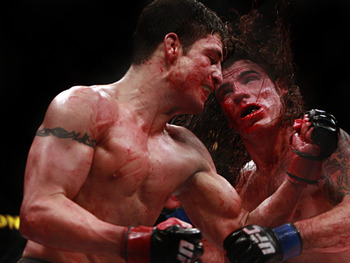 If there is one thing that I have to say Clay Guida does suck at, it's trying to put on a fight that gives me time to catch up on my napping.
Seriously, he's exciting to watch and seems to never stop.
Takanori Gomi, on the other hand, is a calculating sort who picks his times to take the fight to the ground, and he also times his shots to the point that even iron chins can easily go glassy.
I usually have a bias towards Guida that I'm not shy about exercising, but I'm expecting that Guida doesn't land shots primarily to take down Gomi, who should prove to be adept to the Wrestling game.
I would hope Guida's striking has improved, as a fan of his, but as much as I hate to say it (and I do), I say Guida will unfortunately suffer the same fate Tyson Griffin did.
The difference?
Guida's demise comes later than Griffin's did.
The fans definitely win here, if my prediction is incorrect. My actual (and kinda painful-to-make) prediction is Gomi by R2 TKO
"You Can't Stun Stockton, Baby!"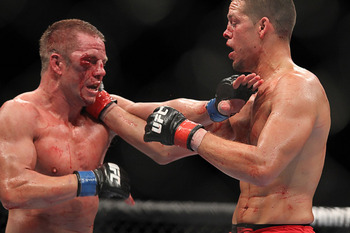 Two ground-gamers, two guys that can take some good shots and give some good shots...and yet one of them will have to lose in Vegas.
Nate Diaz has an edge on the feet in my eyes, as his Boxing might do well enough to keep Dong Hyun Kim off balance and therefore unable to implement his Kickboxing game.
The wildcard in this fight in the ground, where Diaz doesn't necessarily have an advantage, and yet neither does Kim.
I'd say Kim's Judo and Diaz's BJJ are about on the same level: it all depends on who works their ground game first and who can finish with it quicker.
With the obvious increase in Diaz's standup game, though, be a bit surprised if Diaz wins by submission.
Don't be too surprised if Diaz lands a late-round shot in the third frame that begins the end of Kim...and leads to Kim's first pro loss.
He'll bring it to Kim the entire fight, but he'll not obtain a knockout.
Instead, he'll bust up Kim like he did Davis...only this time, I don't see the ref letting Diaz's foe see the third round.
Diaz defeats Kim by R3 TKO (Doctor Stoppage)
Dial V For Violence
Brandon Vera vs. Thiago Silva...could there be a better way to welcome The Truth back to the Octagon?
This fight seems tailor-made, albeit far from an easy fight, for the former WEC Heavyweight standout.
What Vera is dealing with is a fighter who likes the fight on the feet as much as he does, but as stated before, Silva is not an easy fight.
The only flaw that I think Silva would have is takedown defense, but unless someone wants to associate one of Vera's kicks or his straight punches as a takedown, that weakness is out of the question.
For Vera to avoid the chopping block, he's going to have to dictate the fight using his own brand of Muay Thai offense, which is one that illuminates what is possibly the ONE other hole in Silva's game.
If Vera can get Silva in a clinching battle, he should have something of an edge and thus his chances of beating Silva should be greater.
I see Silva getting cut open above the right eye by a few shots inside the clinch in the middle of the first round.
The cut will give Thiago an incentive to respond by taking the second round, which he will, despite Vera doing everything he can to finish the fight.
I will not be surprised if Vera is somehow still able to worsen the cut he gives Thiago at any time before round two ends.
Fans of Silva would like to hope that his cardio is better than it appeared to be when he fought Rashad Evans, but then again, Thiago took round three (and the fight, in some people's eyes) in the third round, so maybe Thiago will take the fight all three rounds.
Maybe, but Vera will beg to differ.
In the third round, I can see Vera landing a left head kick that only worsens the cut sustained by Silva.
Whoever the ref is, expect him to look at the cut, call in one of the fight doctors, and make the unpopular decision to halt the fight as another shot could possibly do irreparable damage to the cranial structure of Silva.
Vera defeats Silva by TKO (Cut) in R3.
The Crippler vs. The Marine
How much can you say about Chris Leben's fight with Brian Stann without somehow rehashing what both co-headliners have already said?
All you can really point out at this juncture is that Stann is going to have a hell of a time trying to turn Leben's iron-crusted cranial anatomy into a glass one, which might be a bummer for the Silver Star recipient if he can't crack the tough jaw of the always-exciting Crippler.
Well, there's that and the fact that hardcore UFC fans who may or may not be familiar with the WEC have yet to witness what Stann does when he's in the second-to-last fight of the event.
This can either translate into a tough fight for Leben, who may once again find himself fighting a full 15-minute affair, or it could translate into a result akin to how Sean McCorkle's UFC 124 fight with Stefan Struve went earlier this month.
I have the former occurring.
Stann is going to be tough for Leben and vice versa...much so that I will not be surprised if the general consensus is that the fight before the third round is at a stalemate.
Leben and Stann will operate on pure adrenaline and pride in the third round, letting as much hang out as the two possibly can.
Unlike Leben's last fight with Akiyama, however, Stann's end won't come with 20 seconds left in the fight.
Actually, I feel a left hook catching Stann on his jaw in the middle of the third round, leading to another Leben-esque barrage of shots to a fallen Stann and a third-round TKO win for The Crippler.
Two things will not surprise me:
The first is if Leben calls out Wanderlei Silva again...it's no secret that Leben is a name that has earned the right to face more of the upper echelon of the 185-pound division, and it's even less of a secret that Wanderlei is one of those top-tier names that Leben wants.
The second thing that won't surprise me?
If Brian Stann is somehow able to make Leben spill a drop or two of blood before the fight ends.
Leben defeats Stann by TKO (Left Hook and Punches) in R3.
An Answer To a Longtime Bully With The Belt Up For Grabs
It's amazing how split down the middle the general consensus is when it comes to the man who's walking out of UFC 125 as UFC Lightweight Champion.
Half of the MMA community is pulling for Maynard to extend his winning streak and take Edgar's belt in the process, while the other half believes Edgar will manage to avenges his loss to Maynard, retain his title, and hand Maynard his first pro loss...all in one felt swoop.
One thing that almost all of the MMA world agrees on is that this fight is going to end in a decision, regardless of who wins the belt.
I say "almost all" because there's one person in the MMA world that believes that this fight is likely to end in a finish, and that's me.
That's right, I'm saying that this fight is ending in a finish.
Most people are expecting that Maynard's strength will prove too much for Edgar and Maynard will "lay and pray" his way to victory.
First off, Edgar might be the lighter of the two wrestlers, but a difference in muscle mass and physique doesn't translate into better wrestling on Maynard's part.
Edgar may be lighter, but just as Maynard will look to close in on Edgar and shoot for a takedown, Edgar will likely sprawl his way back to a neutral stand-off position and will continue to do so until Maynard is basically drawn into a striking battle with Edgar.
Supposedly, Maynard's Boxing has improved to where a knock out win over Edgar has now become a possibility.
All well and good, but Maynard's striking would have to improved leaps and bounds from what it's been in his most recent fights in order for me to believe that Edgar is in any particular danger on the feet.
In other words, I have to see Maynard rock him and get a near-finish before I can trust that his striking has improved.
Truth be told, the only time I've seen Maynard come in close and strike is when he's set up for one of his signature takedowns.
As Edgar being the likely faster fighter, he's also likely to utilize some rather excellent footwork and throw some clean outside shots to deliver the damage right to The Bully.
The Bully could easily show some ability to stand and trade on the inside, but Edgar is going to be a bit fast on the feet for that to happen.
Expect Maynard to show a few improvements in his overall striking game, but anticipate seeing a few takedown attempts in at least the first three rounds.
The way I see it, Maynard won't get a chance to "lay and pray," as some would define his Bullying offense, for even the first three rounds.
He'll be trying to blanket-wrap Edgar and deliver perhaps a few short shots on the ground for the five round period, but he's going to pay for it early in the fourth round for sure.
I anticipate (and honestly, 100 percent expect) that Maynard will come in well-conditioned and prepared to go five rounds with Edgar, but as he goes for a takedown, Edgar's grabbing a hold of Maynard's neck and squeezing the bejeezus out of it.
Maynard may be out of it before he gets a shot to tap out.
Edgar defeats Maynard by Technical Submission (Guillotine Choke) in R4 to retain his title.
Any Questions/Comments/Angry Disagreements?
Bring it to the comments section, leave a message in my B/R inbox, or find me on Facebook or Twitter (or heaven forbid, Gmail) and let me hear about it!
For this edition of The De Souza Special, my name is Dale De Souza, signing off and wishing you a very happy and safe new year.
Thank you for viewing and enjoy the fights this Saturday night, no matter who you're backing!
Keep Reading