Ohio State Football 2011: The Offensive Replacements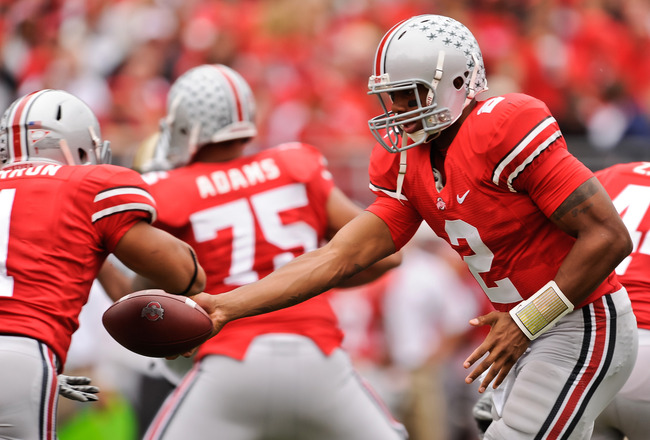 Ohio State will be without Herron (No. 1, receiving hand-off), Mike Adams (No. 75) and Terrelle Pryor (No. 2) for at least the first five games of 2011
Jamie Sabau/Getty Images
Ohio State is already going to have to revamp its entire offense after losing the quartet of Terrelle Pryor, Dan Herron, DeVier Posey and Mike Adams for the first five games of 2011.
If the four declare for the NFL draft, the offense transforms completely.
This slide show aims to look into the future at the potential replacements of the cornerstones of the current OSU attack.
So who will fill in for the suspended and potentially NFL-bound Buckeyes...
Braxton Miller For Terrelle Pryor
In the long run, Braxton Miller.
The conservative Tressel would probably start the year off with Joe Bauserman or Kenny Guiton, although neither has ever taken a meaningful snap in a collegiate game. Bauserman is a traditional drop-back passer while Guiton is a dual-threat.
Miller, widely considered the No. 1 quarterback in the 2011 class, would probably still see playing time and could be the starter by mid-season. He's considered to be a more polished passer than Pryor was coming into college and also a shiftier, albeit not as powerful, runner.
Jamaal Berry and Jordan Hall For Dan Herron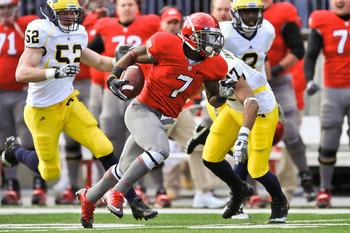 The shifty Hall will see increased carries in addition to his return duties.
Jamie Sabau/Getty Images
For the past two season the OSU running game has been all about "Boom" Herron and Brandon "Zoom" Saine. With Saine graduating and Herron possibly leaving for the NFL, for a multitude of reasons, the door would be open for Jamaal Berry and Jordan Hall.
The pair have done well returning kicks this year and Hall has excelled as a punt returner, even returning a punt for a touchdown against Michigan.
The two would likely split time at back with Roderick Smith and Carlos Hyde also seeing time.
Chris Fields For DeVier Posey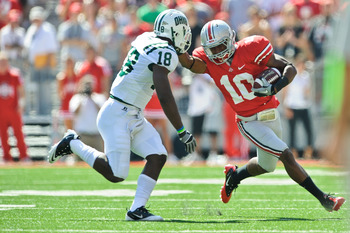 Corey Brown will already be starting in Dane Sanzenbacher's spot in 2011.
Jamie Sabau/Getty Images
It stands to reason that current true freshman Corey "Philly" Brown would probably take senior Dane Sanzenbacher's starting spot in 2011.
If Posey departs expect Chris Fields, and possibly James Louis, to gain major playing time as well.
Brown has shown flashes during the 2010 season and his talent and cutting ability are well-known by both his teammates and fans alike. OSU could use him in the same role Ted Ginn Jr. had in Columbus.
Marcus Hall or Andrew Norwell For Mike Adams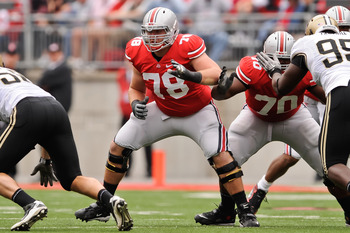 Andrew Norwell (No. 78) could be the starting left tackle in 2011.
Jamie Sabau/Getty Images
Plagued by on and off-the-field issues before 2010, many doubted whether Adams would ever live up to his considerable potential.
He reached that potential in 2010.
Adams had an under-the-radar year, but it was a great one. The first team All-Big Ten performer became one of the league's premier tackles. He did an admirable job protecting Pryor's blind side all season.
Look for either Marcus Hall or Andrew Norwell to take his starting position during Adams' suspension and for one to grab a hold of the spot if Adams' absence is permanent.
Keep Reading

Ohio State Football: Like this team?