Who Will Win the 2011 Royal Rumble? 55 WWE Superstars That Have a Chance
The winner of the Royal Rumble remains one of the most privileged positions in the company. Handpicked to contest a main event at Wrestlemania, those that have gone the distance is a Who's Who of the WWE.
From Hulk Hogan to Shawn Michaels, Undertaker to Ric Flair and Vince McMahon to Steve Austin, the list is a legendary collection of Hall of Famers.
What makes this years contest perhaps one of the most interesting, is that the WWE is changing ,with younger superstars gaining prominence and attention, whilst many of the veterans are either injured or now retired.
What follows is a look at just who might win the Royal Rumble 2011.
Enjoy!
Begin Slideshow

»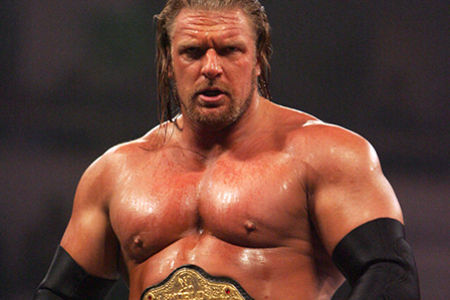 The Game, the Cerebral Assassin, the King of Kings, the Connecticut Blueblood.....has been absent from WWE screens for most of 2010 and with the Rumble gaining a tradition for bringing back superstars, Triple H might just return come 30th January.
Chances of Returning: Almost Certain
Chances of Winning: 8/10
Multiple Champion, Rumble Winner, Franchise and most importantly without a title. Could the man in purple indeed win again? It would hardly appease the sections of the IWC that oppose Cena's prominence, but it would allow Cena to remain out of the title picture until March. Cena to win is not original and I very much doubt that he would win again, more likely his removal will provide someone with a boost - maybe a member of Nexus?
Chances: 4/10 - Nexus elimination?
How often do we say that neither Cena nor Orton is without a belt? And yet going into 2011, it is the case. Orton has become a main event face in recent times so a victory in January would be popular, but once again as with Cena, it is hardly a shocking outcome. Orton needs a good 2011 and it requires a lengthy feud with some better quality matches than he has been accustomed.
Randy in my opinion has yet to have his Wrestlemania moment, maybe this year, he can. But it requires getting there - is it via the Rumble - I don't think so.
Chances: 6/10 - Eliminated by Miz or Alex Riley to set up feud?
Been off our screens since losing his unprecedented third match to Kane at Buried Alive. Injuries are mounting for the Deadman and with this year possibly his last, a win in the Rumble might be the only way to justify his Main Event place. Of course with a need to build up his retirement, he may very well go for one more year and his involvement in Wrestlemania will always generate interest, irrespective of a title match. The WWE is known for a swerve but January just seems to too early for the Deadman to rise
Chances of Return: 2/10
Chances of Victory: 1/10
Perhaps one of the fastest superstars to reach Main Event status in recent years, Alberto has to be considered a favourite for the Rumble. Already pushed via his attacks on Rey and Christian, Alberto has won many fans in the last months with his brand of heel wrestling. Talented both in-ring and on the mic, Alberto seemingly has it all. A win in the 30 man over the top event, might just give him the ultimate push towards Wrestlemania and a Title Win.
Chances of Success: 8/10 - if eliminated - maybe by Christian or Rey?
Smackdown has been lacking in faces and franchises, but Rey is surely one. Alongside Kofi, he is a big fan favourite on Friday nights, and a win for him in this year's Rumble would be a massive boost for his career. Flagging a little as of late, Rey needs some fresh impetus and he surely deserves a longer title run? Maybe he has had his moment but for fans of Mysterio, 2011 will hopefully be a big year.
Chances: 7/10 - possibly eliminated by Alberto or Ricardo Rodriguez
I read in another article, by BR Reporter Blake Oestriecher http://bleacherreport.com/articles/550778-wwe-royal-rumble-20-shockers-we-want-to-see, of how Khali is regarded as a favourite by commentators when of course he has no chance. It made me smile and the article is well worth a read, and the principle is 100% correct. Big Show alongside Mark Henry, Vladimir Kozlov, Ezekial Jackson and Khali will be there but merely as cannon fodder.
Chances of Winning: 4/10 Big Show, 1/10 Mark Henry, 2/10 Vladimir, 2/10 Ezekial, 0/10 Khali
Another wrestler that has been propelled into main event reckoning in a relatively short time. Barrett has generated some notable heat in recent times from crowds and his victory would continue this. When a heel is champion, it creates momentum because crowds wonder just when they will be defeated, think Hogan-Goldberg in Atlanta. Barrett has a chance but whether Cena or Nexus will allow it, is questionable
Chances: 7/10 - maybe Final Four - eliminated by Cena?
Those who have read my other articles will know that I am very up on the South African. I just think he has a great deal going for him and with Nexus possibly on the verge of splitting, I feel a face turn is a strong possibility. Winning the Rumble here is a long long shot but a good showing will balance his recent defeat to Santino
Chances of Success: 2/10 but maybe Final Four with Barrett - eliminated by Cena?
Reading articles this week, there seems to be a trend that the Dolph might just be gaining some momentum both as a heel and as a performer. Wrestling quality has improved in recent times and he has perfected his moveset. A long run as IC champion has surely helped his stock and while this year might just be a little early, with Vicky alongside him, a shock could be on the cards if the WWE wants the ultimate swerve.
Chances of Success: 3/10 - but a good showing from this emerging superstar
More than likely he won't even by in Massachusetts in January but he is on record as saying he wants the Rumble win so as to challenge the Taker. Lose and then Join McMahon's special club that requires puckering. Highly unlikely that the now grey haired Nash will be there, never mind winning, but an appearance isn't completely off the radar.
Chances of being there: 2/10
Chances of Winning: 1/10
How Kofi has entertained with high flying action and occasional botch. He is colourful, charismatic and popular. Tipped for the top a few months ago, it all came crashing down with one match with Orton. Consigned to the midcard, Kofi has impressed alongside the other IC/US division competitors and so another push is possible. More likely though he will succeed by performance rather than victory.
Chances of Success: 5/10 - eliminated by Dolph?
Why not? He certainly showed recently that he has the goods to compete, and he has been involved not only on Raw but also on FCW. Jerry will have absolutely no chance of victory but he deserves a good run. Questionable whether he will be in at all but he should certainly last longer than he did in 1997 when he came, saw and then was conquered as Hart and Austin duelled.
Chances of Appearing: 7/10
Chances of Success: 1/10
The IWC's blue eyed boy, Daniel Bryan is tipped for great things in the WWE. What a year he had, going from Nexus member to the dole queue in a matter of weeks. His return has not exactly seen a massive push, but his US title is a sign that maybe his rise will be a slow one, maybe more akin to Shawn Michaels than Sheamus. Bryan will do well here but maybe 2011 is a little early?
Chances of Success: 6/10 - Good progress but eliminated by a big gun - maybe Orton?
Highly unlikely, and despite what we may wish, he is likely to stay retired. We welcomed the news of his involvement in the coming years but it will be out of the ring. He may be in Boston this night but he won't be wearing his wrestling boots.
Chances of Appearing: 7/10
Chances of Winning: 1/10
Another who has greatly impressed the IWC, the flyweight is one to watch. He is fast, furious and unpredictable. He has all the attributes to succeed but height - and this might just count against him in the future. The McMahon stereotype is large and muscular, so Kaval will have to break the mould but who knows? 2011 is too early and he will be fodder - expect an early exit for Kaval here.
Update - Kaval Now Released
Chances of Appearing: 4/10
Chances of Success: 1/10
The Bob Hope of the WWE, Santino brings a lot to the table. But like most comedians, he is successful because he is clever at what he does. Take away the laughter and the cobra, and he is a skilled wrestler and performer. It takes talent to do what he does. As for winning the Rumble - unlikely - but he will produce a pop and a good moment
Chances of Success - 3/10 - eliminated by the next slide......?
There's always one shock entrant and while this slideshow has already suggest a few, maybe Tamina will follow in the footsteps of Chyna and Beth Phoenix by entering. Its perhaps unlikely but maybe just maybe, she will come and eliminate/distract Santino?
Chances of Appearing: 4/10
Chances of Winning: 0/10
Nope sorry - fodder. WWE doesn't do tag teams at moment and they will be out early.
Chances of Success: 0/10
The man, the legend, the gold.................dust. He brings colour and glamour to the Rumble and with a book scheduled for release, expect him to do reasonably well. He won't win of course but he will be there. Maybe an elimination or two before he himself goes over the top
Chances of Success: 3/10
I feared for both of these superstars after the implosion of their team, and yet their performances on Superstars and Raw give much hope. It will all depend on their characters but both have a good chance to succeed if they managed correctly. They are not strong enough to win in 2011 but how they fare will be an indication of how the WWE will use them
Chances of Success: 1/10 - maybe expect double elimination - possibly by each other
The forgotten man of the WWE, Drew has fallen way down the order in recent months. His attempt at being the successor to HHH has thus far failed, and he must look on with envy at the success of Sheamus. Drew needs something fast to resurrect his career, and only a good performance in the Rumble will do that, because he certainly won't win it.
Chances of Success: 4/10 - needs a strong performance but will be eliminated
The current King of the Ring will have a big 2011, if for no other reason than he will get a feud with Triple H. This could again happen at Wrestlemania but its unlikely to involve a belt. Sheamus has performed reasonably well recently although he has lost some of his infallibility. His match with John Morrison at TLC was a strong showing. He will be a favourite come January but with the Game on the horizon - I expect him to lose close to the end, maybe at HHH's hand
Chances of Winning: 8/10 - eliminated by HHH in the final four?
It was perhaps one of the strangest promos in recent times, not because of its comedy value but because of its timing when Cody faced off against Big Santa at TLC. But what was noticeable is just how confident, Rhodes has got with the mic in his hand. I feared for his career too after splitting from Legacy but he has survived. His performance together with his character has begun to develop and he has achieved some notable success on his own. The Rumble will allow him to maintain this mini-push and it could be a big year for Rhodes
Chances of Winning: 3/10 - but he will do well.
For me this could be the winner. How often does the IWC and Vince McMahon share in praise of a superstar quite like they have for Punk? Success at the commentators desk has almost certainly guaranteed Punk a job for life, but maybe another reward might be a Rumble win?
He certainly is one of the biggest names not to win, so maybe 2011 is his year?
Chances of Success: 9/10 - only doubt is whether he is fit and who he wants to feud with, that he alluded to this past week
Perhaps the most curious push of all, the Oklahoma born Swagger is a mystery. From obscurity to World Champion back to obscurity in the space of a year. Where does he go from here? Hes a heel through and through but he also appears to be more of a mini-Angle. 2011 is an important year for Swagger as well, he needs a new direction and maybe as part of a group? He will eliminate some at the Rumble but he won't win, he just doesn't have enough going for him at moment
Chances of Success: 5/10
It is only a matter of time before he is unleashed but it may come after the Rumble. Some within the IWC will have heard of him, but many will not. He won't have the same Jericho moment, so it might have to come after January's PPV, before Rollins begins his career. That saying, a good showing from the 'rookie' might help sell him to fans but as a newcomer from the Indie Leagues taking on the WWE's finest, an introduction followed by elimination is the best he can hope for
Chances of Success: 2/10
I dont know, he looks like a wrestler, he has been given a push but like the big guys earlier, he might just be fodder for the likes of Cena, Orton and the Game. Any big man is a favourite but given his very patchy start in the WWE, any chance of success is unlikely for Reks at this time. Again a good showing will help his career but if he makes it into the Rumble at all, he will not win.
Chances of Success: 2/10
Along with Cody, life after Legacy has been difficult. Cast out of the main even picture, finding a new character has had teething trouble. However I have noticed in recent weeks, that DiBiase has improved significantly in the ring. His problems with Maryse will soon kick off meaning a few more squash defeats, but maybe he will step of out of the shadows in 2011. The Rumble comes too early for him and he will make a quick exit but a few good tussles are expected - maybe with Cody or Randy?
Chances of Success: 3/10
Team Miz will be represented by the junior partner but I cannot see him lasting too long. He will need to stay in for a period in order to gain credibility but he like so many will be easy to pick off for the big guns. I would expect him to be eliminated by the likes of Orton or Cena
Chances of Success: 2/10
Within Nexus is considerable talent but each without a driving force as yet. Of those within the group, and not mentioned as yet, it is David Otunga that has the most chance of success. His Hollywood connections alone are enough to convince the WWE of his worth but I wonder whether he may just may become a face in 2011? He needs to improve his overall game, but his size is favourable in the McMahon image. The rest of Nexus too are looking strong - Slater, Hennig, and Harris. Its unlikely any will win, especially if Barrett is in the match but a WWE swerve might see Otunga eliminate Barrett?
Chances of Sucess: 4/10 Otunga, 3/10 Slater, 3/10 Hennig, 4/10 Harris
Sorry Chavo-ites, its a squash and it'll happen pretty quickly. He might survive a few rounds but the chances of victory are slim to none. Life as an eagle shows that he is not high on the agenda at present
Chances of Success: 1/10
Any shock reappearances? If there is, it probably won't come from these guys. MVP is the safe bet, but even here its an outside one.
Chances of Entry: MVP 4/10, Matt 1/10, Anderson 2/10, Jeff 1/10, Shelton and Haas 2/10
Chances of Victory: MVP 2/10, Rest 0/10
Illness will probably ensure that he remains off our screens for a short period but he should be back in time for a cameo at the Royal Rumble. Truth despite his youthful appearance is on the wrong side of 35 and notions of a major push, simply are not viable any more. He remains hugely popular and I wonder if he may even start as #1 in order to get the crowd jumping?
Chances of Success: 2/10
or jobber, squash artist, almost-man. It just seems more and more unlikely that Christian will reach the summit. Whereas the 'loyal' Edge has his 10th world title, Christian Cage, as he was known in TNA, has yet to win his first (at least in WWE, excluding the ECW title). Though he deserves a chance, injury and the fact that hes just not popular amongst executives means that its another year, another Rumble for Christian.
Chances of Success: 5/10 - only a major swerve will secure Christian a victory
There are many could compete, but few that probably will. Jerry Lawler is already one that has been speculated but we may also consider Sergeant Slaughter, Ron Simmons, Roddy Piper, Jimmy Snuka and even Bret Hart. Their participation will be nostalgic but given their age, victory would be a major upset.
Chances of any success: 0/10
Picture it, 29 have come, one to go. The cameras focus on the entrance and suddenly the glass crashes - the reaction would be immense. Stone Cold, Stone Cold, Stone Cold! Almost in an instant, wrestlers would be flying out of the ring, the cannon fodder would be used here for sure, as Austin clears house. Whether he would appear is one thing, to win is even more unlikely but we can dream
Chances of Appearing: 4/10
Chances of Winning: 1/10
If we dream with Austin, similar dreams must occur with the Rock. His long awaited return has been delayed a number of times, and chances of him ever appearing in a ring again are doubtful, but a return at the Rumble would be monumental. Just as with Austin, the reaction alone would send the crowd into hysterics.
Chances of Appearing though: 2/10
Chances of Winning: 1/10
There is always some that we forget or just have no chance of appearing or winning. And so they get a shout out here,
William Regal
Evan Bourne (injured?)
Fit Finlay
Mason Ryan
Darren Young
Michael Tarver
Yoshi Tatsu
Chris Masters
Dudebusters
Hornswoggle
Joey Mercury
Natalya
Beth Phoenix
Its a long list of the talented WWE roster, dare say I have forgotten someone, but as far as my pick for this year's contest, it must be either Triple H or the man of the moment, CM Punk. I personally would go for Punk given all his success of recent. But what do you think? Who has the ability to outlast 29 other men or women? Will we have a new winner or will a past winner return to book their ticket for Wrestlemania.
Whatever happens one of the most popular PPVs is on its way, so as we build up to 2011, and the new year, in the immortal words of Michael Buffer,
Lets Get Ready to Rumble!!!!!!!!!!!!!!!!