Floyd Mayweather Jr. and the 25 Wildest Boxing Entrance Costumes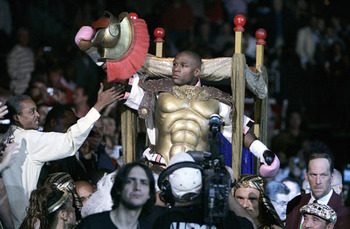 It's well-known that boxing is part sport and part entertainment, and entertainment may be created in a number of different ways.
Sometimes, it's the action itself, sometimes it's the spectacle and the fight's overall significance, and sometimes boxers take a more direct approach.
While the in-ring attire is fairly standard, entrance outfits are a far different story. Gigantic sombreros, military garb, flashy colors and any costume the boxer can dream up is fair game.
Over the years, boxers have donned some creative, out-of-this-world clothing for their dramatic pre-fight displays.
This slideshow profiles 25 of the most inspired and outrageous pieces of entrance attire in boxing history.
Honorable Mention: Apollo Creed
Carl Weathers as Apollo Creed in Rocky IV
Though never worn by an actual boxer, this outfit worn by Carl Weathers' character Apollo Creed in Rocky IV is a classic boxing costume and deserves a spot on the list for its sheer patriotism.
Fans of the movie know what happened to Creed after wearing this outfit, but it still goes down as one of the most famous boxing outfits and deserves an honorable mention on this list.
25. Bernard Hopkins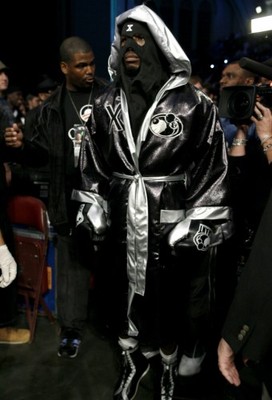 Bernard Hopkins has recently begun to enter his matches wearing an executioner's mask, as well as the traditional boxer's robes.
Unfortunately, for knockout-loving fight fans, Hopkins isn't always the quickest executioner. He tends to draw out fights for the full twelve rounds and earn narrow decision victories.
24. Prince Naseem Hamed
For his 1996 featherweight title match with Said Lawal, "Prince" Naseem Hamed entered the ring robeless, but these tasseled shorts and shoes are more than enough to land the showy star a spot on this list.
The pants may have been a lucky charm too — Hamed went on to win the fight by knockout in just 35 seconds, much to the delight of the his fans throughout the U.K., especially the ones watching live in Glasgow, Scotland.
23. Oscar De La Hoya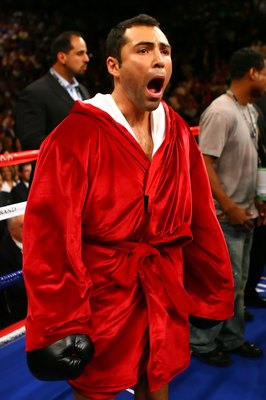 Al Bello/Getty Images
Oscar de la Hoya (shown here doing his trademark in-ring jaw stretches) is the most financially successful boxer in the history of the sport, and was known for his bold, solid-colored outfits.
Most of his boxing attire had a classic, vintage appearance, but he made some unusual choices too, like this Santa Claus-style outfit.
22. Wilbert Johnson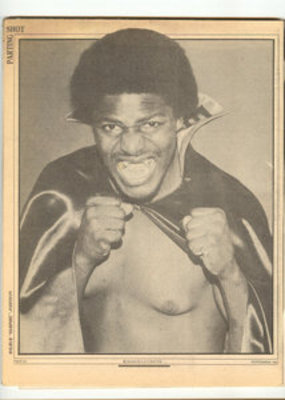 Very little footage of this legendary entertainer's boxing exists, but according to multiple reports, Wilbert "Vampire" Johnson was one of the top dressers in the sport's long and storied history.
A fan favorite on the early ESPN boxing broadcasts, Johnson took his vampire persona seriously, and in addition to the dracula-style capes, he was often carried to the ring in a casket. I've heard of athletes being carried out of the ring on a stretcher, but as far as entrances go, "Vampire" was in a class of his own.
21. Ricky Hatton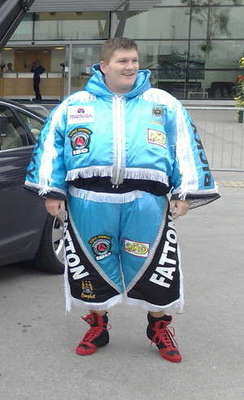 When some people decided to heckle former junior welterweight world champion and British boxing hero Ricky Hatton about his weight gain between fights, the superstar decided to take it in stride with a customized "Ricky Fatton" fat suit.
Though not technically worn for a fight entrance, it nonetheless features all the elements of his traditional entrance clothing, albeit with a fair bit of extra material.
20. Saul Alvarez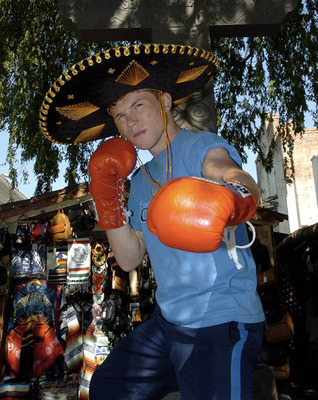 Mexican welterweight Saul "Canelo" Alvarez is known for two things: 1) the impressive boxing ability that has made the 20-year-old Ring Magazine's fan-voted "Prospect of the Year 2010" and 2) his striking red hair.
In this pre-fight publicity photo, the hot prospect adorns a sombrero and boxing gloves that both match the bright copper color of his trademark hair.
19. Jose Canseco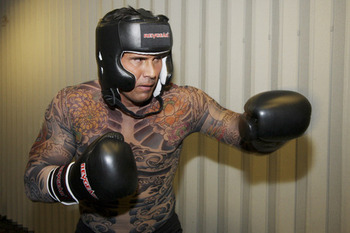 It's only appropriate that one of baseball's wildest figures would have possibly the most unusual celebrity boxing entrance attire.
At first glance, it looks like a bizarre full-body tattoo, but it's actually a skintight shirt with intricate designs.
Unfortunately for Canseco, impressive attire didn't translate into an impressive in-ring performance. Personal issues caused Canseco to withdraw from his fight with Bill Simmons, and he was replaced by former pro wrestler Brutus "The Barber" Beefcake, who was known for his flamboyant attire in his day as well.
18. Floyd Mayweather, Jr.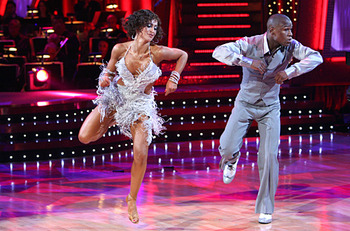 Floyd Mayweather, Jr. on Dancing With The Stars
Technically this isn't ring entrance attire, but outside of the ring, Floyd "Money" Mayweather donned this impressive outfit for one of his appearances on the fifth season of ABC's Dancing With The Stars.
Mayweather's 41-0 record, with many of his wins coming against the sport's best fighters, is one of the most impressive in boxing history. However, in non-professional competition, he hasn't fared nearly as well.
He lost in the 1996 Olympic semifinals before going pro, and on Dancing With The Stars, he and partner Karina Smirnoff were the fourth team to be eliminated, finishing in ninth place. Female boxer Laila Ali fared far better on the show, finishing in third place during the show's fourth season.
17. Juan Manuel Lopez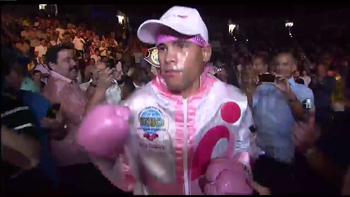 The undefeated 27-year-old featherweight, who just might be boxing's next big star, is rapidly becoming the next in a long line of legendary Puerto Rican fighters.
However, he has become endeared to Puerto Rican fans (and boxing fans as a whole) for more than just his exciting boxing ability. He is a champion of several causes, and in his July 2010 matchup with talented Bernabe Concepcion, he suggested that both fighters wear pink gloves and ring attire, to be auctioned off to raise money for breast cancer awareness.
The outfit seems to borrow a page or two from former heavyweight champion Pinklon Thomas' rose-colored playbook.
When asked about his support for the cause, Lopez said that he didn't have any close relatives with the disease, but just thought it was a good thing to do. He backed it up well — not only did he persuade his opponent to also don a pink outfit, but everyone in Lopez's corner wore the same pink and white robes and headbands.
16. Juan Manuel Marquez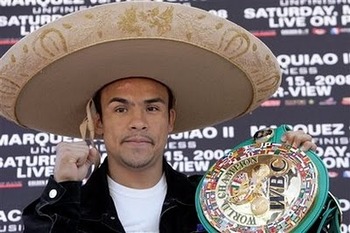 Juan Manuel Marquez is the representative of the long line of actual Mexican wrestlers who wear the traditional sombrero to their fights. In this case, he wears an exaggerated sombrero with embossed horseshoes and Mexican-themed fauna, and a classic-style Mexican jacket.
15. Paulie Malignaggi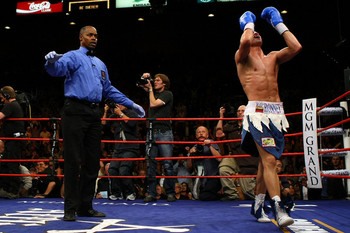 For his match with Ricky Hatton, the always-colorful Paulie Malignaggi decided to wear some sort of variation on the "Tarzan skirt" with a pair of shorts underneath. Malignaggi was exposed in more ways than one against Hatton, who dominated the fight from beginning to end, leading up to a ninth-round TKO victory.
Malignaggi has long been known for his technical boxing ability, speed and intricate, high-impact clothing. Purple tassled shoes, Italian-flag colored trunks with tassles, and this outfit have all been worn into the ring by the New York-based light welterweight.
14. Prince Naseem Hamed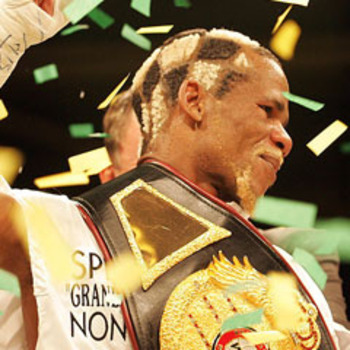 Always one for grandiose entrances, Prince Naseem Hamed gains more attention with this one for his haircut and the excessive confetti, rather than his outfit, which was relatively tame by comparison.
13. Ricky Hatton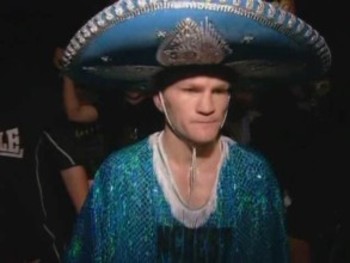 Ricky Hatton wore a blue sombrero and mosaic-style robe to show respect to his Mexican fans prior to his bout with Jose Luis Castillo. Something must have worked well for Hatton, since he won against the vaunted Mexican legend and immediately thereafter signed a contract to fight the biggest match of his career against Floyd Mayweather, Jr.
12. Anthony Lenk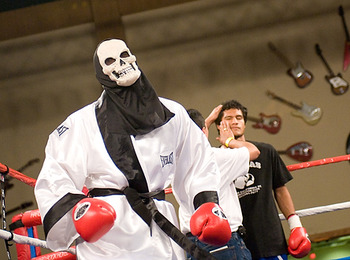 Anthony Lenk. Photo: Chris Cozzone, FightWireImages.com
Young super lightweight Anthony Lenk wore this ghoulish getup for a 2008 match against newcomer Rufino Flores.
A 21-year old Lenk improved his record to 5-0 with his shutout four-round unanimous decision victory.
11. Natascha Ragosina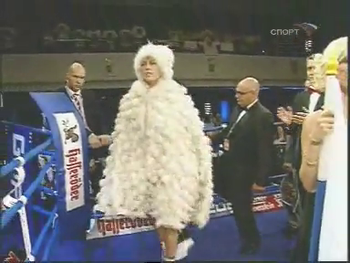 Direct Capture from Russian Broadcast
For her matchup against Gardy Pena, the Russian knockout not only hired a four-piece hip hop group to sing a cover of 50 Cent's "In Da Club," but also wore a "winter queen" outfit that looked like it was stolen from Bjork's wardrobe.
Unfortunately, that ended up being the most significant moment in the fight. Ragosina dominated her outmatched foe and ended the fight with a knockout before the action even really began.
Of the many unique outfits the 5'11" undefeated Russian middleweight wore into the ring, this is by far the most imaginative.
10. Hector Camacho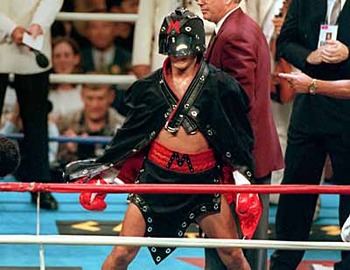 The legendary Puerto Rican champion Hector "Macho" Camacho was generally better known for his in-ring heroics. However, he gained attention here with an inventive postmodern getup that looks like a mix between Robocop, Tarzan and an imaginary "macho man" superhero.
You can't argue with Camacho's in-ring success though.
9. Chris Eubank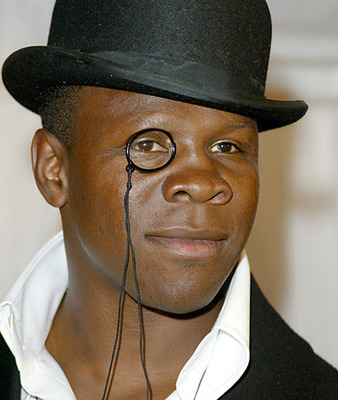 Chris Eubank was one of the more flamboyant characters in the late 80's and early 90's British boxing scene. Well known for his erudite mannerisms and high-cultured English accent that he spoke with a lisp, he was a heck of a fighter in the ring, and top-ranked Brit Michael Watson's career was ended because of injuries at the hands of Eubank.
The monocle and top hat fit Eubank perfectly — a subtle indicator of his attraction to all things proper and lofty.
8. Bernard Hopkins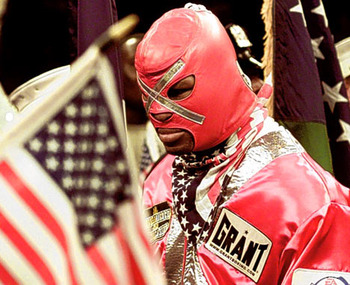 Another of Hopkins' "Executioner" outfits, this is a far more intense costume, with brighter colors, more patriotism, and a silver X covering the face of a luchador-style face mask.
7. Floyd Mayweather, Jr.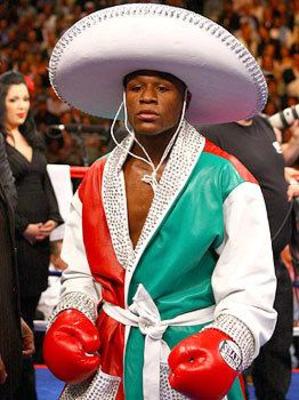 Photo: Getty Images
Mayweather has never been known as one of the more subtle figures in boxing, and this was never clearer than when he wore this Mexican-influenced costume into the ring for his fight against Mexican-American Oscar de la Hoya.
It was clearly a highly-planned grab at the allegiance of the Mexican and Mexican-American fans in the audience, but many observers thought Mayweather missed the mark.
People said his motives were too transparent, and HBO's Larry Merchant pointed out that Mayweather was wearing his sombrero backward as well.
6. Prince Naseem Hamed
Prince Naseem Hamed was well-known for his outrageous, fantastic outfits, but he didn't stop there. He used props, dancers, and music to create a haunting aura for a pre-Halloween showdown.
What's even more amusing is the deadpan seriousness of Sky Sports announcer Ian Darke's reaction to the whole thing.
5. Hector Camacho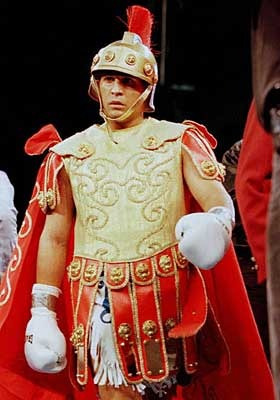 Before there was Roman general Floyd Mayweather Jr., there was Hector Camacho in this battle-ready outfit that looks like a blend between Greek and Roman warriors' ceremonial armor. He actually pulls off the costume (which he wore to the ring over a frayed version of his favored "loincloth-style" trunks) quite effectively.
4. Jorge Paez
Nicknamed "Maromero," which translates into "circus performer," Jorge Paez is a legendary Mexican fighter who gained much renown for his extraordinary costumes and hairdos.
But "Maromero" is more than just a nickname - Paez is an actual circus performer as well as being a two-time champion featherweight.
Balloons, mohawks, blingy necklaces, garish shiny golden trunks - nothing was out of the question when it came to Paez's ring attire.
Two of his sons are also legitimate boxing prospects, but unfortunately didn't inherit quite the same fashionable flair as their father.
3. Michael Katsidis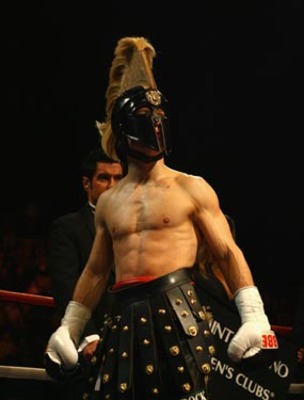 Michael Katsidis, a rugged and gritty Australian boxer, often wears a Spartan-style helmet and leather armor to the ring in order to show respect to his Greek roots.
He recently donned this culturally-mindful outfit into his Fight of the Year candidate with Juan Manuel Marquez.
2. Floyd Mayweather, Jr.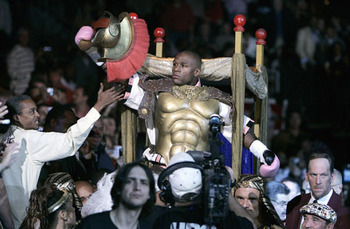 There is so much going on in this outfit: not only did Mayweather come to the ring dressed up as a Roman warrior, but he also wore pink gloves that would later be auctioned off to raise money for breast cancer research. If only the original Roman war generals used their weapons for such noble endeavors.
1. Sharif Bogere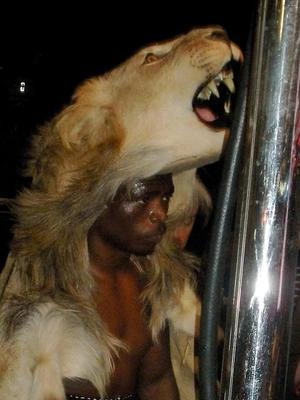 Sharif Bogere lion head. Photo: Chris Cozzone, FightWireImages.com
Sharif "The Lion" Bogere has worn a lion's head into the ring on more than one occasion.
I'm not sure what's more intimidating — the fierce looking lion, or the 18-0 record of the 22-year-old lightweight star from Uganda.
But Bogere wouldn't rest with the impressive lion totem. He took things a step further...
1. (Continued) Sharif Bogere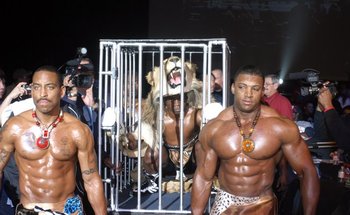 Sharif Bogere in Cage
On this occasion, Sharif "The Lion" Bogere was brought to the ring in a steel cage carried by a quartet of well-built bodyguards in Tarzan-style attire.
Keep Reading