The Ultimate Fighter: Team St-Pierre vs. Team Koscheck Finale Live Results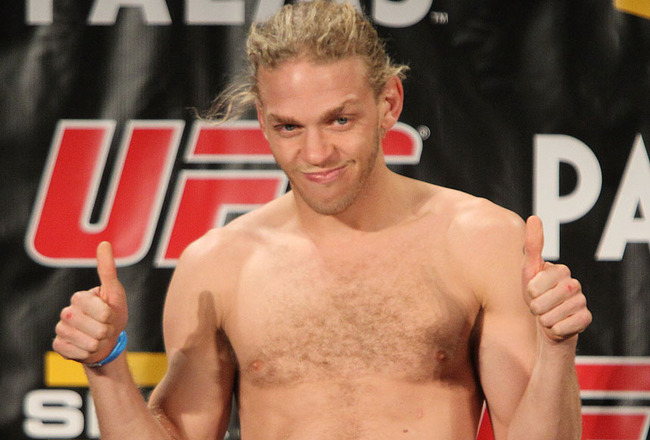 The Ultimate Fighter: Team St-Pierre vs. Team Koscheck wraps up tonight at the Palms Casino Resort in Las Vegas with Jonathan Brookins facing Michael Johnson with the six-figure contract and multi-fight deal on the line.
Additionally, we'll see two once-prominent warriors looking to re-establish a foothold and begin the long, arduous climb back up the contenders' ladder.
Demian Maia has seen his meteoric rise up the middleweight division stalled badly by the decimation at Middleweight Champion Anderson Silva's hands, feet and verbal jabs. Arguably still the foremost practitioner of Brazilian jiu-jitsu adapted for use in mixed martial arts, Demian will look to use TUF Season 3 winner Kendall Grove to re-assert himself in the division.
Meanwhile, light heavyweight favorite Stephan Bonnar will try to cobble together a winning streak as he comes off a win over Krzysztof Soszynski and faces Igor Pokrajac. The Croatian is also coming off a win (over James Irvin) so both men should have a bit of momentum coming into the scrap.
To round out the card, we've got Rick Story, Johny Hendricks, Leonard Garcia and several cast members from this season (the 12th) of TUF.
The action kicks off in about 30 minutes so check back here for live results and reactions.
Preliminary Card Bouts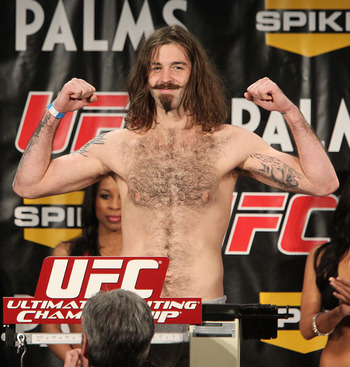 Middleweight bout: Rich Attonito (9-3) vs. Dave Branch (7-1)
—Possibly two future players at 185 pounds
—Attonito's hand injury opened the door for The Ultimate Fighter Season 11 winner Court McGee (who lost his initial bout once in the house)
Featherweight bout: Fredson Paixão (10-3-1) vs. Pablo Garza (9-1)
—Two WEC fighters making their UFC debuts
—Paixao stands about eight inches shorter than Garza
Catchweight (138 lb) bout: Will Campuzano (7-2) vs Nick Pace (6-1)
—Two WEC fighters making their UFC debuts
—Pace missed weight by three pounds so his purse was docked 20 percent
Lightweight bout: Sako Chivitchian (5-0) vs. Kyle Watson (12-6-1)
—Psycho and Watson are familiar faces from this season of TUF
—Both are making their UFC debuts

Featherweight bout: Tyler Toner (10-2-1) vs. Ian Loveland (13-7)
—Toner is a former WEC fighter making his UFC debut; Loveland is just making his UFC debut
—Toner's Wikipedia page is...odd while Loveland's nickname is "The Barn Owl;" translation: this one could get weird
Lightweight bout: Cody McKenzie (11-0) vs. Aaron Wilkinson (6-3)
—Two more familiar faces from this season of TUF who are making their UFC debuts
—Both are accomplished grapplers; English has four subs in six wins whereas Big Time has the third-most guillotine choke wins in all of MMA despite only 11 pro fights
Rich Attonito vs. Dave Branch—Middleweights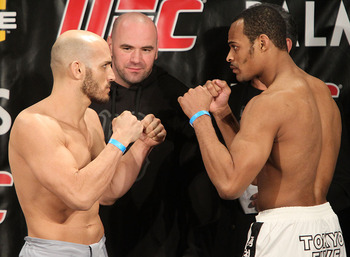 First Round

The first starts with a bit of feeling out before Branch presses the action and the pair end up in a struggle for position against the fence. Dave is using his strength to try to wear the Raging Bull down and find an opening, but he can't as Attonito slips out of the clinch.
As distance opens, Rich finds a hint of his range and lands a couple shots, but Branch immediately shoots back in and secures the takedown.
A fairly empty Pearl is beginning to grumble as Branch seems content to ride out top control with only a semblance of offense.
Attonito almost manages to scramble to his feet a couple times, but his opponent seems to be a little quicker/stronger than he is and foils the escape twice.
Finally, the action gets back to the feet and Rich gets in a couple dings before the horn ends a 10-9 round for Branch.
Second Round
Round 2 starts with a furious flurry of somewhat sloppy striking in close counters and Attonito certainly seems to be getting the better of it (if only slightly), but the edge doesn't last as the clinch sets in. Here, the advantage seems to be squarely with Branch.
The Raging Bull does a spiffy job of sneaking in a couple short shots when the slightest bit of space opens, but the key word there is "slightest."
The TUF alumnus simply can't create enough room to use what appears to be superior striking.
Dave nearly secures a takedown, but Attonito uses balance and resolve to avoid it before a second attempt at a takedown accomplishes the feat—only because Rich grabbed an arm for an apparent kimura as both men were thrashing around in desperate effort.
Branch rides out top position, again, until the horn ends a much closer round. I'll still give it to Branch, 10-9, but it Attonito had a better five minutes than he did in the first.
Third Round
The two competitors don't waste any time in the final stanza, coming straight forward to engage.
Once again, Branch comes in for the takedown and the Raging Bull can't defend it. Dave quickly takes Rich's back, but the maneuver gives Attonito an opportunity to climb back to his feet. Now, the two are frozen in a state of semi-suspended animation as Branch hangs on Attonito's back and the latter simply stays doubled over, waiting for referee Josh Rosenthal to reset the action perhaps.
They're back on the ground now and Dave pretty much has this in the bag.
He's not really pulverizing his victim, but Attonito just has no answer for Branch's ground game. Call it another 10-9 for him and the unanimous decision victory.
Dave Branch defeats Rich Attonito by unanimous decision (30-27, 30-27, 30-27).
Fredson Paixao vs. Pablo Garza—Featherweights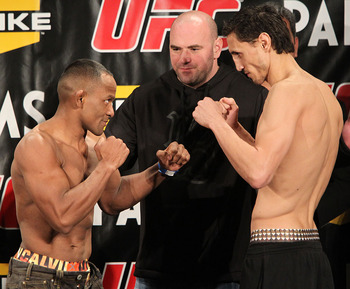 First Round
The fighters come out and each gives a tentative invitation to touch gloves, but neither takes the other up on the invitation.
After about a minute of feeling each other out, Garza—who goes by the Scarecrow—lands a crushing jumping knee that connects flush with Paixao's face. He's out like a light, but Garza follows up with a punishing hammer fist before referee Steve Mazagatti can body-check him out of the way.
THAT was savage, sounded like a watermelon hitting the sidewalk after being dropped from a third-floor window.
Pablo Garza defeats Fredson Paixao by knockout (flying knee) at 0:51 of the first round (Knockout of the Night).

The Brazilian is awake, sitting up and moving, but that's where the good news ends.
Either that's your Knockout of the Night or we're about to see one amazing night of fights.
Will Campuzano vs. Nick Pace—Catchweight (Bantamweights)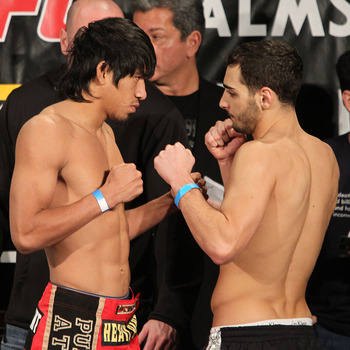 First Round
New York versus Texas in this one so maybe it's not a surprise they don't touch gloves after coming out of their corners.
A brief striking exchange ends after Pace eats a couple shots, but comes sprinting through his adversary nonetheless. Campuzano shows tremendous balance, but ultimately cannot avoid the ground. Nick takes a couple chances yet is unable to turn the takedown into much of an advantage.
He's moving around comfortably, but Will doesn't look particularly concerned for his part.
The native of Mexico manages to push Pace off him with his feet and hops to his feet where Nick lands a nice heavy right before taking the scrap right back to the mat. Once on the ground, Pace is able to take Campuzano's back, but there's no hay to be made there so he ends up back in his opponents' guard where he stays until the horn.
An easy 10-9 for Pace.
Second Round
Campuzano comes out more aggressively, urged on by his corner's proclamation that Pace wants nothing to do with the striking. Based on early returns of Round 2, I'd have to agree as Will is having his way with his victim on the feet.
A nice right hook is followed by a clean knee and the combo convinces the New Yorker it might be time to get this baby to the ground. A clinch ensues and continues for what seems like forever before Pace finally finishes the takedown.
Pace scored by dragging the action to the mat, but he's just holding Campuzano on the ground with the occasional burst of ground 'n' pound to prevent a reset (presumably).
Campuzano works his way to the fence, manages to re-take his feet and then HE secures a takedown just in case any wayward judges were gonna score the round in Pace's favor.
Instead, it's a 10-9 for Campuzano.
Third Round
Whoa, I'm not sure what happened in each fighter's corner, but both men come out swinging for the fences. Much to the Pearl crowd's delight.
A couple high kicks land from Pace, but Campuzano comes right through them and lands a few nice jabs plus another knee for good measure. The back-and-forth peters out before Nick secures yet another takedown.
He's simply not doing much once on the ground, though, as Will is able to reverse the position and starts raining bombs down from Pace's guard.
The Big Apple's own is having some success keeping Campuzano from posturing up to deliver more damage, but not enough as he keeps eating heavy hands from his antagonist.
Nick is throwing up submission attempts and upkicks, but it's not gonna be enough at this rate.
Or maybe it is.
Pace locks in what looks like a modified gogoplata with the shin across the back of the neck with a forearm across the throat. I have no idea what to call that, but Campuzano resists as long as he can before tapping
Nick Pace defeats Will Campuzano by submission (Pace Choke) at 4:33 of the third round.
Popular opinion around press row (and confirmed by Joe Rogan in the post-fight interview) is that the submission Pace used has never been seen before tonight. When pressed by Rogan, Pace acknowledged it wasn't something he practices—instead making it up on the fly.
In other words, there's your Submission of the Night.
Sako Chivitchian vs. Kyle Watson—Lightweights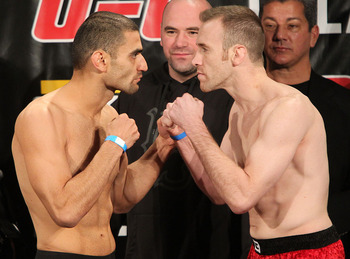 First Round
The two familiar face from this season of TUF waste no time getting right to the action. The exchanges don't yield much, but the arena appreciates the intent.
The action stagnates in the clinch as both men neutralize the others' grasp and neither can gain the leverage necessary to do what he wants. They exchange short hooks and knees before briefly separating, then come back together in the clinch.
Watson is the first to gain the upper hand, taking Chivitchian almost to the ground and then taking his opponent's back. Sako struggles back to the standing position, but Kyle has a firm body lock on him and is threatening to send the Armenian crashing to the mat.
Which he does.
But Pyscho's not perturbed by the turn of events and is back on his feet before anything too adverse happens.
Now, he's landing shots left and right as it's clear he has an edge in the striking department. Pretty tough to score because Chivitchian did more damage, but Watson got those takedowns. I'll call it 10-9 for Chivitchian, but—full disclosure—I tend to overrate carnage.
Second Round
There's a whole lotta nothing going on in the middle of the Octagon as we're about two minutes into the second stanza. The pair is standing and trading, but virtually nothing of consequence is landing.
I'm sitting about two feet from Chandella and Arianny, and—suffice it to say—they're MUCH more entertaining at this juncture.
I can report that Sako's jab seems to be giving Kyle some issues as it's landing more often than not. Another brief exchange results in a knee to the groin of Psycho so we've got a lull in the "action."
The scrap restarts and basically nothing happens for the remainder of the round—a few jabs, a few knees and steady diet of the clinch.
I have no idea how to score that—I'm not even sure any clean points were scored.
Call it 10-9 for Sako on the back of his jab.
Third Round
I've got Psycho ahead 20-18 on my scorecard, but that's to be taken with a large grain of salt.
Regardless, Watson comes out as if he thinks he's behind, but the aggression isn't long-lived. The American doesn't seem to have the stand-up to go confidently into the fray with Chivitchian. Translation: we're back in the clinch against the cage.
Kyle scores a nice trip/takedown, but the two fighters go to the mat about two feet from each other so they're back on their feet as if nothing ever happened (there's a perfect instance where I'd give no points for the takedown).
I think this one's gonna come down to who the more aggressive fighter was because neither is doing much of anything in the way of hurting the other.
The crowd tries to root on a frenzied finish, but the last minute unfolds about how the rest of the bout did. With innocuous strikes landing for both men and doing exactly squat in the damage department. Another muddled round about which your guess is as good as mine.
I'll give it to Chivitchian, 10-9, for consistency's sake. We'll see what the official word is.
Kyle Watson defeats Sako Chivitchian by unanimous decision (30-27, 30-27, 29-28).
Look, I get the rules demand the judges give credit to takedowns and aggression, but Kyle Watson was quite literally NEVER in danger of stopping that bout. He inflicted minimal pain and turned mediocre takedowns into jack.
I don't get it.
Tyler Toner vs. Ian Loveland—Featherweights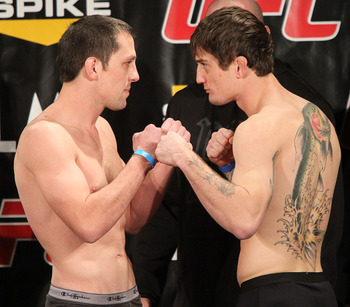 First Round
Hmm, that didn't take long.
Thunder (Toner) and the Barn Owl (Loveland) come out throwing bombs. Loveland catches Toner with a nice uppercut that snaps his head back and then smacks home another heavy hand that sends Toner reeling back into the base of the cage.
The Barn Owl is all over him trying to finish the pleasantries before they've really started, but Thunder appears to have recovered enough to defend himself and survive the initial onslaught.
The Pearl is depressingly empty as the main card has yet to begin, so you can hear virtually every conversation going on in the stands. It's really a catcallers dream-come-true though none have stepped into the void quite yet.
Well, it's a good thing there was so much action in those first 15 seconds because there's been basically NONE since the scrap went to the mat.
Even Toner's corner is telling him to do "something, anything."
For his part, Loveland isn't doing much but maintaining top position and offering some ground 'n' pound every so often.
A 10-9 round for Loveland that started with much promise and ended with a bad case of the blahs.
Second Round
I don't know much about this Loveland character, but he just threw a spinning backfist feint that actually seemed to work as it sent Toner back-peddaling and gave the Barn Owl an opening to pursue with strikes.
Another thing—he looks like a grown-up Harry Potter.
Consider me intrigued.
Someone in the crowd just caught on that Loveland looks like the fictional wizard and said so, much to the delight of an arena aching to cheer.
That might've angered the Barn Owl because he landed a couple nice jabs before throwing a genuine spinning backfist that sends Toner into the drunken dance and eventually crumpling to the canvas. Yet again, Loveland comes firing forward, spurred on by the blood he surely smells, but it doesn't look like he'll be able to finish the job as Thunder slows him down with an armbar attempt.
That's another 10-9 for Loveland and Toner will need a stoppage in the final round to pull this out.
Third Round
Not much to report in the early going of the final round so I'll regale you with more information about Ian Loveland.
He's got a tattoo gauntlet on his right arm, what appears to be a trout jumping out of some structure in ink on his back and I've just been informed that he took the fight on REALLY short notice—as in one week.
How's that for inside dope? Pays to sit close to the Octagon Girls.
What an odd round—Loveland seemed to coast, only engaging with counter shots (though they were impressive) while Toner appeared disinterested in getting too close to the varied striking arsenal of the Barn Owl.
I'll give the final round to Toner because of aggression, 10-9, but Loveland takes the unanimous victory with ease.
Ian Loveland defeats Tyler Toner by unanimous decision (30-27, 30-26, 29-28).
I'm thinking Dana White is happy to have Loveland in the mix at featherweight. That was quite a performance, especially on short notice. I'm also thinking this judging is all over the place.
Cody McKenzie vs. Aaron Wilkinson—Lightweights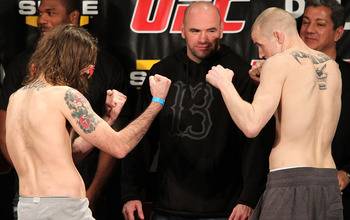 Ah, the first intro music worth mentioning—Wilkinson enters to James Brown's "I Got You (I Feel Good)" while McKenzie opts for Stealers Wheel's "Stuck in the Middle."
Well played gentlemen, well played.
Judging from the Pearl's response, Cody is quite popular with the ladies in attendance.
The Brit has eschewed "English"—the nickname given to him on the show by Team Koscheck—in favor of his more tenured nickname, "The Daywalker."
I like 'em both.
First Round
Neither gladiator has an extensive striking pedigree so I guess it's no surprise that the action goes to the ground immediately. For a change, however, it's McKenzie who's IN the guillotine rather than administering it.
That doesn't last too long as he wiggles free and then slaps on one of his own from the standing position, pinned against the fence. The Daywalker eventually goes to the ground where a futile roll ensues, but McKenzie just locks in the choke more securely.
Wilkinson doesn't want to, but he's forced to tap. It looks more like pain than lack of oxygen/blodod caused the sub, but who's counting?
Cody McKenzie wins by submission (guillotine choke) at 2:03 of the first round (Submission of the Night).

That makes 10 consecutive guillotine choke submission for the man from Alaska. That's obscene.

Main Card Bouts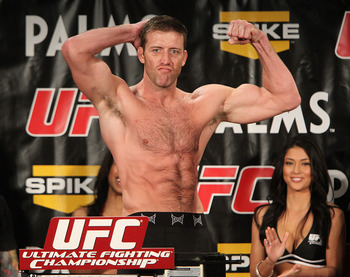 Featherweight bout: Leonard Garcia (14-6-1) vs. Nam Phan (16-7)
—Two of the more experienced hombres on the card square off
—Bad Boy is a fan favorite because he's a supercharged demon in the Octagon; Phan is a favorite because you have to root for a guy who got ambushed punching his own clock on national television
Welterweight bout: Rick Story (11-3) vs. Johny Hendricks (9-0)
—Hendricks takes his undefeated record and All-American wrestling pedigree from Oklahoma State into the cage once more, but...
—The Horror represents a significant bump in competition; Story has one four straight contests since losing his debut to John Hathaway, including a savage dismantling of Dustin Hazelett at UFC 117
Middleweight bout: Demian Maia (13-2) vs. Kendall Grove (12-7-1)
—Maia's reputation has suffered recently, thanks to Anderson Silva's nonsense in Abu Dhabi, but this is still a fighter who's only lost to the best pound-for-pound fighter in the world and Nate Marquardt
—Grove stands a stunning 6'6" yet hasn't been able to turn that substantial size advantage into a decisive one in the division, having lost four of his nine bouts inside the UFC
Light Heavyweight bout: Stephan Bonnar (12-7) vs. Igor Pokrajac (22-7)
—The American Psycho broke a losing streak last time out, but the former Purdue Boilermaker could still use another victory to edge above .500 inside the UFC (currently 6-6)
—Pokrajac is one of Mirko Filipovic's training partners and lost his UFC debut to Vladimir Matyushenko; I have nothing more to say
Lightweight bout: Jonathan Brookins (11-3) vs. Michael Johnson (12-4)
—This is the one for all the marbles; winner gets a guaranteed contract the loser gets a pat on the back (OK, so the loser usually gets a UFC contract, too)
—Persistence paid off for Johnson, who was rejected twice by TUF before finally being selected for the 12th season; he'll need that persistence against Brookins, who survived 10 minutes with Jose Aldo
Nam Phan vs. Leonard Garcia—Featherweights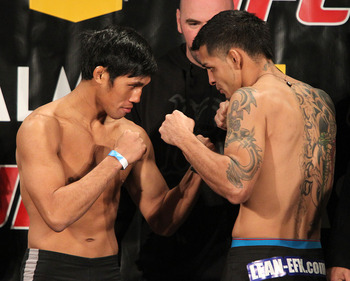 Alright fight fans, we're live on Spike TV with Garcia and Phan set to kick off the televised portion of the show.
Leonard comes out to Kanye West's "Runaway," which I was not familiar with yet required a google search because Chandella was rocking out to the tune. Phan also comes out to some nondescript rap, but I can't make out any lyrics for the google treatment.
Besides, the ladies aren't taking to it quite as much.
Guess they're partial to gay fish.
For those who care about such things, we've got SkySkrape, Quinton "Rampage" Jackson and Phil Baroni in the crowd.
So far, no masturbatory jokes directed at Nam, but let's see what happens once the action starts.
First Round
Bad Boy is notorious for setting a relentless and reckless pace in his fights, leaving ample opportunity for big shots to land in both directions. He's also prone to smiling throughout the festivities.
So far, the smile is there while the pace is a little modest considering Leonard's reputation.
Give Nam credit, he's not backing down and is actually constantly pushing forward against his dangerous adversary. Granted, it's mostly for naught, but it's the thought that counts (sometimes literally).
Phan is the more technical striker and is landing with clean shots, but Garcia's a brawler and you're not gonna put him out with anything less than a sustained power attack. Nam's loosening up—landing a couple huge head kicks—but he's not yet showing the kind of heft on his strikes to get the stoppage.
Still, an impressive five minutes from the TUF Season 12 alumnus. Call it 10-9 in his favor.
Second Round
Garcia's corner might've delivered a terse message in the break because he's come out with apparently much more focus and determination. Additionally, he continues to mix up his strikes well and is showing more variety than his antagonist, but Phan looks to be deploying the wiser game plan.
Until now.
After some tender striking exchanges, Garcia comes streaking across the cage and secures a takedown at the base of the fence. Alas, the move is good for points only as he gains no edge.
They're back on their feet and Phan has Leonard badly hurt, a repetitive sequence of a left jab followed by a heavy straight right has Garcia wilting against the fence. Nam smells the finish and presses the action, eventually taking his opponent's back and working for a rear-naked choke.
Leonard Garcia is one TOUGH hombre as he weathered the abuse and is now resisting the submission despite possibly not having all his wits about him. The crowd is screaming because it's convinced Garcia tapped and Herb Dean missed it, but I'm not convinced.
Nonetheless, another 10-9 for Nam Phan.
Third Round
Leonard's down by two rounds on my card (which, of course, means he's probably winning in reality) and that means an hombre who's always looking for the stoppage will be hunting it with extra fervor. We'll see if Nam steps in to take advantage or tries to coast to victory in his UFC debut.
You might say Garcia is playing rope-a-dope except he's getting absolutely tagged with body shots, this is the final round and Phan doesn't appear to be tiring. That and Leonard ain't Muhammad Ali.
One thing is for sure: Leonard Garcia never fails to entertain
He's currently scream-roaring at Phan before closing his eyes, ducking his head and winging haymakers at his target.
Some idiot to my right finally throws in a shower reference, which makes sense since he's a drunken moron and Nam Phan just won his initial bout at the most elite level of MMA in existence.
UNBELIEVABLE.
Leonard Garcia defeats Nam Phan by split decision (29-28, 27-30, 29-28; Fight of the Night).

Man, you gotta feel for both fighters—the arena is utterly deafening in its condemnation for the judges and rightly so. I had that 30-27 and so did most around me did.
Garcia is apologetic and trying to rise above the decibel level to tell the crowd he ran out of gas after taking the fight on short notice. He wants to turn the tied of public approval by pointing out he always brings it to the final horn, embraces Phan and does everything but promise Nam a rematch.
Meanwhile, Nam regrets that "an Asian brother can't get no love."
Worst. Decision. Ever.
Incidentally, I'm not sure how much longer the hijinks will continue, but you should check out the event's Wikipedia page. Apparently, the decision isn't going over well.
Johny Hendricks vs. Rick Story—Welterweights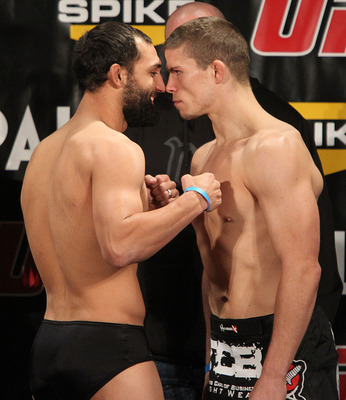 Yikes, with that decision in the books, I'd be hell-bent on finishing my contest if I were one of the eight remaining pugilist-grapplers.
Oh well, onward and upward.
Story's already in the cage, entering to some thrash-metal that escapes even this fan of the metal genre. Hendricks enters to some country that I quite like—Bleu Edmondson's "50 Dollars and a Flask of Crown."
Crown on the rocks happens to be my liquor of choice, so I've just become a Johny Hendricks fan.
That's bad timing because the Horror is one of those guys who's criminally underrated and a tall task in that Octagon. We'll see what happens.
First Round
Story's already promised to deny Johny if the latter wants a "boring-ass wrestling match."
So far, he's been true to his word, stuffing one takedown and unleashing a barrage of digging hooks to Hendricks' body. Rick even threatened a takedown of his own, but must've thought better of it because he relented.
Johny has those crazy eyes of a wrestler, just for your information.
Pretty slow round thus far, though Story is currently thwacking body shots to Hendricks in the clinch and threatening to turn this into a tussle. More body shots and it seems that's the MO for tonight.
For his part, Hendricks is doing almost nothing in retaliation—this bad rider better go to the ground sooner or later. Otherwise, the former Oklahoma State Cowboy looks to be up a creek.
With 30 seconds left, Johny gets the elusive takedown and tries to ride out the round, but the Horror manages to stand back up. I'll say it's a 10-9 for Story, but who the hell knows anymore?
Second Round
It's amazing how quickly the peanut gallery changes its tenor when the Spike cameras come around for the crowd shots. Where once there were boos and derision, there is now apoplectic cheering.
Those dangling 15 minutes sure are transformative.
Anyway, Story comes out the second with another salvo of ferocious blows to Hendricks body and seems well on his way to another happy five minutes. However, Hendricks shows a little bit of scrap by momentarily getting a hold of Rick's neck.
The grasp is short-lived.
As the action stagnates, someone tells Hendricks' corner (possibly Marc Laimon) to shut up and I think it was Baroni because he's got a cat-that-ate-the-canary grin on his face.
The rest of the round fizzles out without much of note happening. Call it another 10-9 for Story.
Third Round
Ugh, this is not the barn burner some thought it would be.
Hendricks was able to take the tussle to the ground early in the third, but Story's been able to nullify any advantage down there. He even managed to reverse and take top position momentarily before Johny recovered the dominant spot.
Now, we're just in that limbo sprawl where neither man wants to twitch for fear of either losing the near takedown or surrendering his tenuous existence on his feet. Story keeps reaching for the kimura to offset Hendricks grip of his legs and that's where the final round ends.
That one has to go to Hendricks because the Horror seemed to gas. But it won't matter if my card is right (the Mt. Everest of 'ifs' at this point).
Rick Story defeats Johny Hendricks by unanimous decision (29-28, 29-28, 29-28).
Hey, even a blind judge finds a nut once in a while.
Demian Maia vs. Kendall Grove—Middleweights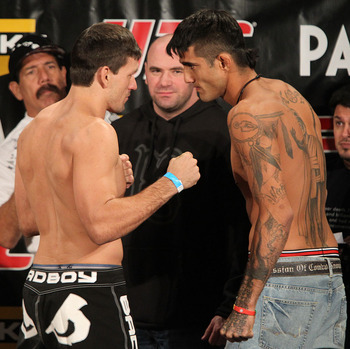 We're in the stretch fun, friends, with the three biggest and bestest bouts remaining on the card.
These are two personal favorites of mine.
You've got to root for a guy whose stated goal is to become the UFC champion and prove you don't have to hurt anyone along the way. Those are some seriously antithetical crosshairs Maia has aimed.
Meanwhile, Da Spyder is stands six-foot-flippin'-six despite competing at 185 pounds. Insanity in physical form, thy name is Kendall Grove. Plus he's Hawaiian—ever since living with an islander in my freshman year of college, I've been partial to the Aloha Spirit.
Even though it might exist in name only for a haole like me.
Let's see what they've got for us.
First Round
Maia's still set on proving his striking game and that might be a bad idea against someone with range like Da Spyder. Especially when you consider Demian's game on his feet is average at best (remember, I'm a fan).
After about two minutes of exchanging standing strikes, the Brazilian finally moves in and takes the scrap to the ground. Grove is doing a good job defending against the BJJ ace and has managed to struggle back to his feet twice thus far.
But Maia isn't giving up on his gravy train quite yet so we're back on the ground. Short shots to the ribs from Maia as he begins to do his thing, having passed Kendall's guard to the full mount. A dangerous moment goes by the boards for the Hawaiian as Maia looked to be in position to either snap on an armbar or transition to his opponent's back for the rear-naked choke.
Instead, Da Spyder bucks him back into guard and saves himself for the moment.
However, Maia's determined to work his submission game and he's managed to take Kendall's back as the seconds tick away on the first round, a 10-9 affair for the Brazilian.
Second Round
We open Round 2 with some striking, much as we did the first. This time, however, Grove isn't haphazardly closing the distance for Maia so he's been able to stay out of the latter's clutches. Meanwhile, Phil Baroni is freaking out in support of Da Spyder—he seems to be the only one in the arena who feels Maia is hurt and he's not bashful about saying so.
Don't know what the deal with Kendall is, but he lets Demian erase the space and take the action to the ground. I'm no expert, but it doesn't seem like the maneuver should've been so easy for a dude so much shorter—figure that reach and a stiff jab should keep Maia at bay effectively.
Regardless, we're on the canvas again and this is not where Grove wants to be. An upkick almost lands as Maia stands up and he wants no more of that so he wades back into the ground game.
In basically no time since re-engaging, Demian has Da Spyder's back and sinks in a rear-naked choke. But it's not clean at all so the Brazilian lets it go and the horn sounds soon after. Another 10-9 for Maia.
Third Round
Demian Maia's striking might still need a considerable amount of work, but his head movement seems much better—he's effortlessly slipping the majority of Grove's advances. Even so, he's at a severe disadvantage on his feet (though he lands a nice left hook as I say that).
Part of Da Spyder's problem might be that he's charging in behind his punches, which doesn't seem to be wise considering Demian's struggles on his feet (and I say that Maia lands a right that whips Grove's head back).
Kendall's doing a much better job staying out of the Brazilian's clasp as a shot gets stuffed, but my scorecard says he needs a stoppage to steal the victory and he's not getting at this rate.
In fact, it's Maia who's landed the bigger bombs as far as I can tell.
With a minute left, they're clinched up against the cage and that's a spot that usually ends with Maia on top of someone, working for a submission.
In this case, the Brazilian might be spent as he's not really tugging for the takedown. Round 3 is in the books, 10-9 for Grove, but I've got Maia winning by UD.
Demian Maia defeats Kendall Grove by unanimous decision (29-28, 29-28, 29-28).
The Islands are in the house, chanting in approval.
But it wasn't enough to spur Da Spyder on or sway the impressionable judges.
Stephan Bonnar vs. Igor Pokrajac—Light Heavyweights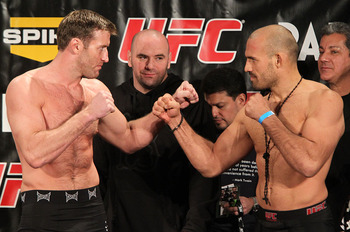 In a few years, once he retires Stephan Bonnar will make a fascinating case study of what happens to an athlete who comes thisclose to super-stardom.
Think about it—that decision loss to Forrest Griffin completely changed the individual career arcs. What's more, his only losses in the UFC are a majority decision dropped to Rashad Evans, another UD to Griffin in the rematch, an obliteration at the hands of Jon Jones before we knew what kind of a force Bones is, a questionable UD to Mark Coleman and a since-avenged TKO loss to Soszynski that was caused by an inadvertent head butt.
That's a rough road he's had to hoe.
Tough not to support the American Psycho, all the more so because he enters to the Who's "Eminence Front."
Igor goes by the Duke, so there's your tidbit on him.
First Round
Wow, the biggest boys on the card come hot out of the gates with a pace that far outstrips those that came before the 205 pounders. A blurred exchange sees both men winging punches with extreme violence, but nothing lands and Bonnar eventually secures the takedown.
Now, we've got dueling chants of "Igor, Igor" and "Bonnar, Bonnar" breaking out across the Pearl. Good times.
Pokrajac has a leg and is working to get the scrap to the mat, but Stephan locks in a guillotine and happily obliges. The choke is in deep as the American Psycho grimaces in exertion and the Duke rolls to avoid the submission.
The move does the trick as Stephan lets the sub go, instead opting to take top position on the Croatian. A couple pulverizing blows land from Bonnar, but he's still got his sights set on a submission. He pounds away while apparently trying to isolate Igor's left arm for a kimura.
Pokrajac scrambles to his feet as the horn ends a 10-9 round for the American.
Second Round
The second stanza doesn't start with quite the same vim as the first, but perhaps that's by design.
The American Psycho sets a more methodical pace as the pushes Pokrajac up against the fence in a clinch. The Croatian reverses such that the American's back is now against the cage, but Bonnar quickly re-establishes dominion by throwing Igor to the ground and landing on top of him.
Stephan takes side control and almost ends up in the north-south position as he searches for vulnerabilities in his victim's ground game.
So far, he hasn't found any fatal ones and he can't as Pokrajac surges back to his feet.
The standing battle doesn't yield much except probing knees and a quick, short elbow from Bonnar.
Of course, with about 45 seconds remaining, Bonnar-Griffin III breaks out with Pokrajac reprising Forrest's role. The two boppers stand in the pocket and swap straights before Bonnar must retreat.
He doesn't stay in reverse for long, however, as he's back at it when the horn calls an end to another 10-9 round for the American Psycho.
Third Round
Those standing exchanges in the second stanza might've convinced Bonnar that his money will be made on the ground because he takes the action to the canvas without the pretense of engaging on his feet.
Seems like a good idea because he's ALL OVER the Croatian in the ground game, alternating shots to Pokrajac's sternum and head. Igor's trying to use the cage to spin and wriggle out from under the American Psycho, but the accomplished grappler is having none of it.
Instead, everywhere Igor goes, there Stephan is to greet him.
At this point, it would appear the Duke is simply trying to avoid the finish because he's content to let Stephan control the scuffle while teeing off on the Croatian's ribs.
With 20 seconds left, Bonnar begins to make eyes at an arm triangle, but there wouldn't appear to be enough time left.
And, right before the horn, Steve Mazzagatti decides to spice things up by deducting a point from the American Psycho for blows to the back of the head. Shouldn't matter, but the crowd was already all over the ref.
This isn't helping.
Stephan Bonnar defeats Igor Pokrajac by unanimous decision (29-26, 29-26, 29-26).
Again, the decision was the correct one, but who the hell gives Bonnar a 10-8 round? And which one?
He owned all three rounds—no argument there. I just wouldn't say he dominated any of them well enough to get such a ringing endorsement.
Good grief.
**Update—there was a point deduction for illegal strikes from Pokrajac after the second round. I should say there was a SUBTLE deduction. Geez.
Jonathan Brookins vs. Michael Johnson—Lightweights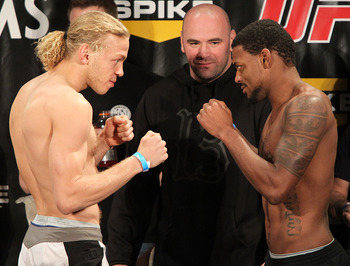 To quote Bruce Buffer, "it's TIIIIIIME" for the main event.
It's really difficult to see Michael Johnson holding his own against Jonathan Brookins. Johnson is talented to be sure and had time aplenty to work on the cardio issues that seemed to slow him on the show. But—and I hate to keep going back to this—Brookins stepped into the cage with Jose Aldo and absorbed the associated punishment with such an endeavor for over 10 minutes before succumbing to the TKO.
The UFC Featherweight Champion is that good—10 ultimately unsuccessful minutes against Junior is more of a feat than many, many victories you see on the various resumes.
Johnson mentioned that he put on a couple pounds of muscles, but it's Brookins who looks noticeably bigger.
First Round
The exchanges starts fast and furiously inside the first minute with the Menace getting the better of them, but Brookins doesn't look panicked as he shoots in for a takedown. He tries to turn a single leg into a double and then a body lock, but Johnson is too strong in the early going and shirks his opponent off.
Johnson's landed a couple clean shots and a particularly gnarly one folds Brookins like a chair. He recovers quickly, but the Menace is all over him. Another left flattens the crowd favorite as Michael Johnson shows us what a real 10-8 stanza looks like.
A right uppercut lands and is followed by a stinging straight left—this is getting ugly even if Brookins hasn't started bleeding. Yet.
I'm beginning to think maybe Brookins survived as long as he did against Aldo because he's got a granite chin and that alone. He's eaten some tremendous shots from Johnson, but doesn't even look puffy.
And now the Menace's pace has slackened considerably.
Brookins tries for a strong finish, but he noshes on a couple more firm shots and gets a shot stuffed for his troubles.
I'd call that a 10-8 for Johnson.
Second Round
That left hand from Johnson is wrecking Brookins, but it might not matter if Michael's stamina problems are still with him. It does seem he's weakened a bit in the second as Jonathan has little trouble securing the takedown that was so elusive in the first.
He's on top of Johnson, slipping in shots when the opportunity presents itself and spending the majority of his concentration on submission openings.
Slowly but surely, Brookins is working himself into a mounted crucifix, having already trapped one of Johnson's arms between his legs. With the one arm neutralized, Jonathan softens Johnson up with some short elbows and mini-hammerfists.
But Johnson frees his arm and struggles back to his feet with about a minute left.
Jonathan's family is standing and surging toward the Octagon to my left as Brookins continues to press his ground game. The horn kills the round before he can threaten a submission, but it's a 10-9 round for the fan favorite.
Third Round
Much as he did on the show, Johnson seems to have found a second wind for the final round. He's not quite as lively as he was in the first, but he defends the takedown better than he did in the second. In the end, though, his resistance is futile as Brookins finishes the maneuver.
If I was right bout the 10-8 first round for Johnson, we could be heading toward a catastrophic ending to a night full of unpopular decisions—the dreaded draw.
There are still over two minutes left in the contest so we'll see what happens.
After spending the bulk of the round in the dominated position, the Menace manages a reversal and uses the shift to hop back to his feet. Once there, he tries to push home his advantage and catches Brookins with a stiff shot, but he can't deny yet another takedown from Brookins.
With about 90 seconds left, Michael seems just about done and Brookins seems to feel the give in his opponent. Shots engulf the Menace's head and body as Jonathan puts the finishing flourish on the bout.
The horn ends a 10-9 round for Brookins and (it gives me no pleasure to say this) I've got a draw on my scorecard.
Hopefully, I'm wrong.
I am.
Jonathan Brookins defeats Michael Johnson by unanimous decision (29-28, 29-28, 29-27).
I'm at a total loss—how can Stephan Bonnar take a 10-8 round in his bout (turns out he didn't), but Michael Johnson doesn't?
Let's get this straight, I was pulling for Jonathan Brookins, but he got knocked down TWICE in the first and was generally defending for his life.
And, unless I've got this wrong, one of the judges gave two rounds to Brookins while calling a third 9-9?
Odd.
Regardless, congratulations to Jonathan Brookins—good dude, good fighter and a welcome addition to the ranks.
Thanks for reading and see you next season...
**Click Here To Learn More About the Paralyzed Veterans of America**
Keep Reading