Las Vegas NASCAR Champions Week 2010 Day One: NASCAR Fan Fest & New Rules?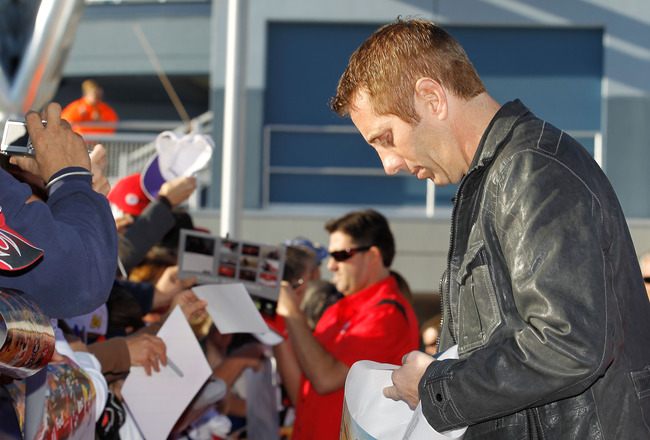 Greg Biffle & Tony Stewart sign autographs on red carpet on their way to stage for NASCAR Fan Fest at Las Vegas Motor Speedway.
Todd Warshaw/Getty Images
NASCAR Champions Week in Las Vegas began with a six-hour event at Las Vegas Motor Speedway. The second-annual NASCAR Chasers for Charity Fan Fest saw several thousand hardcore NASCAR fans enjoy a beautiful day capped off with a pseudo game show, "The Dysfunctional Family Feud."
The Chasers for Charity event gives fans an opportunity to get up close and personal with their fans and have some fun at the same time. There were several events throughout the day to keep fans entertained before the 12 NASCAR Chase drivers helicoptered into the track just before their walk down the red carpet.
Here's a rundown of the proceedings.
Rookie Of Year Kevin Conway Bumps Way To Victory In Celebrity Go Kart Event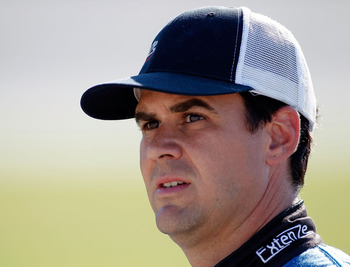 Kevin Conway won his first race of the 2010 season. He won the celebrity go kart race during Chasers for Charity NASCAR Fan Fest.
Todd Warshaw/Getty Images
Kevin Conway bumped and nudged his way to victory in a celebrity go-kart race just south of the Neon Garage at Las Vegas Motor Speedway. Kevin Burke, the emcee for the NASCAR Dysfunctional Family Feud, was the leader when Conway knocked him out of the way to take home the hardware. Conway, the NASCAR Rookie of the Year for 2010, will be driving for Robby Gordon in 2011. The cars were provided by Kurt Busch's Pole Position, his two Las Vegas go-kart experience locations.
Larry MacReynolds & Krista Voda Hosted a Q&A With Fans Before Drivers Arrived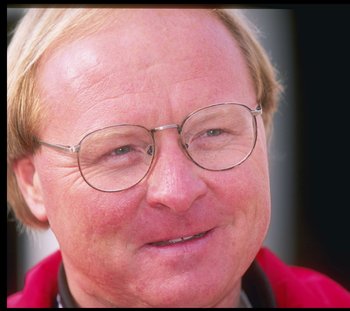 Larry McReynolds & Krista Voda revealed several interesting possible changes NASCAR will announce next week.
David Taylor/Getty Images
Larry McReynolds and Krista Voda stepped on stage before the NASCAR Chase drivers landed. They discussed several possible changes coming from NASCAR that could amount to major changes in the next several years.
One key change could be a new point bonus for leading at the halfway mark. This would lead to more competition early in the races and would adjust teams' strategies within the race. In the early days of racing, there were money bonuses for halfway leaders and lap sponsors. The point bonus at halfway could be a huge factor in the last 10 races during the Chase. McReynolds stressed that this may not go into effect for 2011, but it is being seriously considered.
Larry McReynolds won over the Las Vegas crowd by closing his question-and-answer session with his own question to the crowd: "What do you think? Should we make this week easier by having the final race of the NASCAR season here?"
Krista Voda Discussed Another Possible Tweak To Qualifying In NASCAR Sprint Cup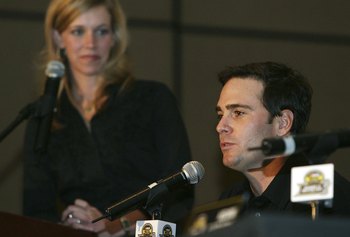 Krista Voda joined Larry McReynolds in revealing possible changes to NASCAR Sprint Cup rules.
Doug Benc/Getty Images
Krista Voda was also providing some possible inside information during the informal Q&A. Voda discussed the possibility of two cars qualifying at the same time and another wrinkle that had not been discussed in public.
Voda revealed they may be taking practice times and using them to determine qualifying positions. The fastest driver in practice would then be the last driver out for qualifying. This is an interesting concept and could lead to strategy and some interesting practice sessions. For some tracks, it is an advantage to go out early. This will be another rule change that could have a huge impact.
Air Force Fighter Jets Created Steady Air Show Throughout Fan Fest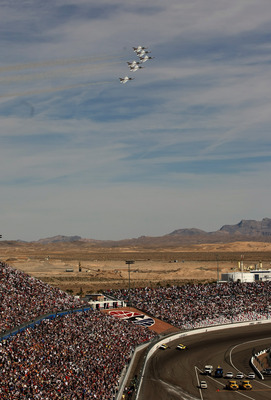 Las Vegas is adjacent to Nellis Air Force Base and although the Thunderbirds did not make an appearance there were plenty of jets, AWAC planes and cargo planes to entertain the fans.
Stephen Dunn/Getty Images
There were a few periods of down time during the NASCAR Chasers for Charity event and the Nellis Air Force Base provided a steady flow of aerial artillery. Nellis loves to show off the hardware on race weekend and it took the opportunity to show off almost every plane that is housed at the base. It was a nice time-killer for the fans.
NASCAR Chasers Arrive by Helicopter and Walk The Red Carpet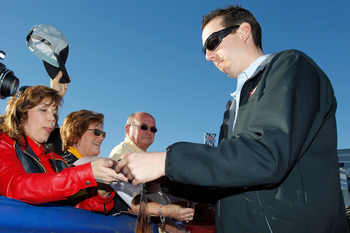 NASCAR Chasers took their time walking on the red carpet as they signed plenty of autographs.
Todd Warshaw/Getty Images
The 12 NASCAR Chase drivers arrived by helicopters. Six drivers emerged from each helicopter and then they all made their way slowly down the red carpet, signing autographs and taking pictures with their fans. The drivers then prepared to do battle in a makeshift game hosted by Kevin Burke called the Dysfunctional Family Feud.
Family Feud Lineup: NASCAR Sprint Cup Champions Versus Non Champions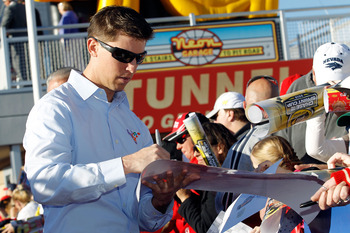 Denny Hamlin was leader of NASCAR non Champs in Family Feud.
Todd Warshaw/Getty Images
The Family Feud game played by the NASCAR Chase drivers pitted the NASCAR Champions and Kevin Harvick against the drivers in the NASCAR Chase that have not yet won a title. The champions team consisted of Jimmie Johnson, Harvick, Tony Stewart, Jeff Gordon, Kurt Busch and Matt Kenseth. The other team consisted of Denny Hamlin, Kyle Busch, Clint Bowyer, Jeff Burton, Carl Edwards and Greg Biffle.
Best One Liners Delivered by Emcee Kevin Burke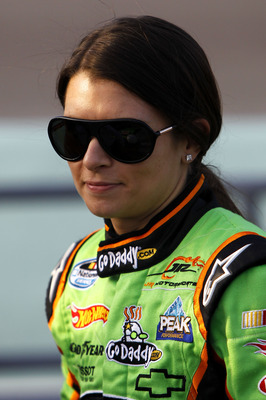 Kevin Burke used Danica Patrick to poke fun at Kasey Kahne.
Chris Trotman/Getty Images
Kevin Burke, the emcee of the "Family Feud" portion of Chasers for Charity Fan Fest and star of "Defending the Caveman," had a few good one-liners during the festivities. The first one was not received well by the Dale Earnhardt, Jr. fans but was funny just the same. Kevin Burke said, after the answer to a survey question was Dale Jr.: "Dale Earnhardt, Jr., the Paris Hilton of NASCAR."
The second best one-liner was directed at Kasey Kahne. Burke had several jokes regarding Kahne but the best line involved Danica Patrick: "Kasey Kahne is happy that Danica Patrick is in NASCAR now. He has someone he can actually win a fight against." Politically correct was not on the agenda for the day, but it was funny just the same.
Kyle Busch Answered Himself In Two Questions and He Was Right Both Times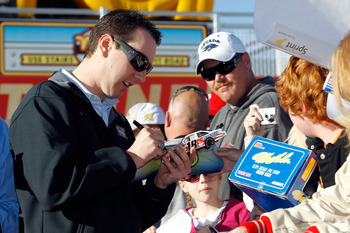 Kyle Busch did well in Family Feud. He just answered Kyle Busch and was right twice.
Todd Warshaw/Getty Images
Kyle Busch was right twice during the "Family Feud" and both times he was the correct answer. The first question was a survey of crew chiefs: "Which NASCAR driver would you least like to race against for the win with one lap to go?" The second question was: "Which NASCAR driver is most suitable to star in the television show 'The Bachelor'?"
Non-Champions Beat The Champions In Family Feud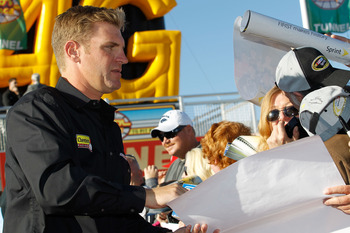 Team Two the non NASCAR Sprint Cup Champs Beat the Champions by over 300 points in Family Feud.
Todd Warshaw/Getty Images
Team Two in Family Feud was made up of NASCAR Sprint Cup drivers that have never won a Sprint Cup, but they destroyed the NASCAR Sprint Cup Champions in the game. The game was a blast and a good look into the drivers' competitive nature outside of their cars.
Kevin Harvick Wins a Lucky Fan a VIP Package to The NASCAR Sprint Cup In March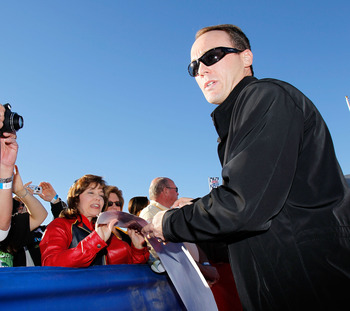 Kevin Harvick won a fan of his a VIP Package for the March Las Vegas race.
Todd Warshaw/Getty Images
Kevin Harvick closed the show by winning a lucky No. 29 fan a free VIP package to the March 4th-6th NASCAR Sprint Cup race weekend. Harvick scored 174 points in the first round and the lucky fan only had to score an additional 26 points to win the VIP Package.
What's On Tap For Day Two Of NASCAR Champions Week?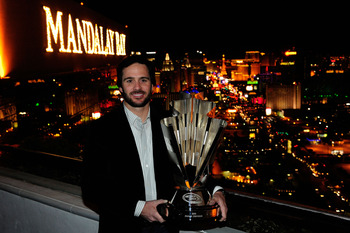 Jimmie Johnson will lead the NASCAR Chasers down the Las Vegas Strip in their cars.
Rusty Jarrett/Getty Images
Jimmie Johnson will lead a procession of the NASCAR Sprint Cup Chase drivers down the Las Vegas Strip on Day Two of NASCAR Champions Week. Last season, Johnson's car ended up on the hook after he broke the rear axle. One issue with doing doughnuts in the intersections is that, in Las Vegas, the intersections have numerous ceramic traffic buttons and reflectors. These are an enemy of the high performance Goodyear tires on these cars.
Keep Reading