TUF Season 12: St-Pierre vs. Koscheck Live Blogging the Madness, Final Episode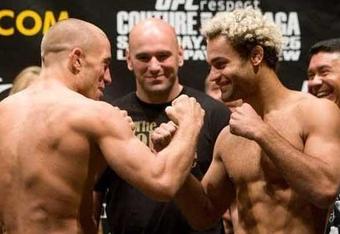 The Ultimate Fighter: Team St-Pierre vs. Team Koscheck wraps up tonight after a week off for the Thanksgiving holiday. As is the pattern, the 12th season of the highly successful franchise comes to a close just in time for the live finale at the Palms Casino Resort in Las Vegas on Saturday night.
And just in case anyone has a touch of the post-Turkey Day blues—hard to imagine with more time off right around the corner—the UFC/Spike powers-that-be have cooked up a two-hour antidepressant.
Just for you.
In a perfect world, your pulse would already be racing at the exhilarating prospects of a bout between the emerging favorite, Jonathan Brookins, and Kyle Watson as well as a too-close-to-call-on-paper affair between Michael Johnson and Nam Phan.
However, this is reality television and not everyone tunes in for the fights. If the "real-life" drama is more speed, you're also in luck.
The TUF producers usually tuck a nice surprise on that front into the final 120 minutes. With abrasive personalities aplenty and patience at a critical low, plan on a little bit of closure as the housemates get their final licks in on each other.
Or the blossoming of a whole new, post-show rivalry to keep blood boiling as the finale approaches.
Of course, the only way to know for sure is check back in at the top of the hour.
**Click Here To Learn More About the Paralyzed Veterans of America**
Thanks for hanging with us during the 12th season of The Ultimate Fighter. Hope you enjoyed it as much as I did and don't forget to check back with Bleacher Report and Spike TV for the live finale on Saturday.
Because if there's one thing this season of The Ultimate Fighter showed us about Josh Koscheck, it's that his walk is in diametric opposition to his talk.
Kos sums up the season perfectly—by saying all the right things about where the blame lies for his team's failure.
The real shame here?
Considering the decision was by a razor-thin margin, it's quite possible all the nonsense his team put him through affected the outcome by distracting him from the mission at hand.
Something tells me we'll see both Nam Phan and Kyle Watson in the finale.
And the winner is...Michael Johnson by split decision.
Haha, the pot calls the kettle black when Kos accuses GSP of being a grinding, boring fighter.
He's not totally wrong, but it's not like Josh Koscheck is the most thrilling fighter in the world.
I'm gonna have to give the third round to Johnson, 10-9, and I've got him in the finale with Brookins.
But I have been known to be wrong in similar situations.
Now BOTH athletes look like they're on fumes and the lack of pep in Team Koscheck's guy seems to inspire some reserves into Johnson's tank as he flurries forward. With 30 seconds, both teams implore their representative to finish the round and steal the contest.
Neither man is very interested in complying.
Nope, he grabs another loud takedown, but is content to merely hold his adversary in place. Alas, Phan isn't in an accommodating mood and scrambles back to his feet where he appears to hurt Johnson again to the body.
Johnson's second (or third) wind is gone and the initial burst of offense might be his only one.
He scores an early takedown, but he might be looking to lay 'n' pray.
Unfortunately, that ain't gonna work because Nam is staying active with elbows from the bottom.
On my card, this round's for all the marbles and Johnson comes out looking somewhat refreshed.
OK, the closeup reveals Johnson is, in fact, sweating.
But not nearly as much as you'd expect when you consider how exhausted he looks and sounds. Maybe he's simply not a sweater.
Johnson finishes with a flurry, but it's not enough to take the round. Score it 10-9 for Nam Phan and that means a third stanza to decide who faces Jonathan Brookins in the finale.
Strap in.
The odd thing, however, is that Johnson doesn't look to be sweating. Maybe it's just the resolution on my computer, but he doesn't look slick at all. If that's the case, it would seem to imply dehydration.
Michael Johnson is essentially on the complete defensive at this point; only mustering offense when absolutely necessary.
Meanwhile, Team GSP's dog in this fight is wilting badly.
Talk about you're all-time backfires.
Nam is teeing off on Johnson and seems to be hurting him to the body.
Now there's something I've never seen—Johnson goes for a desperation shot and Phan does a little hop in defense. That causes Michael to drive his victim into the cage more forcefully than perhaps planned and the resultant human ricochet sends both men sprawling into the middle of the Octagon with Nam on top.
Nam is having an easier time shirking off Johnson's advances while additionally scoring with shots of his own. Furthermore, Michael seems to be in a pseudo-stagger at times.
Huh, Michael Johnson might want to think about stopping this bad rider in this round because the tide does seem to be slowly turning in Team Koscheck's favor.
The good news is that Johnson's lack of crisp technique is validating Phan's characterization of him as a "ghetto brawler." Granted, Nam didn't mean the phrase as a compliment and it's certainly doing the trick thus far.
It might not matter too much, though, since Team Koscheck's lone survivor is bloodied and battered with less than a minute remaining in the round. He said a longer fight plays to his advantage and he better hope so because he's losing this round.
This article is
What is the duplicate article?
Why is this article offensive?
Where is this article plagiarized from?
Why is this article poorly edited?